I attended the first two White Night festivals in Melbourne and wrote 'glowing' accounts about them HERE and HERE, but was overseas for last year's spectacle, the third. Apparently, organisers intended to address congestion concerns and disperse locations, but by all reports it was still a great White Night.
So, I was keen to attend again this year, but have to say I found it, by comparison, a little disappointing. Something felt missing – hard to place a finger on what at first – the ambience wasn't the same. Perhaps it was the cooler weather, or a different demographic, that I had driven 300 kilometres to get there – that I have Plantar Fasciitis!? Plantar Fasciitis is, for those unfamiliar with it, a foot injury that is irritating rather than debilitating, but very difficult to be rid of.
That's not to say there weren't great festival attractions.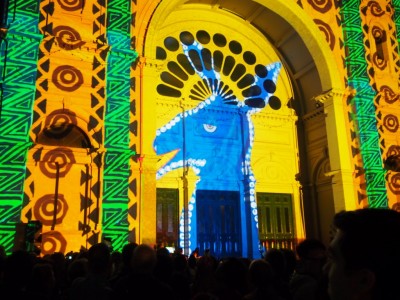 The light show at the Exhibition Building was brilliant…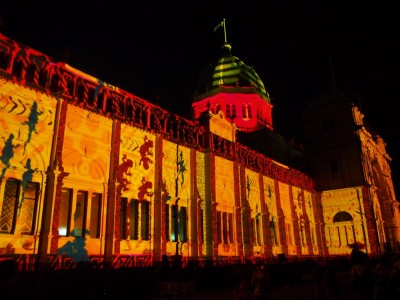 As were those at the National Gallery…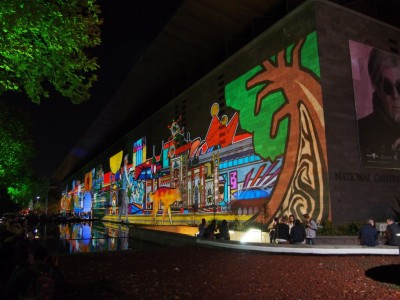 And Federation Square provided a different canvas.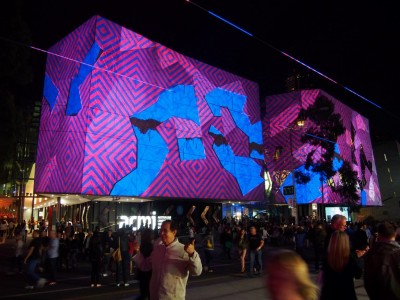 But, I concluded, the festival was like great bookends with not enough in between. Swanston Street, along with its intersection at Flinders Street, usually the centre of attention, lacked verve. Buskers alone weren't enough to raise the atmosphere to accustomed highs. Though it was relative – there were still installations to admire.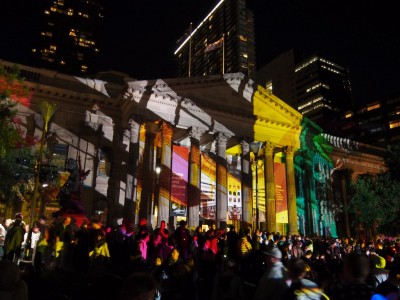 Absurdly, neon signs along Swanston Street warned pedestrians against proceeding further due to congestion when there wasn't any, but no one with authority bothered turning off the signs to reflect the changed status. Dare I say it – it's a 'sign' of the times, at least in Victoria, and perhaps other parts of Australia, a trend where signs restricting behaviour aren't removed when no longer required – seen most often on our highways with speed restrictions for non-existent road works. Too much crying wolf! But I digress.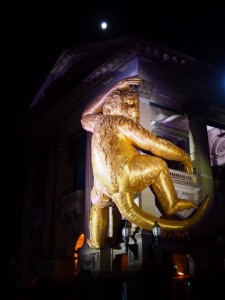 Though, in this case, it could also have been a sign of something awry in this year's festival; that organisers went too far in their attempts to limit congestion and over decentralised. White Night is meant to be creatively edgy, imaginative, experimental, and having some congestion should come as part of that risk taking – it even adds to the buzz?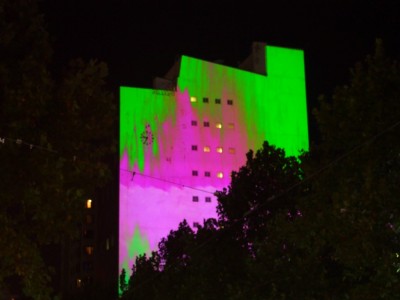 Mind you any festival can have a bad year – they're possibly necessary. And the changes probably weren't just about easing crowd densities either. Organisers need to try new things to prevent the festival becoming stale and predictable, and that was likely in their thinking too.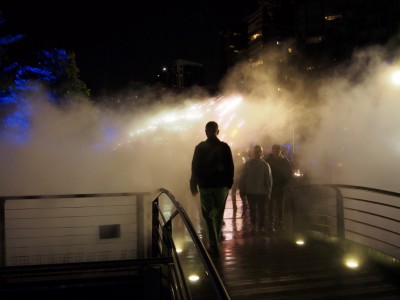 Some festivals have a limited lifespan or become too mainstream or lose sight of their original purpose, but I don't feel that's the case with White Night yet.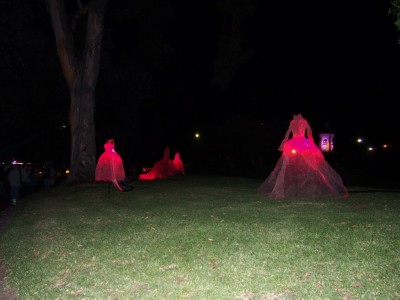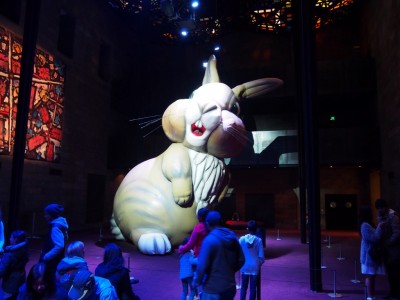 Despite my misgivings I still made it till 2AM and would have returned via the City Baths installation (queues were too long on my first pass) for more had I not been footsore.
A pity I didn't because the trams I sought in Elizabeth Street weren't running for some unknown reason, and I had to trudge to Latrobe Street anyway – damn you Plantar Fasciitiiis! – to a CONGESTED tram stop.
Melbourne's White Night festival hasn't lost its shine, but maybe the lights are flickering a little.