Humans are social creatures and, whether conscious of it or not, we're also an outdoorsy lot. Most of us no longer hunt-and-gather in the prairies or plains or decorate cave walls, but we still retain an innate desire to create and explore new worlds.
Events like the White Night Festival encourage city folk to venture outside to discover their metropolitan environment afresh (evoking child-like desires for magic and mystery en route). They satisfy a need to be collectively thrilled and entertained in ways that sitting at computers, in front of televisions or inside cinemas can't replicate no matter how 3D they are.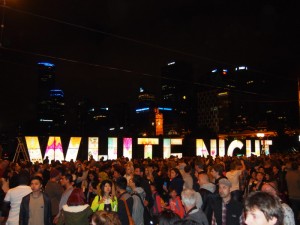 White Night is a right night, a fun night, an egalitarian knight in shining armour night rescuing citizens from the humdrum lounge of reality television, celebrity worship and shallow sensationalism.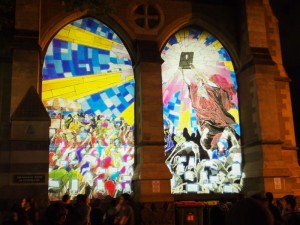 Melbourne held its second White Night Festival last Saturday, February 22nd and, despite relatively little promotion half a million people emerged to revel in its world of light, sound and movement (I also went last year and wrote about it HERE).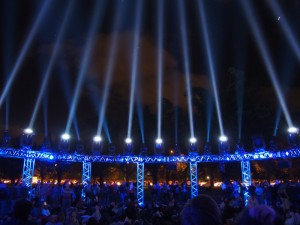 Ninety-nine events (I liked that it was one shy of a hundred) fired imaginations for a kilometre from the Arts precinct and Alexandra Gardens along Flinders Street detouring down laneways and side streets, and in and out of venues to the City Baths.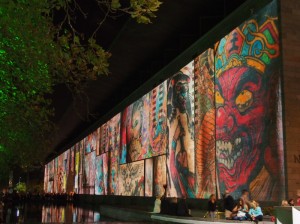 Victorian-era facades made like kaleidoscope canvases, lanes became art galleries, and streets were transformed into entertainment venues.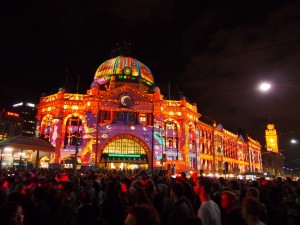 Locals and visitors spilled out from Flinders Street into squares, gardens and along the Yarra River, and joined queues to be surprised, enthralled, shocked and, occasionally, underwhelmed.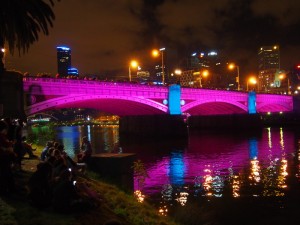 For a night the city buildings wore our rock art and the streets became corroboree sites.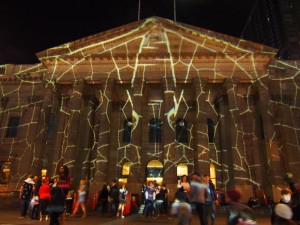 ****
Last year, the size of the crowd caught organisers by surprise – particularly bar and cafe proprietors: long queues were required for the latter. The event was much better catered for this time.
Public transport was still an issue, though. We caught the number 57 tram from North Melbourne, which is crowded at the best of times, but on this occasion it threatened to pop rivets.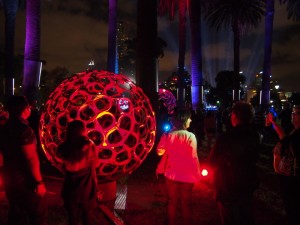 The weather was cooler the second time around, and the event even more crowded, especially in and around the corner of Flinders and Swanston Streets up till midnight. I discovered it was best not to arrange to meet friends there. Telstra offered little back-up struggling to cope with texting demand.
But what really completes White Night is the crowd – it's good-natured and festive without going over the top. The event is inclusive …young, old, singles, couples or families, local and foreign. The sight of elderly people walking around late at night is common in many European cities, but it has, sadly, become a rarity here. White Night was an exception.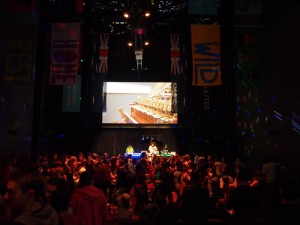 There were too many events to make detailed plans for. It was best to just pick a few highlights, wander around and allow yourself the luxury of being spontaneous.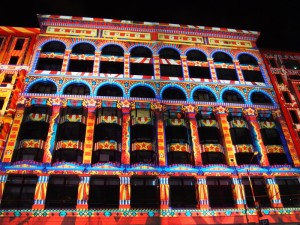 Post-festival, there's been talk about extending the event to two nights because of over-crowding. Personally, I like that the festival happens over one night: it focuses energy and curiosity, and motivates you to make the most of the occasion. There's also a chance if they made it a two-night event we'd just end up with two over-crowded half nights, because many would go home early the first night knowing they could return the next.
The overcrowding was mainly an issue in one area and only for part of the night, and ways could be found to address that (by making festival-goers more aware of the variety of events and by making the area around the City Baths and the State Library more of a bookend to the Flinders Street activities. Public transport into the city after 1.00AM would also help). The congestion is relative, though – in some cities it would be considered a normal Saturday night.
Below, is a slideshow of photos I took during the festival or, below that, a gallery, depending on viewing preferences. Not quite as active or outdoor an experience as being there, but until next year it's the best I can offer.