March, 2018.
I recently completed this Thai visa run as an alternative to obtaining a 30 day extension through an immigration office for 1900 baht (and possible bureaucratic and/or logistic hurdles depending on where you are trying to do it). It also fitted in with other travel plans.
Ranong is a Thai border town along the Andaman Coast that is more interesting than first impressions may give. It is a gateway to the lesser known islands of Koh Chang Noi and Koh Phayam, but also provides access to the very southern tip of Myanmar, either for a visa run or onward travel.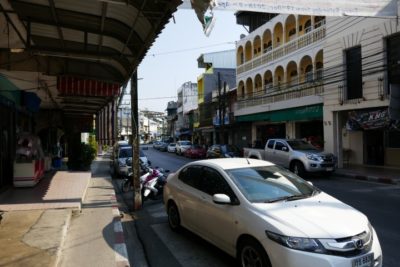 I opted for the do-it-yourself run, as opposed to an organised tour via the Andaman Club and its casino in Khawthaung. Pons restaurant/agency in Ranong offers such a service for 1300 baht (all inclusive). You can also make your own way to the Andaman Club pier in Ranong and catch their boat for 950 baht. Other travel agencies will have tours from various destinations in other southern parts of Thailand (eg: Chumphon, Surat Thani, Phuket).
It really depends on individual reasons. For many people, the visa run is an obligatory routine to be completed with a minimum of fuss. Others want more comfort, while others need to do it on a low budget and/or want a more adventurous travel experience. In my case, the 60 day visa was about to expire and I needed a couple of more weeks before catching a flight out of Bangkok, and had been told Khawthaung was worth a look.
Personally, I believe many people miss out by not spending time to explore Khawthaung. In the space of five kilometres you enter a completely different world.
The journey across the Kraburi Estuary might have you imagining mythical accounts of the River Styx, but this boatman is more likely to transport passengers to something closer to a Buddhist heaven than Hades.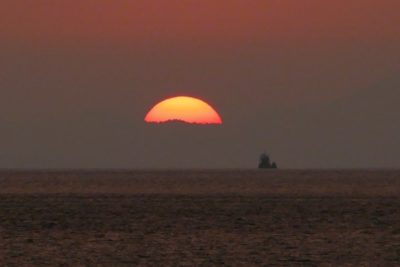 Below is a run-down of my visa-run sojourn. Some information will repeat accounts written by others, but I encountered differences as well. A few of those reports were also unnecessarily negative, in my opinion.
Firstly, you still need a US$10 note in good condition for your temporary Myanmar visa, but don't be paranoid about it because that's easily achieved. Immigration officials won't hold it up to a magnifying glass if it looks okay at first glance (well, at least they didn't in my case). A note in good nick means one with no creases, folds or tears.
Banks in Ranong seemingly have a ready supply of them if the teller at the Bangkok Bank in Ruangrat Road (near the market) is any example – she anticipated my request before I even asked. The Krungthai Bank across the road is also opened seven days a week, which is something I wished I knew the previous day, because I assumed they were closed along with all the other banks for (yet another) Thai bank holiday, which always appear to occur when you least want, or expect, them – not that I begrudge workers a day off!
Krungthai, though, had a computer meltdown the following morning, which is how I ended up at Bangkok Bank. And all the above is why I arrived at the pier later than intended. Of course, if you already have a $10 note this is of no concern. On the other hand, if you're worried about the condition of the bill then getting it here should reassure as the banks are used to issuing them for the purpose of a visa run. I digress…
You also need two photocopies of your passport, but I already had those.
Mid-morning, I caught a red songthaew #4 to the pier (Saphan Pla) – 15 baht (just say 'Myanmar' to the driver). Red Songthaew #3 also passes the pier, but might be less direct, depending where you catch it. A blue #6 goes to and from the bus station (but check with the driver). A motorbike taxi from the latter should be 50 to 70 baht. Share songthaew taxis that meet the New Mit Tour buses from Bangkok are usually 50 baht per person to the Koh Phayam/Koh Chang pier, which is nearby, but on the opposite side of the road.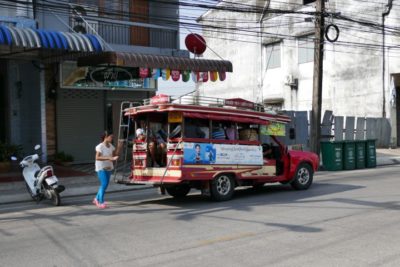 The songthaew driver pointed me in the direction of the pier – which was just across from where he stopped to let me off, past some market stalls. Once inside, a local, who turned out to be a boatman, also indicated the way to Thai Immigration, but you could find it easily enough (it's on the right as you enter). The immigration process was straightforward. No queue.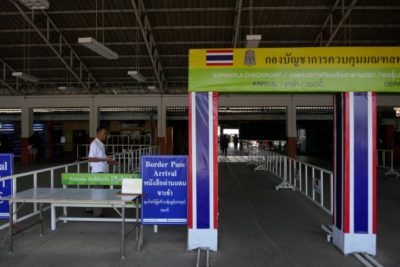 Departure formalities completed, the boatman offered his services at 100 baht each way (or one way in my case). This amount (and sometimes more) was often mentioned in dispatches, but I'd also heard that 50 baht is the real price. I didn't mind paying 100 baht if it meant leaving earlier, and as I wasn't really sure of the right price and doing this for the first time I was less inclined to quibble. The driver indicated his longtail boat and said he'd go in ten minutes. He asked if I had the US$10 and two passport photocopies 'cause he could obtain that here (don't know the exchange rate, but not favourable. Apparently Myanmar Immigration will also accept 500 baht as an alternative. Think photocopies were 10 baht – not much anyway.). He wanted me to write my details on a list, and then he went off to drum up more passengers. He didn't have much luck in that regard, and I ended up in a boat-exchange with another driver who asked for the 100 baht.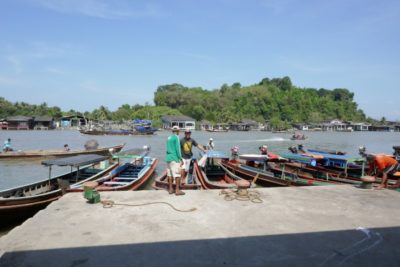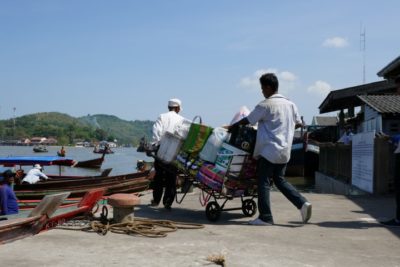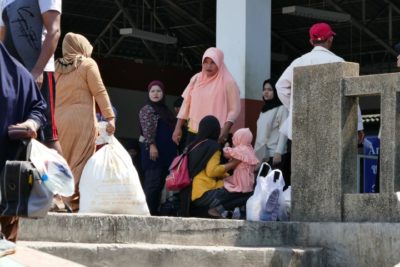 That boat waited to fill up with passengers, all Thai or Myanmar people – except for one Farang who had been in this boat originally then hopped into another anticipating a quicker departure, before ending up back where he started.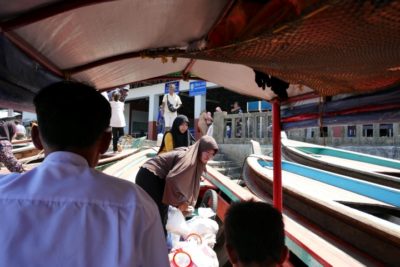 While docked the boats can drift into each other, so be aware of dangling arms – bumper boats.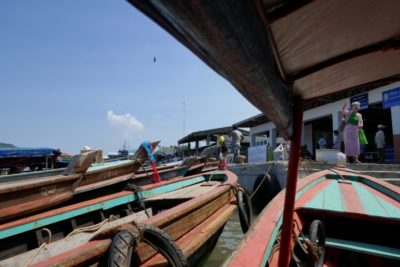 After departing, we barely made it 100 metres before encountering a minor hiccup when another boat, travelling across river, gently cannoned into us. Our boat couldn't accelerate in time because a hessian bag had wrapped around the propeller, I assumed when the driver raised it out of the water.
That excitement dispensed with, and the propeller cleared of debris, there was an early stop for locals to conduct their Thai immigration departure duties before we continued on across the choppy estuary waters.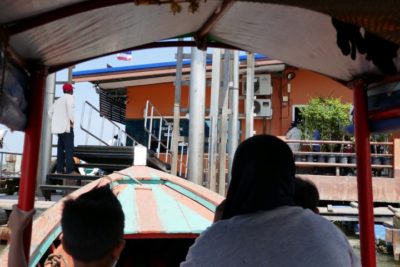 Contrary to other reports I read, the boatmen never required my passport. That appears to be the purpose of the photocopies. At the above Thai immigration stop, one of the copies was required, which the boatman collected and passed on.
Each country has a customs island with a Buddha statue. We were waved past the Myanmar one.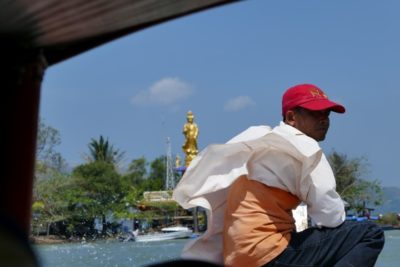 I saw locals hand over 50 baht when it came time to collect the fare. The Thai women next to me said she paid 30 baht but, if true, the transaction must've also been done before getting on board because she made none here.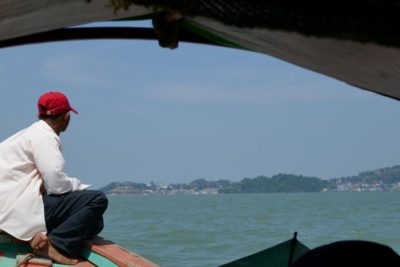 In Khawthaung we didn't dock at the immigration pier, but about 100 meters away, so you're actually inside Myanmar before you're officially in it. Walk left when you get off the boat, but the driver will probably direct you anyway.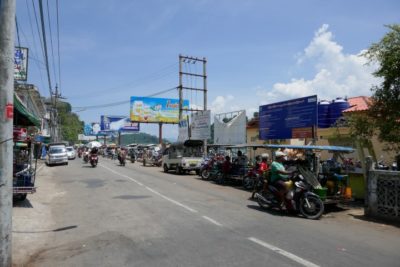 Again, no queues in the Myanmar immigration office. Local touts might also show the way, hoping you'll use their services (but weren't pushy when I declined). I never felt hassled or that someone was trying to unduly take advantage or that anything was unsavoury – at either end (tuk-tuk driver, in the evening, aside). Others have reported, or interpreted, differently.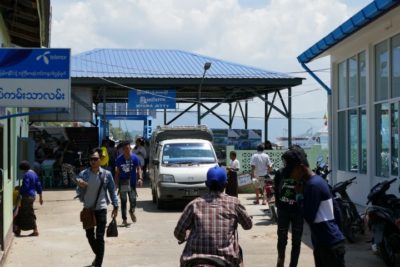 Immigration here will take your passport and US$10, then stamp the other photocopy and return it to you for reclaiming your passport (or giving the latter straight back to you if you're not hanging around?). They will also ask if you're staying overnight and, if so, where. You can remain up to two weeks if you wish, and explore the Khawthaung surrounds.
I wanted to have a look around before finally deciding, but by the time I had a coffee at Buddy Cafe (thanks caffeine radar), and ambled to the Penguin Hotel I was favourably convinced to linger overnight. I had left the bulk of my belongings in Ranong, otherwise I would've considered a longer stay.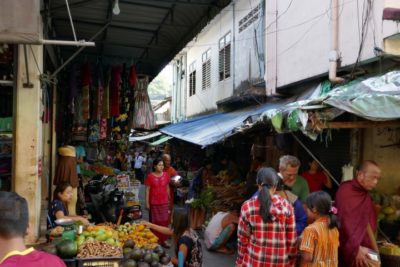 The slideshow at the end of this post might indicate better, but I enjoyed Khawthaung as an unsullied travelling destination – the timber dwellings in various states of rustic…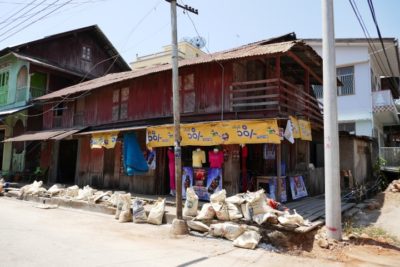 Engaging, curious people, the women in colourful dress, and everyone adorned with thanaka paint.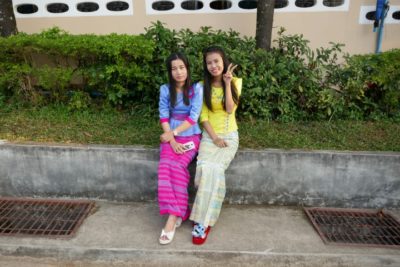 Despite its popularity as a visa-run destination few foreigners appear to stay.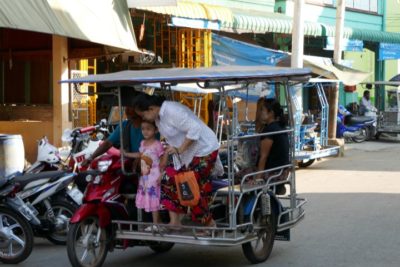 The Penguin's cheapest single rooms were tiny, but clean and well-equipped (500 baht with private bathroom, including breakfast) – helpful management. They sell tickets for boat trips and onward travel at agency prices.
Despite reports Thai baht is used as much as kyat in Khawthaung, most prices are in the latter (when they're displayed!) and it's the currency of choice, so I suggest changing money. But, if paying in baht, like I did, as a general rule 400 kyat equals 10 baht.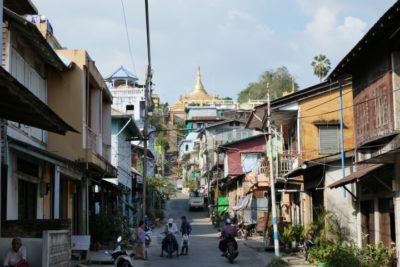 Later in the afternoon I walked up the hill via Pyi Daw Aye Pagoda…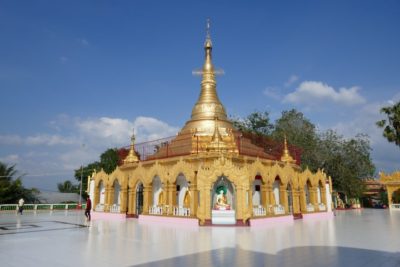 To Mingalaba Cafe with fine views over Khawthaung and the Andaman Sea.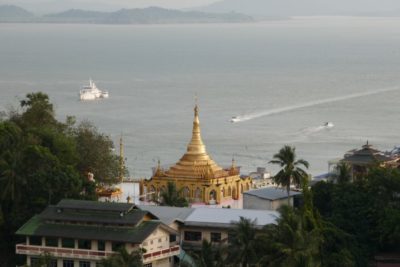 Followed by Victoria Point.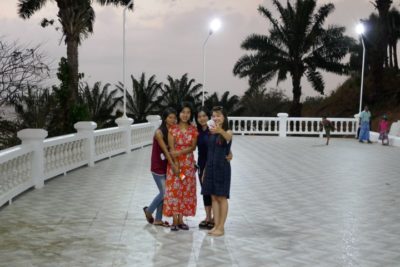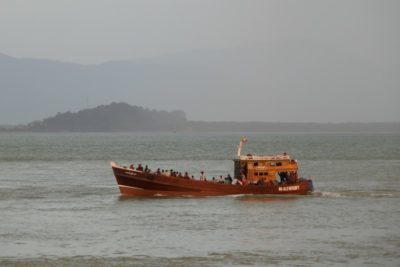 And a few beers in town.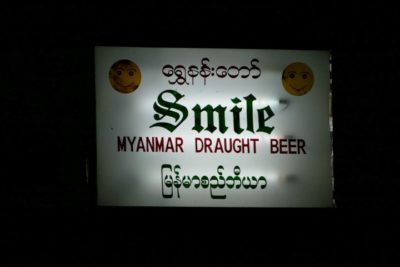 Khawthaung's annual rainfall is around 4 meters, but water is still delivered by tanker – at least at this end of the 'dry' season. Though, a dusk downpour had drinkers in the bar vacate the footpath.
Breakfast at Penguin was basic, but no worse than you find in budget accommodation in neighbouring countries: three-in-one coffee, two slices of toast with butter and jam, and a cooked egg in a small bowl. I cut up a piece of buttered toast into squares and mixed it with the egg – quite nice in the circumstances.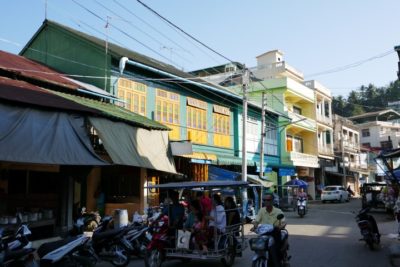 A morning walk through the market (followed by another coffee at Buddy).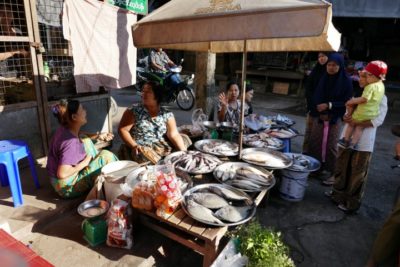 The return journey to Thailand was equally uncomplicated: present stamped photocopy of passport to Myanmar immigration, retrieve the real one then walk to where the boats are docked choosing whether to be tempted by the duty free items on display at makeshift stalls along the way.
I said "fifty baht" to the first boatman that approached and he said "okay" so I got on board. After some waiting and boat-bustling we were on our way.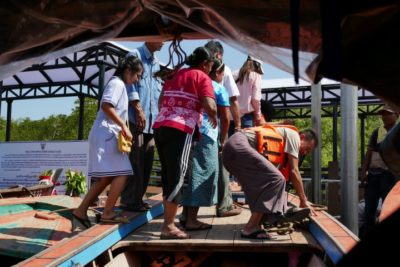 On the 'other side' there was a brief stop at the Thai customs island then a longer one further on for Myanmar passengers to conduct passport formalities, followed by a short journey the rest of the way to Ranong.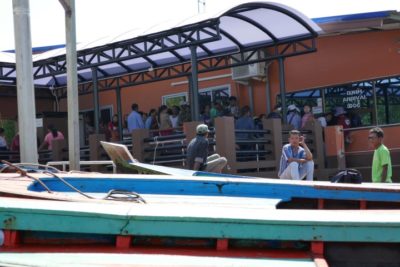 Other passengers seemed to hand over more than 50 baht this time – it was likely for additional services and/or they were paying for more than one person (some remained on the boat, so probably paid the driver extra to queue with their passport). My 50 baht was accepted, though the collector confirmed it with the boatman first.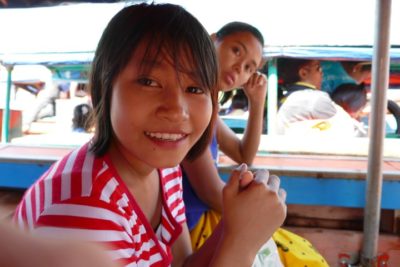 I advise, as a rule of thumb, if there's half a dozen or so of you and you want a quick getaway pay 100 baht, but if the boat is full and transporting locals, 50 baht. Either way, it isn't a lot of money.
Again, there was no queue to get the 30 day stamp back into Thailand (the Thai consulate in Australia still refuses to believe it's no longer 15 days, but that's another story).
To be safe, perhaps allow two hours from entering Thai immigration to clearing the Myanmar one and vice versa, though it can be quicker depending on passenger numbers etc. I think it was around 90 minutes for my entire journey over, but I didn't observe time that closely as I wasn't in a hurry.
The return boat trip was fun with banter being exchanged among passengers and continuing on in the songthaew back into Ranong. The overnight stay also reminded my how much I liked Myanmar on previous trips, and instilled a desire to return to Khawthaung and journey beyond, but with a Myanmar visa this time! Had the opportunity to do it a couple of years ago, but changed plans.
So – stop and look around, don't just visa run!
If you find this piece helpful, or you just enjoy the pics, please 'like' the post and/or website page. Thanks.