Accompanying my 80s parry into Indonesia was the recently released edition of a guidebook that shall remain nameless, but I suspect all that had been updated in the past decade was the publishing year – 1985.
Though, I hadn't concluded complete unreliability when reading its account about ascending Mt Bromo, in Java. Other than the volcano, the author advised readers could walk eight kilometres across the ancient Tengger caldera to the village of Ngadas where a bemo (a local share taxi) connected with the city of Malang. 
With me were two Canadians, John and Charlene. We had left Bali the previous day: a 12 hour journey of bemos, buses, ferries and minivans that was an adventure in itself, though one we took in our stride – cramped minivan and screaming-kid soundtrack aside.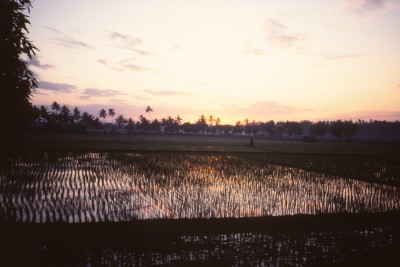 An extract from my first-ever attempt at a travel journal read: "On the bus to Probolingo we sat in the back seat and became celebrities, aided, or confused, by my knowledge of Bahasa Indonesia, as a soldier sitting next to me retold our story to every passenger getting on board."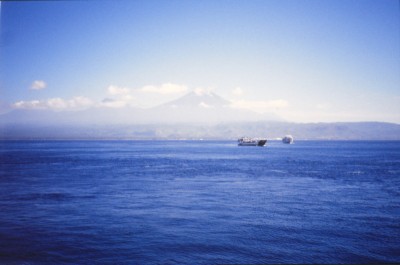 As the minivan laboured up the winding roads, the outline of spectacular mountain scenery could be seen through the darkness. We arrived in Ngadeseri near Mt Bromo in the early evening. On a "tight-arse budget", we opted for the dorm (1800 rupiah) – a mattress on the floor.
The hotel restaurant was "Fawlty Towers ala Indonesia". Meal ordered, we waited thirty minutes before being told: "It's finished. Everything is finished. The cook is tired. He go to bed."
We did likewise, surviving the night temperatures at this altitude without problem, and rising at 3AM for the five kilometre sunrise climb to Mt Bromo.
"The restaurant was too busy for breakfast, so I filled my water container, had a cup of coffee and was touched-up by the hotel manager – not necessarily in that order."
The climb wasn't difficult, though fortunately we tagged along with a Swiss couple who had surveyed the scene the previous day, otherwise we would've had to find our way following the horses carrying the tourist throng. Sunrise was spectacular and the scene surreal.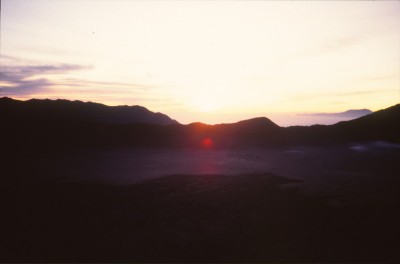 Being ahead of the pack allowed us to move further around the rim to avoid their swarm and, as it turned out, the sulphur fumes.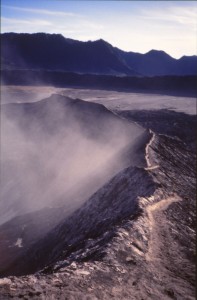 The cone of Mt Batok rose nearby, its slopes, deeply sculptured with rivulets from past lava flows.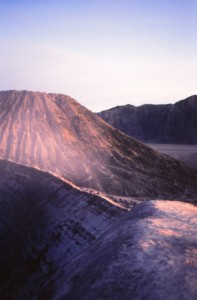 Below us, to the east, the misty Tengger plain stretched to the steep rim of its crater. Ngadas was somewhere over the rise.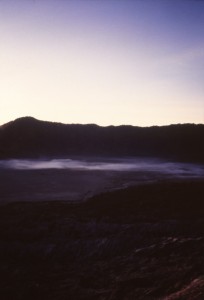 To the west, a sulphur plume puffed from a distant volcano obscured by the horizon.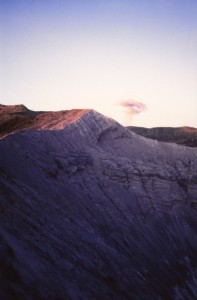 It was other worldly.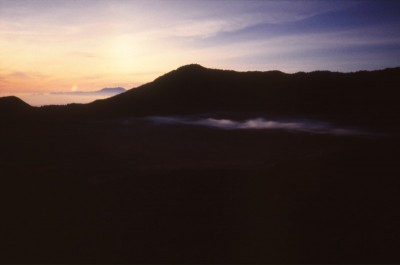 Of course, no digital cameras then – it was 'shoot and hope' – and not too frequently. Though, I had an Olympus XA, which was a good little travel camera – pocket-sized (as usual – see end of post for the complete slideshow).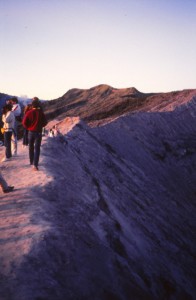 John and Charlene looking suitably 1985.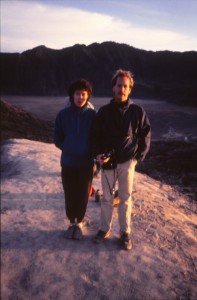 Here's a pic of Bromo in it's mildly active glory.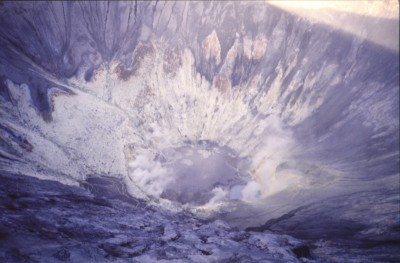 "On the way back we met a Pommie-Aussie who worked in Malang. He said we could drop in, and was sincere, but he kept toning down the invitation. I think he was worried we were going to freeload. In the end, he said, curtly: 'bring your own food'. Perhaps he wasn't that sincere after all."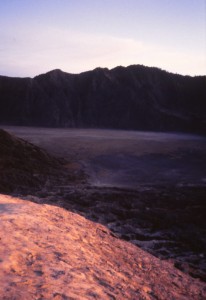 While the scene from Bromo was other-worldly, breakfast brought us down to earth, though the two pieces of rubbery toast was an improvement on dinner. 
"They have funny ways of serving you in Indonesia – everything seems to be arse-about: you get dessert when you should be getting your main meal or vice versa, or they bring everything out at once, or they cook one order at a time so that someone will have their three courses, or whatever, and the other person will have none."
The manager, however, when he put his hands to one side, confirmed the logistics of our trekking short-cut across the crater and onward to Malang.
Political incorrectness alert:
"A quick exit from the restaurant was inspired by John when he announced: 'Let's get the hell out of here. This guy's a fucking poofter.' Apparently the manager had caught him taking lollies and touched him up too, saying, 'I saw you, but I don't mind 'cause you've got a bigger one".'
It was 1985, after all.
At 9.30 we donned full backpacks and set-off, first, retracing steps past Mt Bromo. The flat terrain of the vast Tengger crater made the going easy, as did a mild temperature.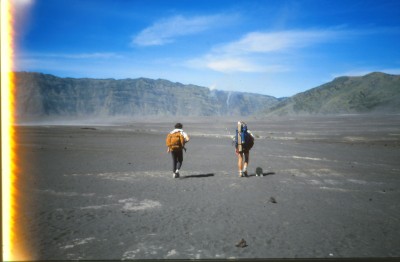 Occasionally, wind blew up clouds of fine, white sand.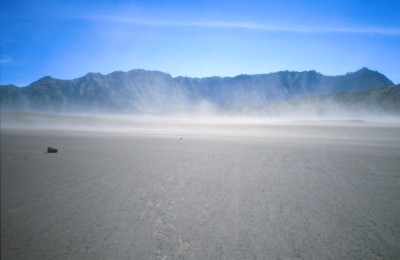 A group of Tenggerise villagers approached from the distance, evoking images of Arabian deserts or the arid high plains of Afghanistan.
My memory is of them coming toward us, but obviously I didn't take the photo until they had passed.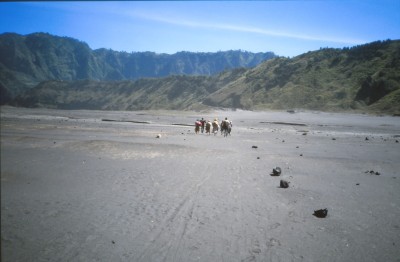 Ahead of us, steam seeped from the side of the rim looking like fires someone or something had lit.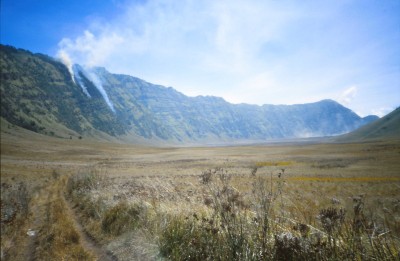 Fortunately the cliffs straight ahead were not what we had to climb to reach Ngadas.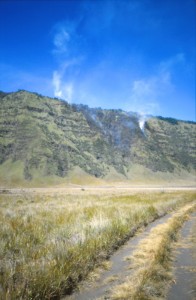 As we rounded the valley the rim diminished in height and steepness.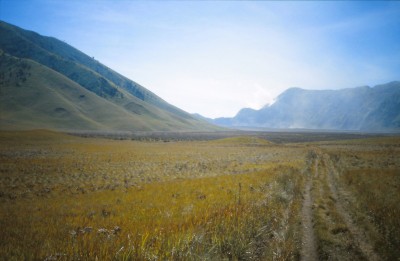 The crater seemed much further than eight kilometres across, though fortunately the trail exited where navigation was easier, just to the left of here.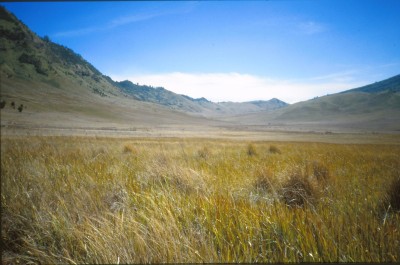 Emerging from the Tengger crater we could see the barren tip of Mt Semeru, the highest volcano in Java (3676m) – it was emitting the sulphur plumes visible from Bromo.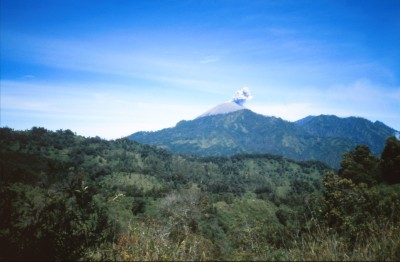 We entered a small village, but it wasn't Ngadas, and it was immediately obvious there were no bemos. Ngadas proved to be three Kilometres further down, along a rocky, foot-bruising, ankle-twisting road.
Ngadas was no metropolis, either. It resembled a Greek village minus the whitewashed walls. I asked several locals, but received the same answer – 'no bemos'. The isolation and the road's condition suggested none would be so foolhardy to make this journey.
We had no choice but to continue descending, hobbling by spectacular, jungle-clad ravines: a beauty that our discomfort under-appreciated.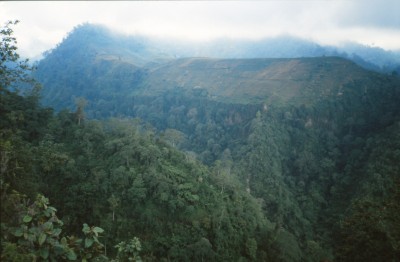 There was no verge to provide an alternative surface.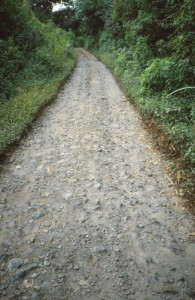 These pics don't really indicate the state of the road, but each pounding step tenderised the soles of our feet. Ouchy!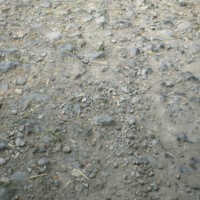 A large, black bird flew across our path, making a loud noise that highlighted our foreign-ness.
On very rare occasions, a motorbike or 4WD truck passed, and optimistically attempted the climb to Ngadas. "One vehicle transported a cargo of self-conscious Europeans – white rajahs atop a mechanical elephant."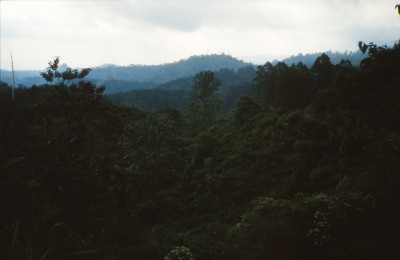 Bee-like creatures stung and harassed us, presumably attracted by the flowering plants dotting the roadside, including one species that looked like Datura, an hallucinogen – I wondered, wryly, if the guidebook author had consumed some.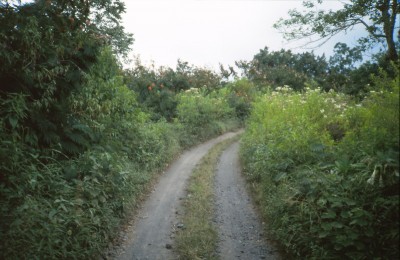 We considered swimming in a stream or drinking its water, but with stories about parasites etc. it was a risk we avoided.
In the late afternoon, finally, we limped, exhausted, into the village of Gabuklah, which the guidebook had, worryingly, subtitled Ngadas. Were there two? Was the whole district colloquially referred to as Ngadas?
After downing the nearest drink we could buy (something pink and sweet) – there be bemos! We caught one that coasted, motor off, down to Tumpang, where another one, with motor on, transported us to Malang, dropping us off among busy, unfamiliar streets cloaked in darkness and questionable odours.
We sidetracked to a Chinese restaurant to escape the confusion and find our bearings, without assistance from the guidebook, eventually ending up in a hotel room that was relatively expensive at 12,000r, but we were too "buggered" to look elsewhere. Had hot showers! (That I noted it must mean it was unusual).
"Charlene slept while John and I went out to eat – hadn't had a proper meal in two days. We tried a Chinese restaurant, sitting with a family who either didn't want our company or thought we wanted to sit on our own. Tables, chairs and people were rearranged; we sat down, looked at the menu, decided it was too expensive and left, much to the amusement of the other patrons. We ended up at another Chinese restaurant that was equally expensive, but it turned out all was relative as the bakmi goreng was excellent and the service good too. Cost all of US$1.60!"
It was 1985, after all.
Dessert became street-side delicacies on the way back to the hotel.
A Day to Remember.
John, Charlene and I travelled on-and-off together until Koh Samui in Thailand, after which they trekked Annapurna, in Nepal, for six weeks. John sent a postcard that added: "I can honestly say there wasn't one day as hard as our Bromo to Malang hike in Java. Char will vouch for that also."
The guidebook and I parted company in Malang.
PS: On reflection, though, I'm more forgiving – it was a memorable excursion, and one that probably wouldn't have happened had I not read about it in the guidebook – but it will still remain nameless.