White Night is a dusk-to-dawn celebration of art and culture that began in Paris in 2002 and has since spread to twenty-three other international cities. Though, the true inspiration apparently goes back further to a festival in Saint Petersburg, Russia – 'white night' describes the evenings at that latitude during the summer solstice when dusk lingers from sunset till dawn.
Melbourne is the first Australian city to be represented and had its inaugural White Night festival on 23rd February, 2013. From 7pm until 7am over 80 free events celebrating music, live theatre, film, and art were held in and around major public spaces, the highlight being Melbourne's iconic buildings decorated by a spectacular light show.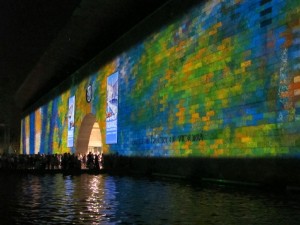 I heard about it at the last moment, so quickly jumped on a train to Melbourne to check it out. The weather was perfect, a hot day turning into a still, balmy evening, a full moon on the rise.
I emerged from Flinders Street station trying to locate a friend among a mass of people. Swanston Street was the main focus of activity which began at the National Gallery of Victoria, in St Kilda Road and continued over the Yarra River into Swanston Street, past Flinders Street station and Federation Square, and on to the Town Hall and the State Library of Victoria.
At the corner of Flinders and Swanston Streets, a stage was set up where bands featuring some of Australia's best musicians played all night, including Cat Empire (to name just one).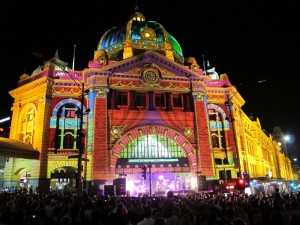 If you have an opportunity to attend one of these festivals I highly recommend it. Over 300,000 people went to the Melbourne event and, as well as being entertaining, there was a relaxed, good-natured international vibe.
The only minor complaint was that bars and cafes were unprepared for the event's popularity, which meant long waits to buy a drink.
I made it until about an hour or so short of dawn before calling it a 'night'.
White Night will be held in Melbourne on the last Saturday of February for the next two years (and hopefully beyond). Below are some more pics. And here's some video image…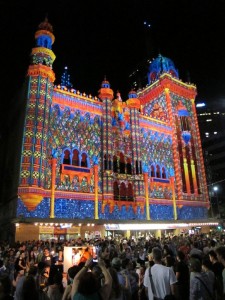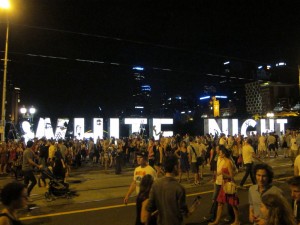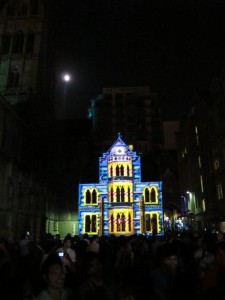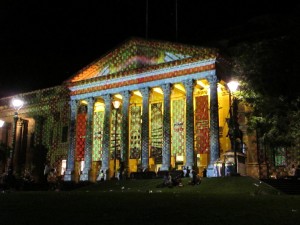 END