Cambodian E-visa Scam?
July 2014.
The purpose of this post is to compliment and update previous articles about catching the Thai government bus from Mochit station in Bangkok to Siem Reap. It has been operational since early last year and is, apparently, the only direct bus, thus avoiding many hassles that reportedly occur at the border. I'll include links to a couple of those other articles at the end of this post.
To begin with I'll cover a bit about the Cambodian e-visa. It's been suggested that purchasing an online visa circumvents border hassles and scams (additional visa 'fees' etc). I'd like to dispute that for the following reasons.
While the e-visa still costs the same (US$20) the admin fee has increased from $5 to $7 and when you reach the last step a $3 credit card fee is suddenly thrown into the mix. Scammed if you do scammed if you don't. Why pay $10 to avoid 100 baht ($3) at the border? Not to mention additional exchange fees if your card isn't in US$. I also had technical problems with the online site which added to the doubts.
Furthermore, an e-visa only saves minimal time at the border, because the visa application process there is fairly quick (in my experience). I bet you'll spend more time online than you will completing a form at the border. What does take time is queuing up for your entry stamp, and you still have to do that whichever way you get your visa.
Now for the government bus (The Transport Co). Firstly, there was some debate as to whether there are two departures or one, with consensus falling on the latter. When I rang the bus company directly I was told there were two departures (8am & 9am), but when I enquired through a booking agency they said there was only one (9am). So whether there are one or two departures might depend on who you book the ticket with.
There are several ways to buy a ticket. (1) On the day at Mochit station – but that could mean the bus is full (even when it isn't – I'll explain later); (2) by phoning the bus company and then paying at Seven-Eleven, though you'll still have to collect a ticket when you arrive at the station; (3) online with Thai Ticket Major and picking it up at one of their agencies – that requires you registering an account on their website: (4) or by simply going to a Thai Ticket Major outlet and buying it on the spot, which is what I did – at Paragon Siam.
I should also mention what I know about transport alternatives. The government bus costs 750 baht. In Banglamphu and nearby Pranakorn the going rate to Siem Reap is around 450 to 550 baht, some by mini-van to the border, others by bus. The total travel time quoted is 12 hours, which is a good deal longer than the government bus and had me being suspicious about the seamlessness of their border transport connections. However, the problems previously reported about this means of travel may well be exaggerated and/or less frequent now.
When I questioned one travel agency about connections on the Cambodian side I was informed passengers were given stickers to put on their shirts so they would be recognisable once through passport control. I later double-checked this with an Aussie girl working there, but when I asked about the visa she said that would cost 1900 baht (over twice the real cost) through them! She said this with such a straight face I had the impression she may not have even known what the real visa fee was. Anyway, the gist was that while the transport costs were cheaper they would make money by trying to get you to pay more for the visa.

Back to the government bus …getting to Mochit from Banglamphu/Pranakorn by taxi will set you back 140 to 150 baht if the driver uses a meter. If you're taking the #3 bus during peak traffic allow more than two hours because along this route the bus gets held up by traffic jams at a railway crossing. I only allowed two hours and arrived at Mochit with a minute to spare (though the bus didn't leave until 9.15 anyway). Otherwise, if you're handy to the skytrain you can go to Mochit train station and catch a bus or taxi from there to the bus station.

The condition of the bus to Siem Reap is as described in other posts – it's been around awhile but is comfortable enough. There were only two spare seats, one of which was next to me. The loo had a note on it saying it was only available for 'pee', and the door was held shut by a piece of sticky tape.

As we departed, the bus jocks/conductors (two males) handed out a snack – in this case, a cake. They also gave us our neck badges to wear so we'd be identifiable after crossing the border.

Once we escaped the traffic snarls of Bangkok the going was smooth. Road works slowed us down to crawling pace for about half an hour at one stage. The onboard loo eventually became permanently shut after one passenger used it for more than 'pee' and stank the whole bus out.
No matter – the air cleared and there was a service station loo break with a Seven-Eleven, a food hall, coffee shop and ice cream stall. After leaving here, chilled cans of a coffee-type drink were served to passengers.
Not long after this, the eldest of the two jocks approached us about visas, but it wasn't like accounts I read about in other posts. There was no hard-sell or lies, and the asking price had dropped to 900 baht. It was couched in terms of: "We'll do the leg work and you pay us a 100 baht fee." I must admit I was tempted, but I wanted to investigate the 'official' method.
At one point I got chatting to him. He was from Battambang (Cambodia) and had been working on the bus for six months. He'd stay the night in Siem Reap then return to Bangkok the next day, overnight there, and so on.
"Not a bad job?" I asked.
"Not a good job," he replied.
I imagine it would get monotonous after awhile. He hadn't had a day off yet and wouldn't get one until a year passed. No doubt helping to process a few visas brought in some extra baht.
Just shy of the border we stopped again, but it wasn't to herd us into fake Cambodian visa offices (as also previously reported) – it was for them to collect and hand out our lunch. That turned out to be a warmed-up, precooked 7/11 Thai meal, but it was tasty enough.
The jock (his name I obviously failed to get) said it would take two or three hours to get through the border: "Depending if mistakes."

The border is a mess of people and buildings, but the bus jocks pointed us in the right direction. Another advantage about taking this bus is that your luggage remains on board. These are the only photos I took. The other posts have pics for those wanting a more complete scene.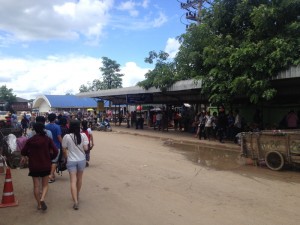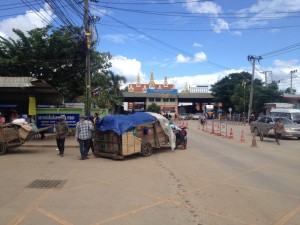 Exiting Thailand was routine, though the official seemed unhappy about something I had done and muttered to himself in Thai, but duly gave me the stamp.
Obtaining the Cambodian visa was speedy, as mentioned earlier, if a little unconventional. One official handed out forms to complete; another collected them, passports and money while everyone was still in the queue, which made it a little harder to challenge the extra 100 baht 'fee' (i.e. scam). I didn't make more than a lame protest, partly because I didn't want to risk them holding up my application. There's a definite power imbalance here. You can also pay for the visa in baht (800 baht, which includes the 'fee' – a little more than if you pay in US$)

An Italian in front of me had to pay another 100 baht because he didn't have a photo – not that one was taken of him following that payment.
There's also a toilet near here (for those keen to know that sort of detail) that you can detour to once you get your visa.

The third step in the process, getting the entry stamp into Cambodia, takes the longest, and is the most arduous. This is done in a narrow, crowded room without air-conditioning. An abrupt official handed out an arrival form as we entered. There were three long queues. Though, it's more accurate to say there were three booths – the queues tended to merge and cross over if you weren't watching, especially as you neared the booth windows.
This queue was where I encountered my first dilemma. I completed the arrival form while in line which probably contributed to me writing the 'purpose of visit' where I was meant to write the visa number. The official who had given out the forms was, by now, unsighted beyond the far end of the queue so I crossed out my mistake and wrote the visa number above it, but botched that as well. I tried to make it as legible as possible by writing over the number, but it was messy. The words of the bus jock echoed in my mind "Depending if mistakes".
I hoped I wouldn't be rejected on a technicality, but didn't want to lose my place in the queue so stayed put in hope that, if required, I could fill in another form at the window.
About three people short of being served I noticed the sign stating any arrival forms with errors or that were incomplete would require you returning to the start of the queue and repeating the entire process. What was I to do? I didn't expect it was going to be me holding up the bus.
I feared the worst, but took a punt, held my ground and, so as not to give negative impressions, bit my tongue when a local queue-jumped (I'd already blocked him once).
The official examined my form, but hardly flinched. When he tried to record the visa number he couldn't read it, but instead of returning the form and sending me back to the start of the line he went to my passport, located the actual visa and typed in the number from there. He was in a tolerant mood; his patience even continued while I, clumsily, recorded my finger and thumb prints.
I was one of the first back on the bus. I was also wondering if I had caused a scene by refusing to pay the 100 baht 'fee' whether word would have been passed down the line and backfired at the messy-form point. Can only surmise.
Back on the bus, the empty seat next to me was soon occupied by a girl from Spain. Remember I mentioned earlier about the bus being full even when it isn't? This girl and her friend arrived at Mochit at 8.30AM and were told the 9AM bus was full. They were put on another bus to connect with ours at the border. They paid the same amount (though in two separate fares) and weren't overly inconvenience – their packs were transferred from one bus to the other, and apparently there were few passengers on the other bus so they could spread out and make themselves comfortable. But the odd thing is that there were always two empty seats on our bus which, obviously, also had to be there for them to connect with.

Unless there were two passenger no-shows that were only going as far as the border, the only explanation I could come up with was that the other bus required a minimum number of passengers, or that staff are trying to keep it operational by transferring passengers to it. It may well have been the 8AM bus that fewer people know about. Then again I could be totally misreading Thai logic.
From the border it was smooth travelling again. We arrived in Siem Reap while it was still daylight, at about 6pm and in a central location – within walking distance from most guesthouses, not far from Walking Street etc.

Sometimes I wonder if the more people read about these border crossing issues the more stressed out they become. Ignorance is bliss? I met a French girl who went, uninformed, from Pattaya to Siem Reap and, for her, it was seamless and trouble free. I don't know which border point this entailed crossing and if it was less notorious than Poipet (most are).
On the other hand, I met an Australian girl who ventured unawares to Poipet (via minivan from the Victory Monument –  for 350 baht, from memory) and she was scammed into changing baht at a bad rate, and overcharged for a share taxi to Siem Reap. She was after an ATM and someone offered to transport her to where there was meant to be one, but there were only money changers. (As an aside …she got into this predicament after trying to do a visa run in Mae Sot, but found Thai authorities were no longer allowing people to simply walk out and straight back in to renew their visa. And not having a Myanmar visa she was caught in the situation where she had to make a dash across country to exit Thailand.)
Below are links to other posts and bus ticket contacts. My final advice is to relax – the worst that'll likely happen is that you'll be briefly inconvenienced and a little out of pocket.

Here is one article, and another here.

Thai Government Bus (call centre staff will either speak English or put you thought to somone who can)

Enjoy the ride.