Koh Kong, tucked away in Cambodia's south-west corner, is arguably the country's most pristine province, if not one of the least disturbed natural areas in South East Asia.
A region of low population density, undeveloped tropical islands, virgin rainforests and crystal-clear waters, it offers unspoilt exploration.
I was there during the wet season, so there was no transport out to the islands, but for US$20 you could venture on a guided day trek to a nearby waterfall that hasn't even been named yet.
We were a group of four – one each from Israel, Denmark, South Korea and Australia. The first part of the journey was by boat on mirror-like waterways to a stretch of mangrove forests.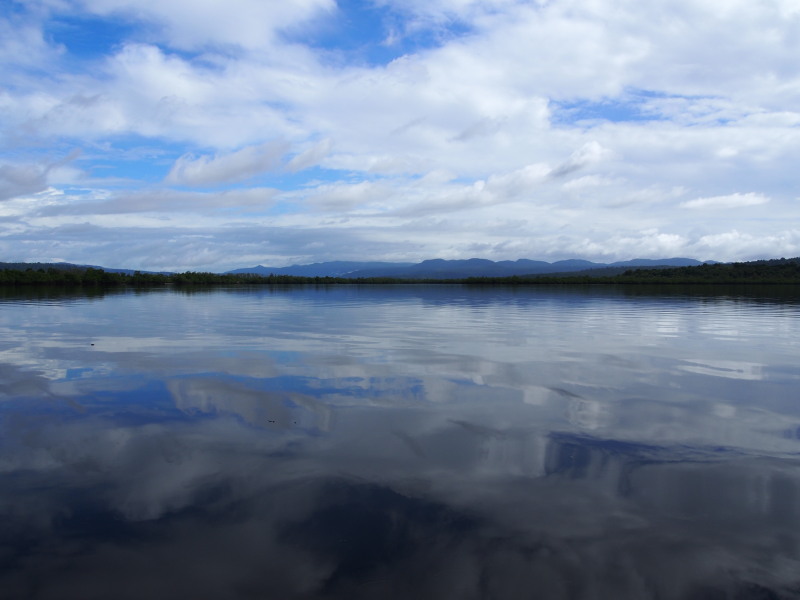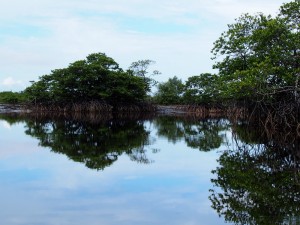 In the distance the Cardamom Mountains loomed enticingly, though they're largely impassable at this time of year. This was the most impressive and unique scenary of the tour.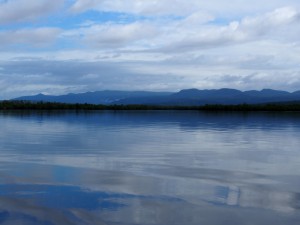 We came to a stream the guide said was called Bamboo River, but I don't think that's an official name. We followed it upstream, spotting an otter sunbaking on a rock (that quickly skedaddled when hearing us approach), to a point we could hike up to the waterfall.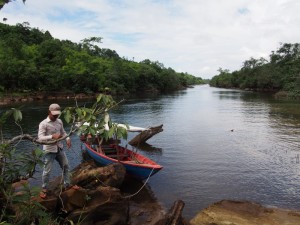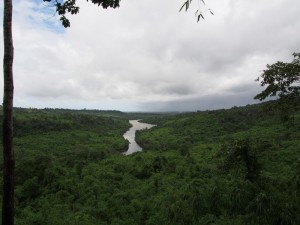 Thailand could be seen from this vantage point and from there dark clouds approached. The Thai influence is also noticeable in place names around here – koh being the Thai word for island. Though, who knows? Given the toing and froing between these nations over the centuries it may have originally been a Khmer word.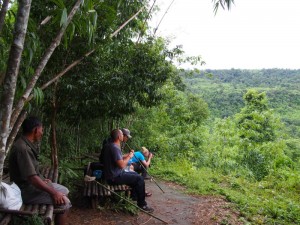 The trekking wasn't particularly arduous – the main obstacle being the inclement weather and humidity, and an occasional leech taste-testing my foreign blood on the return route.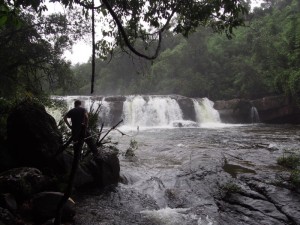 Lunch was provided at the waterfall.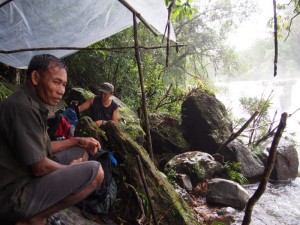 None of us felt inclined to swim here: the water was a tad too fast-flowing. But in the dry season I imagine it would be no problem.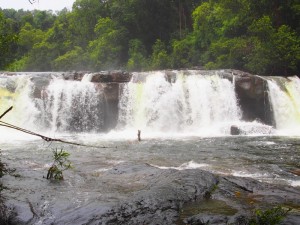 The Israeli had a tendency to talk without moving his lips, the Korean was affable enough and the Danish girl had the same poncho as me, but otherwise we didn't move beyond rudimentary bonding – though we got along ok.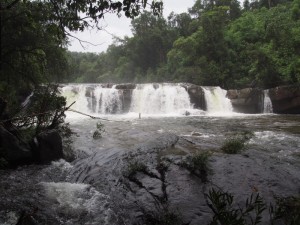 This was an in-and-back trek rather than a circuit, so we retraced steps from here. The guide pointed out flowering plants, fruiting trees etc he'd observed on the inward journey.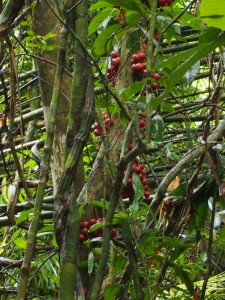 Back at the boat we went a short distance to where we could swim. After leaving the river, we took a slightly different route along the estuary to our departure point.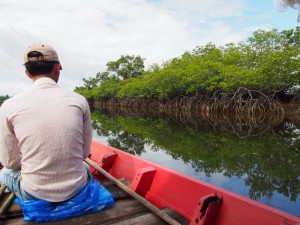 Overall, it was a good tour for giving you a taste of what's possible in this little travelled region. A circuit would've been preferable to an in-and-back route. The guides were friendly enough and the food tasty. It was a brief, but enjoyable excursion. Value for money.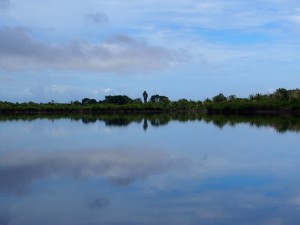 The tuk-tuk got bogged on the return to our guesthouses, but that was about as close as we came to a major mishap.
We arrived back with enough time to change, have dinner and enjoy this sunset over the glassy waters.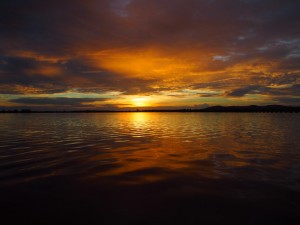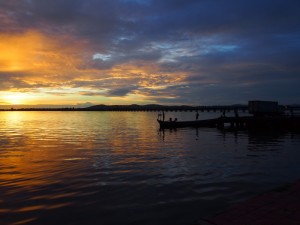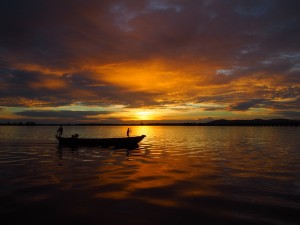 NOTES:
The day trip was with Rithy Eco Adventure Tours.
Koh Kong, the city, supposedly has a reputation for gambling and prostitution aimed at Thai tourists, but it wasn't noticeable. It's a small hub with no major attractions, but could be more appealing in the dry season. It was okay, though. Any place is worth exploring, in my opinion, because you'll usually discover something or someone of interest.
The bus station is within walking distance for those that don't like being held to ransom by tuk-tuk drivers. The Phnom Penh Sorya bus from Phnom Penh was meant to terminate at their office in town, but the bus driver was in cahoots with the tuk-tuk cartel.