On my second trip to Siem Reap I was looking for something different to do. A mountain bike tour to a remote temple filled the bill. Camouflage Adventure Cambodia provided the opportunity. They're one of the newer operators in Siem Reap, offering a good collection of suitable bikes, and tours at competitive rates.
It was the height of the wet season – humidity was around 90 percent and, when combined with bursts of sunshine, draped everything like a hot, damp blanket.
Why was I here in the middle of rainy season? Mainly because I'd been to Thailand at this time of year and found that, in many ways, it was better then – frequent cloud cover meant you weren't burnt by the sun and the rain was often cooling. Not to mention that being off-season, accommodation is cheaper and easier to find, and the sites crowd-free.
But conditions seemed more oppressive in Cambodia, or perhaps we were just going through a particularly bad patch. On a visit to the main temples a few days ago it was energy-sapping even at strolling pace. How would it be on a 70 kilometre mountain bike ride?
Furthermore, what would the terrain be like, and the state of the trail? Naturally, the tour agency was always going to be reassuring, but their idea of 'good' might not acquaint with mine. And what was 'little mud and water'? Still, they seemed unconcerned about my ability to go the journey, and there would be a tuk-tuk sag wagon providing back-up if I needed to wave a white flag.
One negative of it being the low-season meant I was the only traveller foolhardy enough to pursue this endeavour.
A tuk-tuk is the normal mode of guesthouse pick-up, but due to a communication glitch, Sopaa, the guide, arrived a morning early. So, on take-off take two a motorbike was dispatched to pick me up at 7.30AM and bring me to the tour agency. Same, same, but different.
It had been raining, but now cleared. A poncho was my preferred wet weather gear.
My main concern was less about fitness than it was about my bum lasting the distance. The seats were thin and rigid, but a gel padded cover was supplied for additional support. My barge arse much appreciated that. I'd already taken the bike for a short test ride to make sure everything was working.

To begin with we rode through the streets of Siem Reap. Sopaa's early observation that I was a strong rider offered reassurance I'd make the distance.
We stopped momentarily outside a school; for what reason I wasn't really sure, but Sopaa gave a brief rundown of the school system – in a nutshell it's free until university level. Then we continued on via a nearby market.
Initially the ride was bumpy – on muddy roads pock-marked with rain-filled craters. The gel covers weren't as effective as a specifically designed, padded seat – which meant my rump felt tendorised barely ten kilometres out.
Fortunately, the roads eventually smoothed out and we began riding through more typical country; alongside rice paddies and palm trees.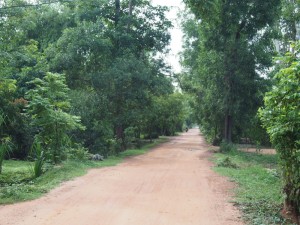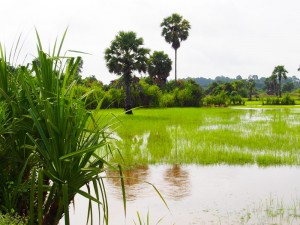 Sopaa was attentive, continually asking how I was faring. He hails from a small farm one and a half hours from Phnom Penh. His mother works there now. He's yet to finish the university course to become a fully fledged tour guide – his qualifications are sufficient for this role, though, which will fund completion of his studies.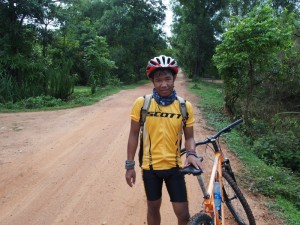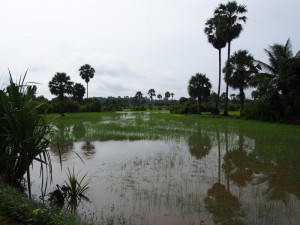 At one point, we approached and pedaled around the perimeter of Rolous temple. I'd been inside there nearly three years previously. Though Sopaa called it by its other name: Bakong (Rolous refers to the group of temples).
Here's a pic of inside the temple grounds from my last trip. It's one of the earliest built during the Khmer dynasty (erected in the 9th century)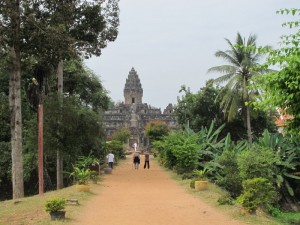 Then we continued on to Rolous township; on a junction with the highway to Phnom Penh. The bitumen highway was mostly dirt and mud here. Last visit it had been in good condition. I guess multiple rainy seasons have taken their toll.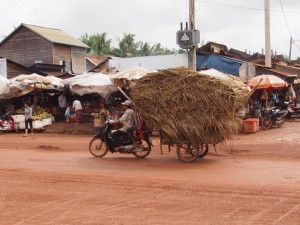 The road straight ahead is where we will be going.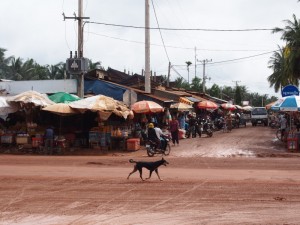 At this junction we met-up with Ramon, the tuk-tuk driver. He's actually a mechanic and was performing the role of back-up driver for the first time. He'd rang Sopaa en route to here to double-check the rendezvous point and time, so he was anxious to get things right. The tuk-tuk is also there to bring everyone back – it's a one way ride, due to time constraints as much as anything.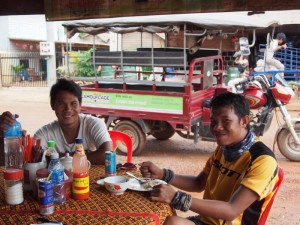 Fears about developing a red-raw backside were alleviated when the roads from here-on proved to be in good nick. Ramon followed us at a distance. Sometimes Sopaa rang to check his whereabouts when we lost sight of each other.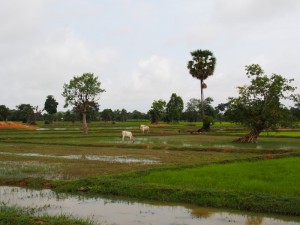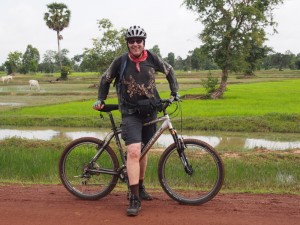 After a stretch of pleasant riding, we came to the village of Sonlung, where this temple displayed a mural depicting the early life of Buddha, and how he ventured onto the path to enlightenment.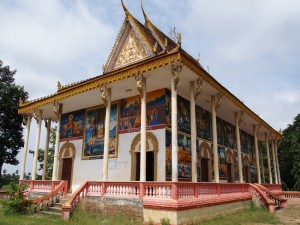 We continued on through amiable flat country, making occasional stops for a drink or a photo opportunity.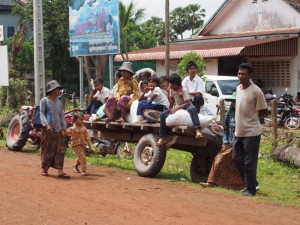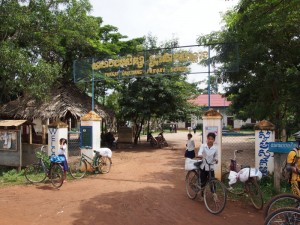 I found the last ten or fifteen kilometres the hardest: more due to oppressive humidity than lack of fitness. The terrain wasn't a problem – and the last ten k' or so was on bitumen. Meanwhile, the gluteus maximus remained grin and bearable.

As the temple is neared, an entry ticket has to be purchased: US$5
We arrived at the village of Beng Mealea at about 12.30pm, which Sopaa said was good going.
Though to call it a village stretches interpretation – it's mostly a collection of restaurants and stalls to serve the tourists. It's also where we had our lunch (included in the tour price): in my case a tasty Khmer chicken curry and coconut water served by a pretty, but uncommunicative waitress that, after some prompting, Ramon and Sopaa managed to get a smile out of.
A brief deluge delayed our departure post-lunch, but retrieving the poncho from my daypack was as close as I got to needing it. We didn't ride directly from here to the temple – instead we took a back route, detouring through forested country on narrow trails to visit sites that Sopaa emphasised other tourists don't get to see.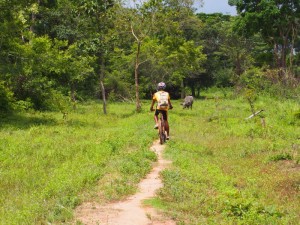 We came to this ruin – Cicada temple. But it wasn't reduced to rubble by time and neglect – the Khmer Rouge used it as a hiding place and it was consequently bombed by the Vietnamese.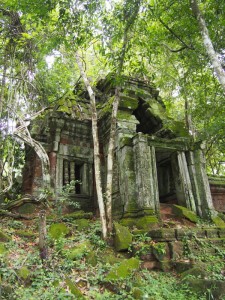 The temple might be restored one day, but it's low on the long list of priorities.
Moving on a couple of kilometres – this was once a king's residence that suffered the same fate as Cicada temple. It was built by King Suryavarman 2nd, who also constructed Beng Mealea and, in turn, Angkor Wat.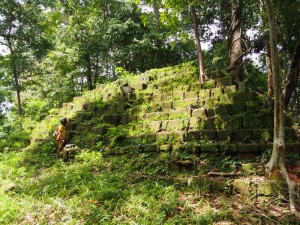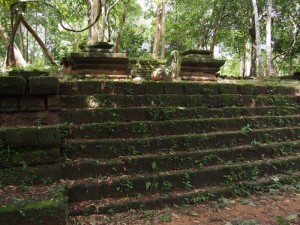 This sign indicates the area has been cleared of land mines.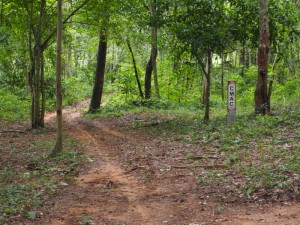 This tree-lined track leads from the king's residence to Beng Mealea – to the east gate.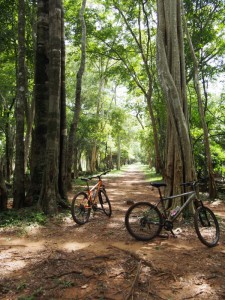 We followed it, but there's no entry here – though there's possibly nothing stopping you climbing over the ruins.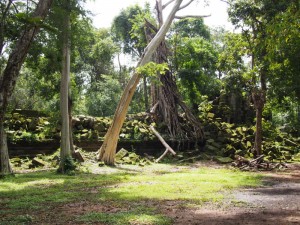 It's a good introduction to the temple, though – lonely pillars and piles of lichen covered rocks.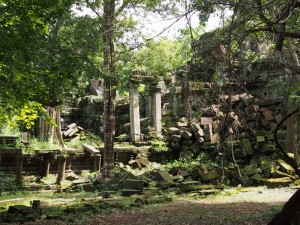 We rode around via the north wall, detouring to the river where stone was quarried for the temples.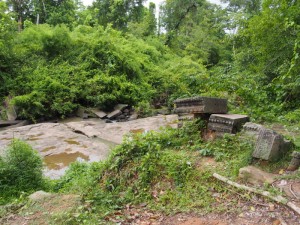 We parked our bikes at the West gate, which isn't the official entrance either, but we scrambled over a wall near here, and began our exploration inside.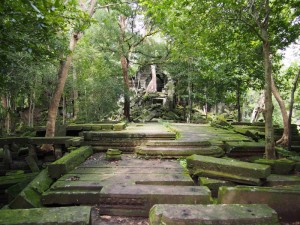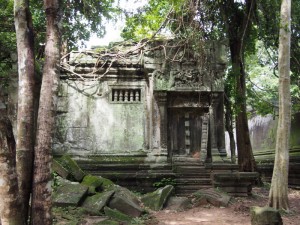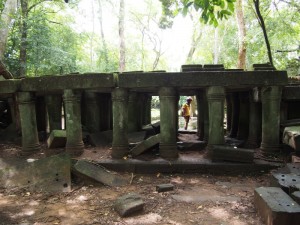 Beng Mealea is an impressive sight, made more so because it's off the main tourist route. It fits the stereotypical image of a lost temple – stone blocks strewn about everywhere, and overgrown by jungle (see the gallery at the end of the post for more pics).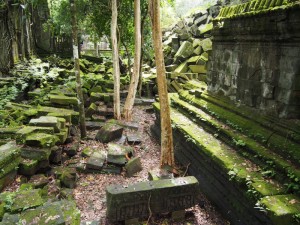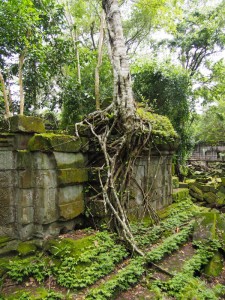 Beng Mealea was a precursor to Angkor Wat, though built on a smaller scale by King Suryavarman in the 12th century,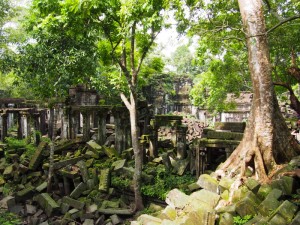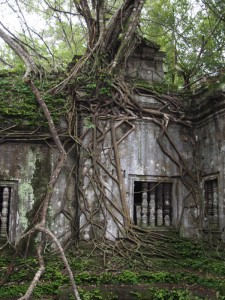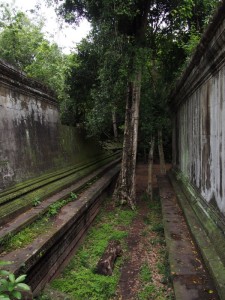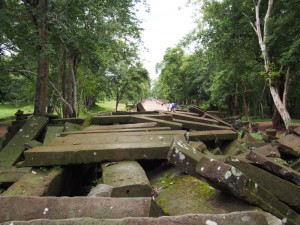 We then cycled to the main road to meet up with Ramon who loaded the bikes into the tuk-tuk, securing them to one side. Sopaa and I sat on the opposite side, and we made our way back to Siem Reap, stopping for a rice snack sweet along the way. I had wondered what was inside those bamboo tubes sold from roadside stalls and bus stops – now I knew.
Back at the tour agency I was given napkins to wipe the mud off my legs, which was much appreciated because I thought I'd have to walk back to the guesthouse looking like I'd emerged from a primeval swamp or something, but I needn't have worried – Ramon took me in the tuk-tuk! Service beyond the call of duty.

Needless to say, after a shower I lay down and conked out.
Overall impressions: It was a great tour. Sopaa and Ramon were attentive guides and easy to get along with. The bikes were good enough for requirements (hard seats aside), and sufficient food and water provided. Their rate (US$65) is reasonable considering what's provided, and what the opposition is charging (from memory, $30 to $40 more).
I would've liked more interaction with the locals and, even though we spent quite a while there, I would've ideally explored Beng Mealea even further – I was conscious of Sopaa wanting to meet up with Ramon for our return journey, but I probably should've pushed it – because I might never be back.
But mostly I'd highly recommend the tour and, in the height of wet season, a 70 kilometre mountain bike ride is a great weight-loss program. Don't think my ample posterior became any less ample, though.