Phare Circus in Siem Reap is a uniquely Khmer performing troupe giving employment opportunities to disadvantaged youth as well as offering an interesting and entertaining tourist-excursion alternative to the temples and Pub St bars.
The parent company, Phare Ponlue Selpak, was formed 20 years ago in Battambung to provide arts education and revitalise the creative industry in Cambodia following the tumultuous Pol Pot reign.
Only a small proportion of the revenue raised by the millions visiting the temples of Angkor actually goes to Cambodia. Attending shows like this is also a way to contribute more directly to the local community.
The circus occupies a site near the museum in Siem Reap. A general admission ticket costs US$15 (can usually buy one at your guesthouse or hotel).
I caught a tuk-tuk there for $2 from Sok San Road. Though the driver tried to cut costs and turn that into a motorbike, but fortunately guesthouse reception were onto him. Given the storms that were about that was appreciated – this was during the wet season.
Entry is on an open path lined with lanterns on bamboo poles, leading to a museum and gift shop.
Beyond that is a restaurant and the circus tent.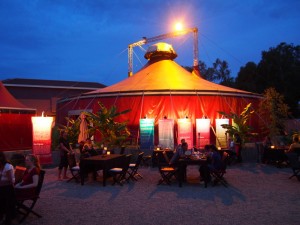 A not-very-palatable $2 coffee began my proceedings. And while quaffing that, this queue formed.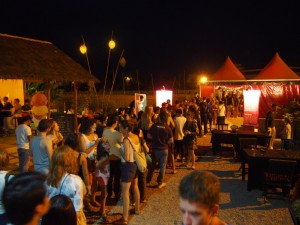 But no problem – there was plenty of room inside. You can pay for a reserved seat, but doubt it is worth $35: just arrive early (may not apply during peak season). A French girl I met on another tour had grown up in a circus environment and felt this show was relatively expensive – presumably she meant the reserved ticket, and may not have known about general admission, so best to double-check if you are quoted the higher price.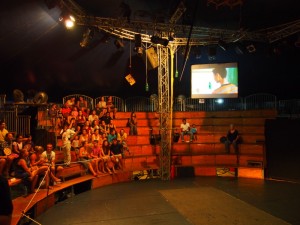 I claimed a spot near the end of a row to avoid a girl in front blocking my view with an amazingly large hairdo. Another girl arrived requesting the space on the aisle side, which, I explained somewhat clumsily, was okay if it didn't push me too close to Big Hair.
Then, wanting to smooth over any misunderstanding due to my qualified acquiescence, I made general chit-chat, but she couldn't understand my attempts to repeat the same question. She asked where I was from. I asked where she was from.
"Brazil," she said.
"Not far," I responded. My weak attempt at irony fell flat and that was the end of that.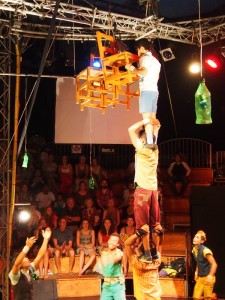 Excuse the digression. As for the performance, the location, engaging performers and the storyline sets it apart and gives it freshness.  It's more about that than accomplished, original stunts. The storytelling is aided by the use of subtitles on a screen, though for the first half that was limited due to power supply issues (it was a day of power outages).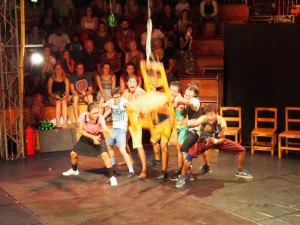 We got the gist, anyway. This performance was called Chills – it was about teenagers, or anyone, defeating their demons by confronting them. Though to prove the point, the demons in this case weren't just metaphorical: a student group ventures into the forest, has to stay overnight, and encounters malevolent spirits – as you do. It was enacted with expressive energy and tension. Very engaging. Phare is as much theatre as it is acrobatics and juggling – that's its appeal!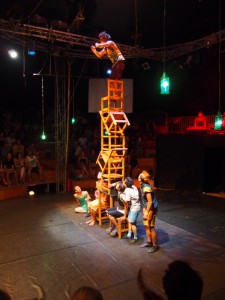 There are various routines and storylines that Phare performs, of which Chills is just one. Like many things in Cambodia it needs to be viewed in recent historical context: in some ways they are starting everything all over again.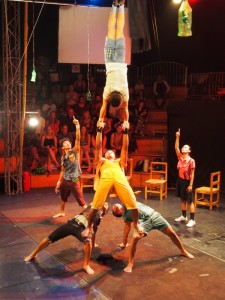 Taking photos was allowed – without a flash (don't want mid-air acrobatic collisions!) – the 'night' storyline meant the light wasn't condusive to photographing those scenes. See the slideshow at the end of the post for more pics.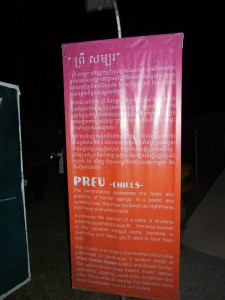 At show's end, they possibly pushed it a little with requests for donations. They're dependent on the generosity of others, though so are many organisations in Cambodia, and buying a ticket for a show etc. is a reasonable contribution.
The cast, however, were keen to make themselves available for after-show photos and chat.
The power still hadn't been restored when we left, and the audience exited the complex into darkness. Fortunately the tuk-tuk driver recognised me.
I had him drop me off in the centre of town rather than go all the way back to guesthouse. I gave a tip that he was inclined to take before it was offered. Ah, tuk-tuk drivers.

Despite any wry grumbles, I recommend Phare for an evening of unique circus. It sure beats another night in Pub Street.