Khon Kaen, a transport hub in the far north east of Thailand, was never a trading stop on the famous Silk Road. Unsurprising really, given the road was a network rather than a route: but Khon Kaen, as far as I know, wasn't part of that either.
Silk, however, plays an important role in Khon Kaen's current trading and tourist fabric (no pun intended). And it's not just the silk villages weaving in and around the Khon Kaen province. Since 1979 the city has staged a Silk Festival to promote the industry and preserve traditions.
The festival usually starts at the end of November. Silk is often considered a luxury item and I had the rare luxury of a tour guide. Her name was Veena and, like many small businessmen and women in Thailand, she has several strings to her bow. She also runs a massage school and organises visa applications, to name just two (I later discovered her school is listed in Lonely Planet).
In the lead-up to the festival we drove to the nearby silk village of Chonnabot. Apart from a detour to buy fruit shakes, the first stop was at the silk museum on the outskirts of town. There are no signs in English, though, so look out for a university because the museum is attached to that, silk weaving being a course of study. It was also closed when we arrived, but someone was around to let us in.
It mostly consists of an upstairs room overseen by a large portrait of Queen Sirikit, who is a patron of the Thai silk industry. On display are silk garments of various ages, styles and purposes.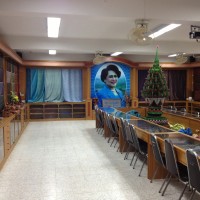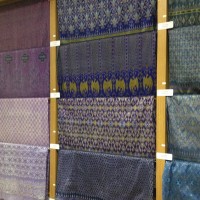 According to Veena, each family has their own design, similar in practice to Scottish tartan. Though, here in Thailand it's more a cultural trademark than an indication of clan. A silk market is also held at the museum on the first Saturday of each month.
Chonnabot is an amiable village and small enough to wander around by foot. Veena thought there was less silk weaving being practiced due to the rice harvest. The first house we saw with a loom outside was unattended, but a woman emerged who didn't mind returning to work so we could observe.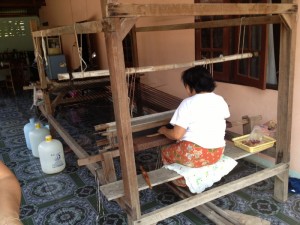 She was practicing a style that Veena said was less common now – it requires weaving different colours across and down at the same time. Most Thai weaving consists of a standing (up and down) thread that a cross –pattern is woven into. The woman was doing this garment to order for 3000 baht (approx A$100).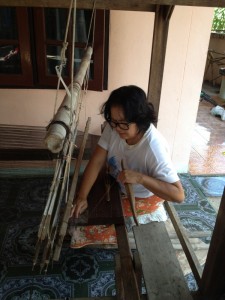 Khon Kaen is in Isan region, Thailand's weaving-central, and the most common style is mut mee; the tie-dye method. Weavers were practicing it nearby.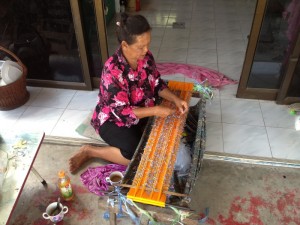 Veena said the woman at one house was doing the "first step", and the woman at the next was doing the "second step". This had me thinking it was a collaborative effort, but she meant they were at different stages in their individual piece.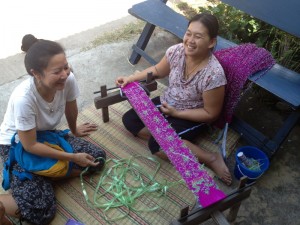 After the 'tying' the silk threads are soaked in dye and later used for the final weave. Sometimes the weavers have a pattern in mind, at other times they design in response to a specific request.
It requires imagination and attention to detail, and had me surmising that the thought processes behind it were akin to computer programming, and that desire or interest often decides what men or women are capable of.
Shop keepers in Chonnabot sell the finished product. 1700 baht buys a reasonable quality tie-dye style dress. Veena had been to school with one of the shop owners. He believed there were fewer tourists these days, but that could be just the sort of thing traders tend to say. He wouldn't be having a stall at the festival. "Too expensive", he claimed. Invited traders don't pay a fee.
Veena was away for the festival opening day, so I explored unguided. A parade in Klang Muang Road kick-started proceedings. As Thai parades go it was fairly typical – floats, performers, beauty quest entrants. But it isn't this festival's main attraction so doesn't compare to, for example, the Candle Parade in Ubon or the fireboats of Nakhon Phanom. Surrounding villages were represented – silk ones, dinosaur ones (fossil finds are much lauded in Thailand), and even a cobra village.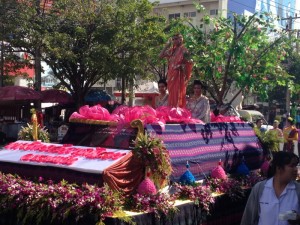 The festival site occupies a large area in and around Nasoon Ratchakan Road, which is, on other occasions, the site of Khon Kaen's Walking Street market (better than the Chiang Mai version, in my opinion). It's set-up is similar to most festivals in Thailand, in Isan, anyway – like a huge market with a special activity attached. With so many stall holders selling anything and everything concentrated in one area, these festivals are often a shopping opportunity for Thais as much as anything. There's also live performances and the Red Cross will usually be present offering their version of a lucky dip.
While silk trading is the main activity of difference here, the festival also coincides with Phuk Siao, a long-standing tradition to cement and sanctify friendships, newly formed or long-held, of the same gender. A ceremony is held where friends sign a register and give each other an item they treasure. These friendships usually come to include both extended families.

Eventually, I found the exhibition pavilion. On display inside was award-winning silk surrounded by merchant stalls.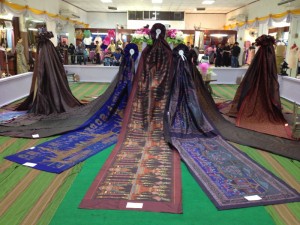 Thai silk is soft, but has a coarse texture with a slightly knotty thread making it most suitable for hand weaving, and longer-lasting. Its triangular fibres reflect light like prisms, and a layer of protein provides a natural sheen.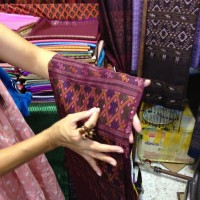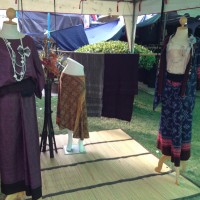 Identified by the royal peacock trademark, there are four categories of Thai silk: royal, classic, silk and silk blend.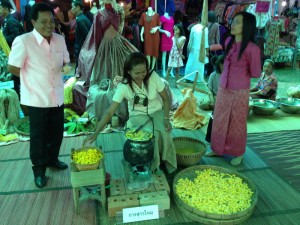 Outside the pavilion were practical demonstrations: on this occasion, a woman was extracting silk from the cocoons, which had been put in a vat of boiling water to separate the thread. Amazingly, a thread from one cocoon can be over a kilometre in length. A single filament is too fine, though, so many of them are combined to produce a thicker fibre.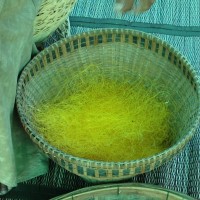 The yellow cocoons are Thai, the white ones foreign.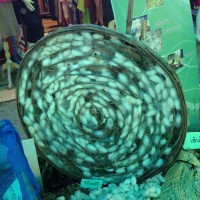 Thai caterpillars munch on Mulberry leaves.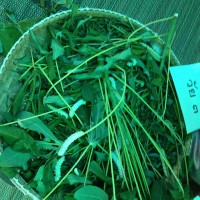 The 'cooked' caterpillars are a delicacy sold in market stalls all over Thailand.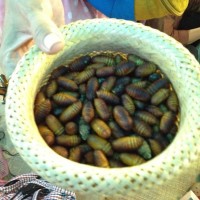 Away from the pavilion and market, an open field has a large stage offering free performances. This evening, a band stretched the width of the stage, playing a fusion of traditional Thai and contemporary western music, accompanied by dancers.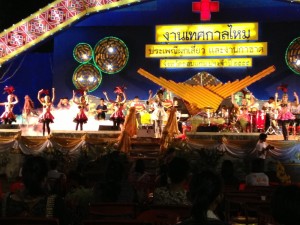 As the night progressed. youths emerged in groups wearing jackets displaying Red Bull, Honda, Suzuki or Ferrari logos, trying to look mean, but being fairly harmless as far as I could tell.
In an adjacent fenced-off area, well-known bands from around Thailand performed (50 baht) throughout the festival: usually beginning later in the night as the free entertainment drew to a close.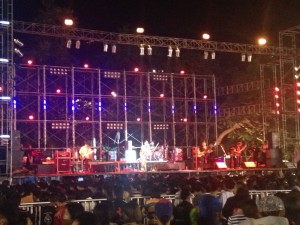 Veena had warned it could be dangerous among the crowd near the stage, but I think she was just being over-protective of a visitor in the way any local in any country can be. The crowd was docile and good-natured. The only risk was to ear drums from the intermittent screams of teeny boppers.
Occasionally, a 'gang' would saunter in wearing Red Bull or Monster Energy jackets, hang around for awhile then leave. The music wasn't really my style, though – Thai rock can be too near the 'soft' end of the spectrum. I prefer the energy and improvisation of Thai country like Luk Thung.
When Veena returned we toured the festival together so she could add information to what was on display. She said most of the stall-holders were from Chonnabot.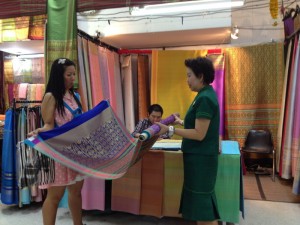 Though, a woman from Chomphun had on offer the highest quality, Thai royal silk.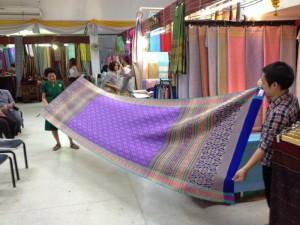 Not all weavers are women, though: the man who made the below also received royal recognition for his use of natural dies.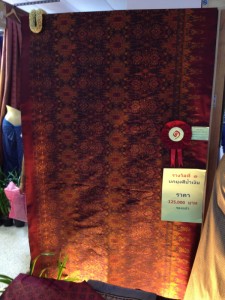 Most dies these days are chemical-based and were introduced by the infamous Jim Thomson, an American, and alleged spy, who devoted his later life to preserving the Thai silk art.
Outside, we encountered a woman at the final stage of weaving a mut-mee garment. I was curious to see how it was done, but the solution was simple: the dyed cross-threads were on numbered spools, so it was just a matter of doing it in sequence, the hard, designing work having already been done in the tie-dyeing process.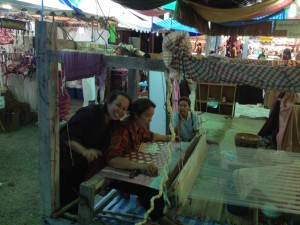 This was 2012. Fast forward to 2013 and the festival has evolved in variety and size, and for the first time international traders have been invited, the exhibition area has doubled and occupies a large, temporary pavilion near the main entertainment area which, in turn is covered with decking and is more formerly set-up with chairs and tables.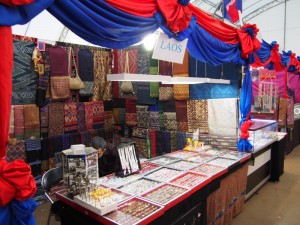 For tourists, the festival's main attraction is silk buying and witnessing the art in practice, though there's enough associated activity and entertainment to keep everyone amused and occupied.The city and the tourist authority (TAT) are keen to promote the festival, so it will likely get bigger and better each year.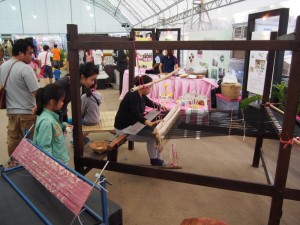 Khon Kaen may not have been on the Silk Road in ancient times, but it is very much a major junction on the modern day silk network.