Saturday – The illuminated boat procession.
Like with the Candle Festival in Ubon Ratchathani, I was in the right place at the right time when temple communities began gathering for the day's celebrations.
It was late morning, and from the hotel room guitar could be heard, followed by a woman singing, then flutes and drums completed the impromptu orchestra.
So, naturally, it drew me outside.
There was a low-key ceremony at this intersection – at a guess, a Mayoral welcoming greeting.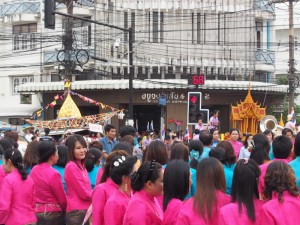 This woman (right) confirmed that they had come here from their temples – in her case Wat Glang – and that they were continuing down Aphiban Bancha Rd before gathering at the river upstream where these mini-boats would be launched.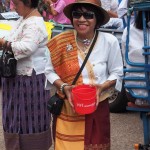 The original 'fire boats' were similar and from that design the huge constructions of today evolved. Made from bamboo they're decorated with flowers, incense sticks and candles.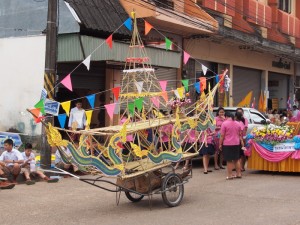 Lai Rua Fai celebrates Ork Phansa, the end of Buddhist lent. As the Tourist Authority of Thailand literature explains it: "…held to welcome Lord Buddha back to Earth after preaching to his mother in heaven during the three-month period of Buddhist lent." Though strictly speaking it wouldn't have been called Buddhist Lent then, but we get the meaning.
The Candle Festival referred to above, by the way, celebrates Khao Phansa, the beginning of Buddhist Lent, a time of retreat and meditation, and is equally authentic and spectacular in a different way.
Earlier in the morning, returning from a breakfast (as per yesterday's encounter) of noodle soup accompanied by the usual flirtatious banter, women on the footpath prepared squid to be sold at the festival stalls. At the next corner these woman prepared fish.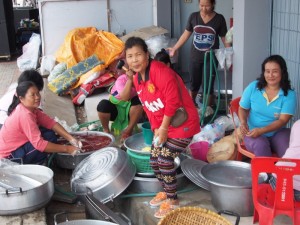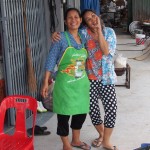 Later in the afternoon I followed the route along Aphiban Bancha to find where the temple communities had gathered, but they'd already dispersed.
I did see these wax displays though.
Many Thai festivals often seem to be like a giant flea market with a special event attached. Turning toward the river, I inadvertently entered a never-ending covered walkway of stalls packed with people. Sometimes I thought I saw a light at the end of the tunnel, but it was just a light. Tried to imagine what would happen if a fire broke out, but the stalls are fairly quickly dismantled. Not the kind of illumination festival organisers would like to see.

When you've seen one of theses markets though, you've essentially seen them all – they sell similar items: clothes, cd's, furniture, cooking utensils, food and the like. The Red Cross is typically associated, in Isan at least, and they'll have a lucky-dip where for 20 baht you scoop a small container declaring your prize from a pool of water. Unfortunately I didn't win a motorbike in lieu of failing to rent one …but the carton of soya milk came in handy.

Eventually, I emerged from the stalls at the river where people were already lining the river bank for tonight's procession.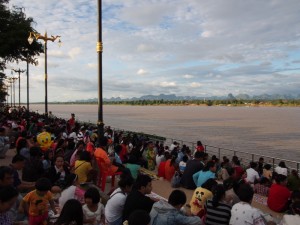 I never saw these boats floating downstream later, so concluded, in the absence of clarification, they were symbolically launched.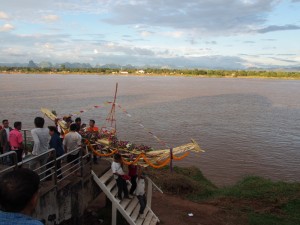 Below is a short video.
Then beer,food and rest was sought and found in a place away from the main throng serving tasty fare by attentive staff. At about 6.30pm fireworks could be heard booming across the roof tops. I didn't know then, but the parade had started early.
Arriving back at the river the moon was also higher in the sky than anticipated. I had miscalculated too. I had in mind to try to capture it rising above the boats, having gone a little moon-photo crazy since being here. But I was in time to witness this spectacular scene.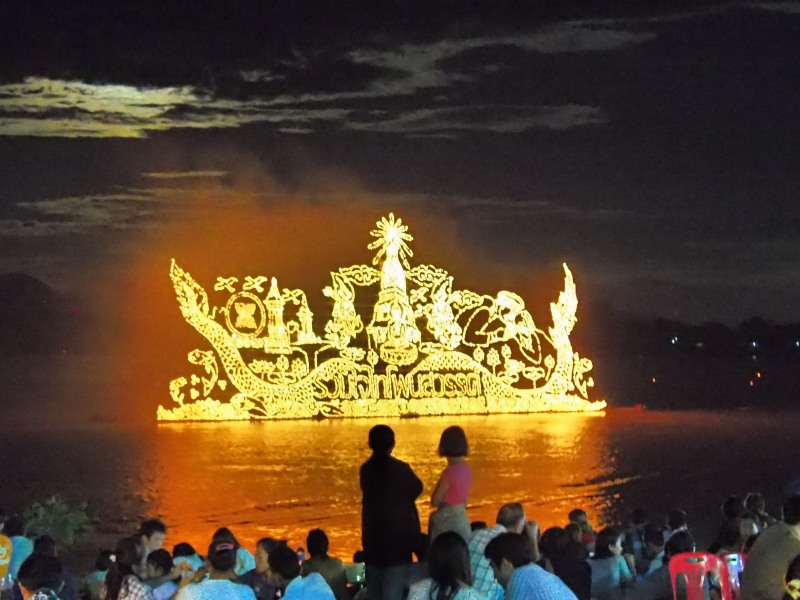 The smokiness is revealed by the filter chosen for the above photo and for others with a similar effect – it isn't evident to the naked eye.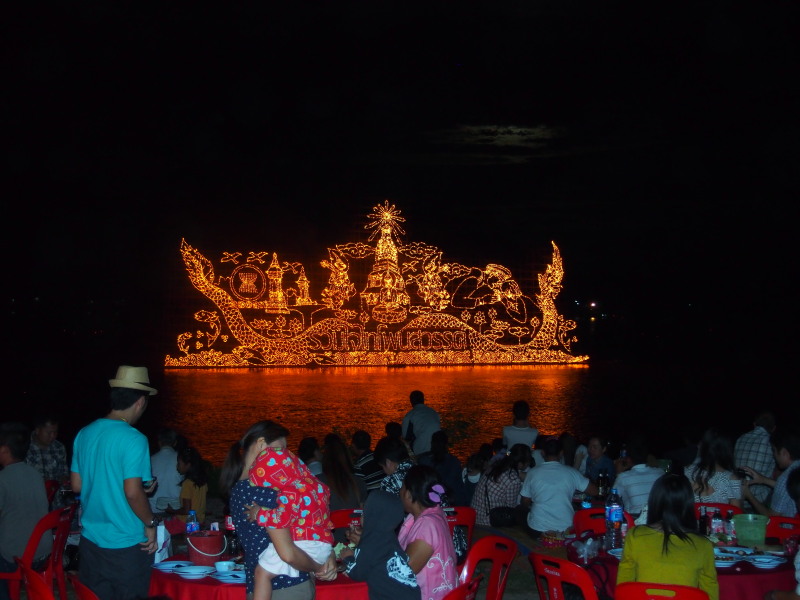 The procession lasts for over three hours. Some of the fire boats are enormous, as much as 100 feet long and 100 feet high. Bamboo scaffolding is erected on a raft of the same material. A metal 'sculpture' is then attached to the scaffold providing a design for the oil lamps.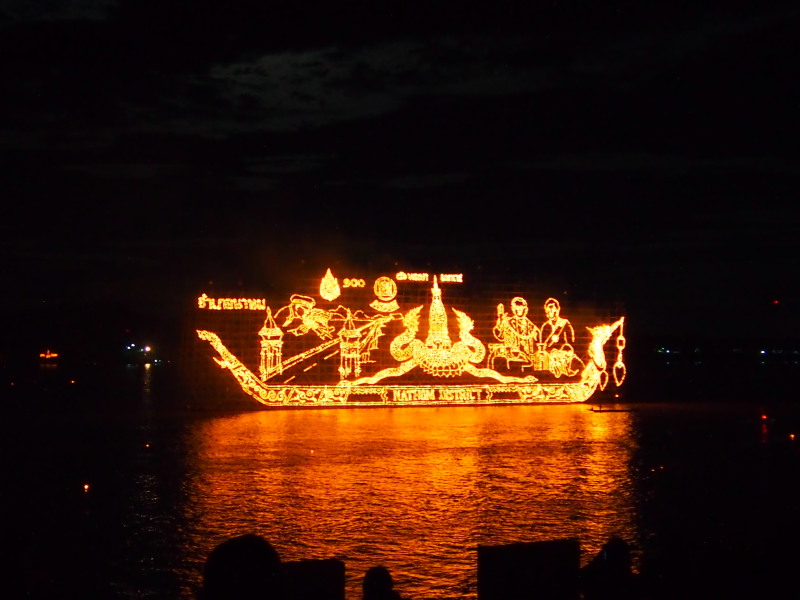 At various stages along the route fireworks are launched from the boats and are a spectacle in their own right.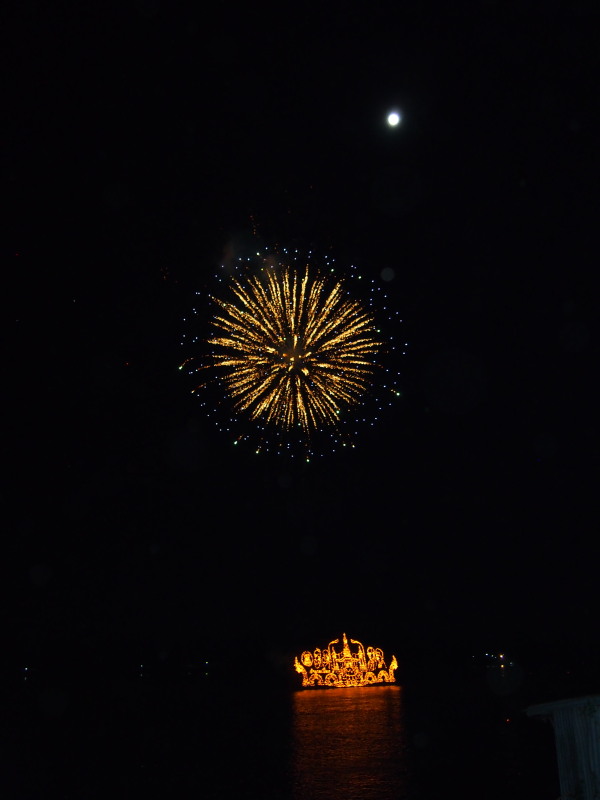 Check out this video – some neck craning required.
Occasionally a long-tail boat ventures out to nudge them straight if they drift off course.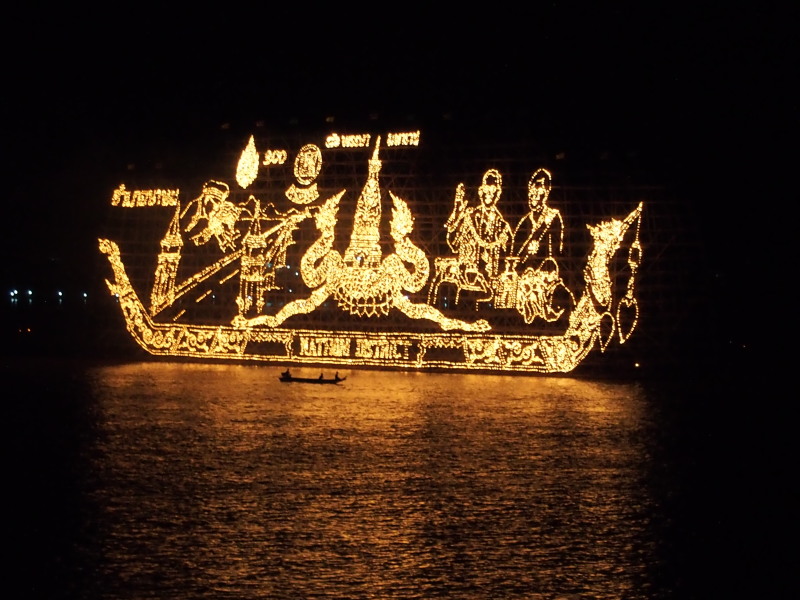 Though, this one became irretrievable and left to its own fate.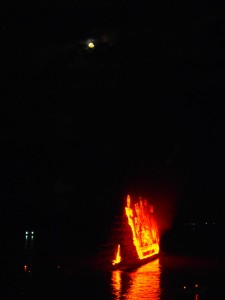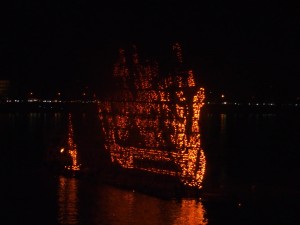 This one below was towed back upstream – a prize winner?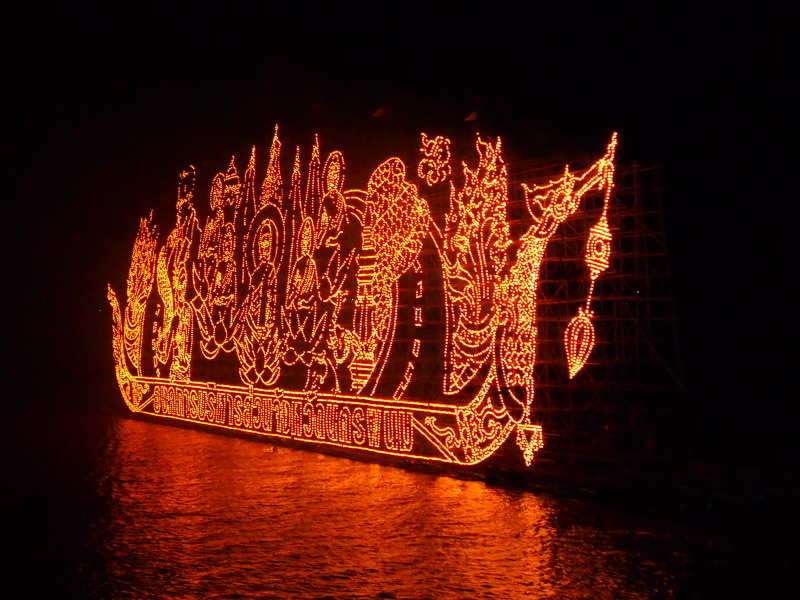 Next day I encountered this boat moored upstream, all light and life extinguished …it was near what looked to be a presentation area.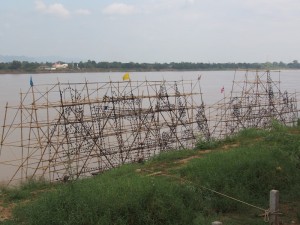 And, downstream, the following day, while out cycling, came across this graveyard of fireboat skeletons.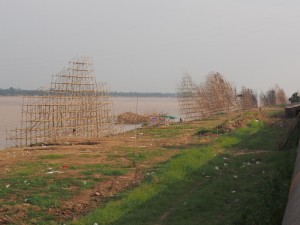 To give an idea of scale that black figure on the second level of the first boat is a person.
The boats are dismantled and sometimes the bamboo recycled for next year's entry.
As a religious festival, Lai Rua Fai isn't riotous like Rio (not that I've been). It is quintessentially Thai – reverent, relaxed, a little chaotic, an excuse to have a good time.

Festival or not, Nakhon Phanom is worth visiting just for being a small, friendly and scenic city untroubled by tourism. They don't even sell souvenir T-shirts!
But who knows? They may very well be sold by the time you arrive.
If you plan in advance try incorporating Lai Rua Fai with the Wax Castle festival in Sakhon Nakhon and/or the Phu Thai dancing at That Phanom.
If thinking of hiring a motorbike do it from somewhere it's more the custom. You can do it here, but the daily rate is relatively expensive and there's no weekly or multiple-day discount. I'm sure, though, if you tried hard enough you could find a local to rent you theirs, but with the associated risks.

See the slideshow for more pics of the festival.