It's a little known fact that Ho Chi Minh spent part of his life as a farmer in the village of Na Jok five kilometres from the Mekong River city of Nakhon Phanom in Thailand.
Though, how long he stayed there is open to conjecture, further confused by alternate use of Gregorian and Buddhist calendars; and Ho Chi Minh was often, probably intentionally, vague about his own life, making facts harder for historians to verify.
One account had him in Thailand for seven years, making an epic journey by foot to Na Jok from Udon Thani. The most consistent and likely reports, though, have him staying a year from 1928-29.
He chose the village of Na Jok because it already had a resident Vietnamese community (most of whom arrived during the French occupation), and because Nakhon Phanom provided convenient access via Laos to central Vietnam.
While he resided as a farmer and fisherman, as a resistance leader he established the Indochina Communist Party among the Vietnamese living in Thailand at the time. The house he lived in is now a museum dedicated to his sojourn in Na Jok. Naturally, while in Nakhon Phanom, I checked it out…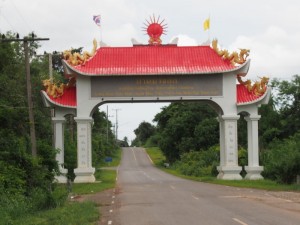 Picturesque Nakhon Phanom is a leisurely city well suited to cycling, so I hired a 50 baht pushy and rode the five kilometres to Na Jok – first via an unappealing highway out of town, before turning into the Thai Vietnamese Friendship Village along an attractive, tree-lined road flanked by houses in tropical garden settings where, despite asking a local for directions, I still turned one street short and was harassed by a series of dogs to the rear of the museum.
Though, the house I faced actually belonged to the family living at the site, and the woman standing underneath it directed me through to Uncle Ho's former residence.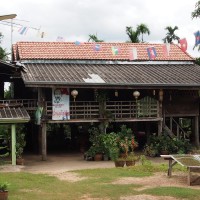 The house (below) is a replica, the original having been ravaged by termites indifferent to its historic significance. Entry is free, though there's a donation box inside for those wanting to contribute.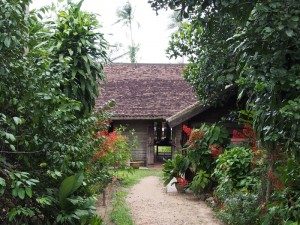 It's a rustic, but interesting abode containing simple furniture from the time and is mostly adorned by posters and photos of Ho Chi Minh meeting-and-greeting villagers or political dignitaries in Vietnam. His desk takes pride of place in the main room.
Outside, is a tool shed also containing his bicycle, a small stable and other farming equipment.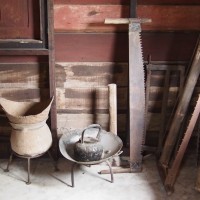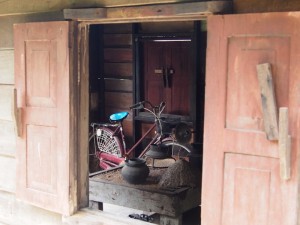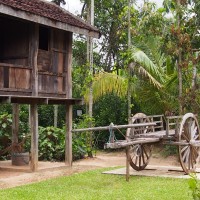 The woman joined me. Her name, I learned, is Ms Kornkanok Wongprachasuk (nickname unknown). She showed me, among other things, the coconut trees planted by Ho Chi Minh himself, which are at the front entrance, which, in turn, is at the edge of the village facing a verdant expanse of paddy fields.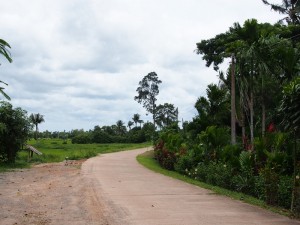 Retracing steps to the area underneath Kornkanok's  house, I wanted to buy water, but it wasn't for sale – she gave me a bottle instead, as well as a cup of green tea. There are souvenir items displayed, but she didn't try to push them. No extreme capitalism here. I convinced her to sell me a T-shirt.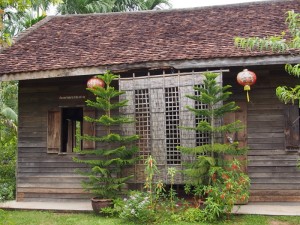 More photographs decorated the walls here. She was particularly proud of a photo of her father receiving an award for his efforts in maintaining the museum and for promoting Thai and Vietnamese relations.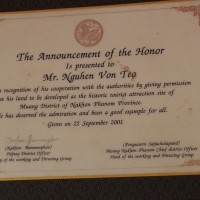 According to a brochure the HCM house has been open to the public for ten years, but there's no current date mentioned to calculate back from (so, it's been open for a decade plus whatever time passed since the brochure was published). A ceremony is held here on the 19th May each year to celebrate Ho Chi Minh's birthday. There are Homestay options nearby in the village.
When Kornkanok discovered I was from Australia, she eagerly informed me she had a sister living in Springvale, a suburb of Melbourne.  It's well known as a popular area for immigrants from Vietnam (and other parts of south-east Asia) to settle in. Small world. In a quirk of fate many were refugees escaping the advance of Ho Chi Minh's communism.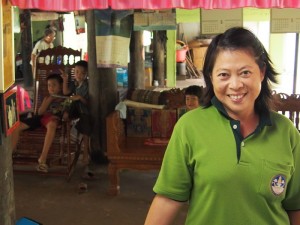 When leaving, I pushed the bike though to the front entrance, rather than run the canine gauntlet via the rear exit, only to encounter a stray dog …this one, though, was timid and friendless and its protruding bones looked like the stripes of a Tasmanian Tiger.

The Ho Chi Minh House is a small attraction, but interesting in the way it reveals a little known story about a significant international figure.
And definitely not touristy – I was the only visitor (though it was the wet season).