I am sipping an Americano outside Jazz, a blink-and-you'd-miss-it cafe in Khuangthani Road when I hear drums and guitars, followed by singing. Then villagers appear wearing green tops and checked sarongs. They clap and dance spontaneously to the music, oblivious to the light rain. The temple communities are arriving with their floats to set up for tomorrow's parade, and the travel gods presented me a front row set.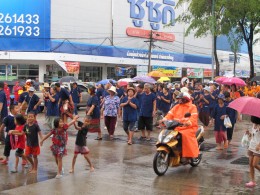 Madame Tussauds immortalises the rich and famous using wax, but at Ubon Ratchathani, north east Thailand, the endeavour of bees is applied another way …for its annual Candle Festival.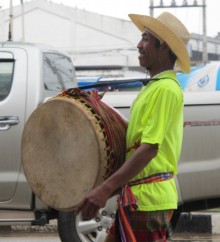 These aren't candles on a saucer we revert to during a power failure (though such practical needs as providing illumination were a festival catalyst). Here, giant wax figures representing themes from Hindu and Buddhist mythology, incorporating candles of equal proportion, are paraded on floats towed by tractors, utes and 4WDs.
They are created by temple communities throughout Ubon Province to herald the onset of the rainy season rice-planting, and Khao Phansa, the Buddhist Lent, when monks retreat to the temples each July for three months of study and meditation.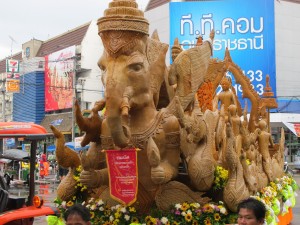 Apparently, this departure into studious isolation also has a side benefit; it prevents the monks trampling on the sprouting paddy fields.
The festival has three main phases …the lead-up when the wax carvings are made, the weekend of the parade itself, and post parade when the winning floats are displayed in neighbouring streets.
(Madame Tussauds seeks to imitate real life, but the word that comes most to mind when trying to describe the Candle Festival is: authentic.)
I arrive in Ubon too late to visit the temples and see the wax figures being sculptured, but the buzz of activity building on the Friday has led me to Jazz cafe.
An event schedule subtitles Ubon as: "A prosperous virtue city – amazing candle festival – villages wisdom". It gives a gist of the Thai world view more than anything. Ubon is also a university city with relatively few Western visitors. I hardly step into Thung Sri Muang Park to investigate its festival-related art and cultural display when I hear the call, "Excuse me, sir. We are students of Ubon …may I question you?"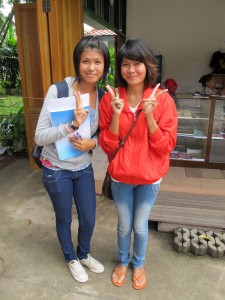 These English-practicing interviews become a feature of every journey to and from the main sights. Not that I mind being mobbed by students; it's a good way to engage with locals, and is conducted with typical Thai politeness and 'sanuk. (fun). It's a win-win situation as information about the festival in English is in short supply and I, in turn, question them. One student explains that the festival tradition began as part of merit-making: "Villagers want to make something beautiful to give the temple". Over the years the candle designs grew in complexity …and size. From little things big things glow (with apologies to musicians Paul K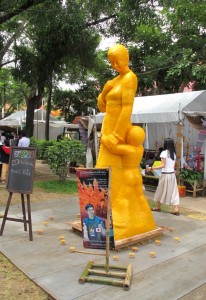 elly and Kev Carmody).
More recently, the festival has included an international component where artists from Thailand and abroad present their own wax sculptures outside the Ubon museum. This display area also offers festival-goers the opportunity to participate in free workshops creating wax paintings, flowers and ornate candles, among other things.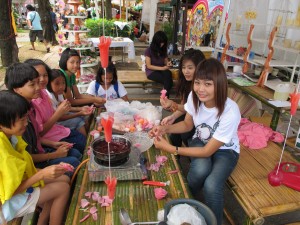 While I scoff my Americano, local and visiting Thais continue to arrive en masse. By nightfall thousands flock the nearby streets to admire the assembled floats. I join them, being interviewed and "happy-snapped" by more students.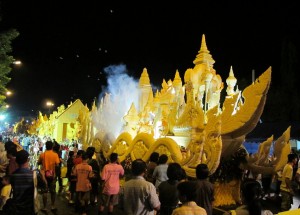 Wax nagas (serpents) blow smoke and bubbles into the night sky; cows, ancient archers and rearing horses are mirrored in pools of water created by the earlier rain. One float even has a waterfall feature and garden.
Along the footpaths a cacophony of voices bellow through loudspeakers, and compete with equally boisterous music, clashing and reverberating but none taking offence at the others' presence (or controlled by anything resembling the sound police), while spicy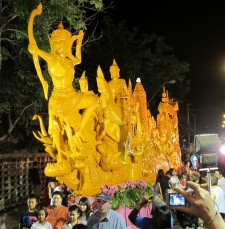 soups simmer, bananas deep fry, and skewers of squid, chicken or pork barbeque.
Later, in Thung Sri Muang Park traditional and contemporary student orchestras herald a mini parade of floats led by female dances in red and blue sarongs swaying to a hypnotic beat.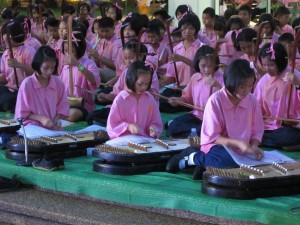 Khoom Loy, candle fuelled lantern-balloons, are then launched high into the darkness before a fireworks display calls the day a night. I do likewise.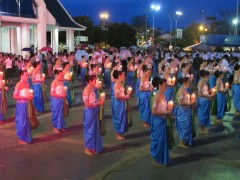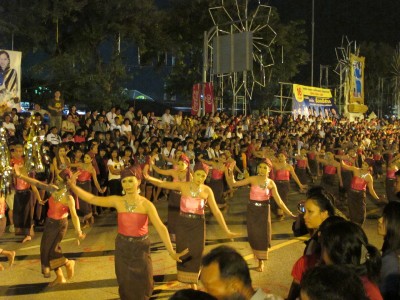 Beeswax melts at around 64 degrees Celsius. The maximum temperature human bodies can endure depends on a combination of heat and humidity. On the day of the parade there's no shortage of beeswax, or the two H's …but it's the performers accompanying each float that could need to avoid meltdown.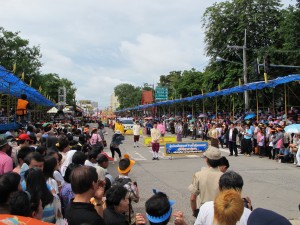 There are conflicting reports about the parade starting-time, so I arrived early to be safe. Grandstands line either side of Chayangkul Road between the museum and Wat Sri Ubon, but I prefer the flexibility standing allows. Hand-fans flutter busily among the crowd, like bird wings. Multicoloured sun hats add finery. A television cameraman in a cherry picker hovers nearby.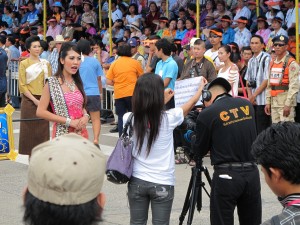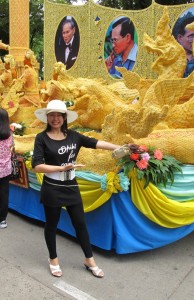 I see Ooh, an engaging English/Thai teacher I had met the day before. She is with her sister and cousin, and confesses to taking the festival for granted and to knowing little about the themes inspiring the floats or the history of the event, except that her uncle's temple "cha na" (won) last year.
The parade is in full swing by 8.45. What follows is a four hour spectacular of mythology, religion, traditional dancing and music with seemingly endless variation of form, colour and costume …huge mythological beast loom above the crowd like a scene from Jason and the Argonauts.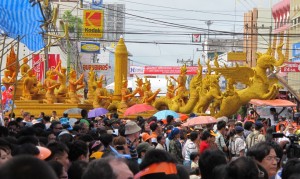 Mixed mythologies aside; apart from the nagas, Garuda is a popular figure, along with chariots, elephants, temples, warrior guards, ascetic monks, junks and others I can't even guess at naming – one looks like a giant, winged rabbit (but is probably a mythical cow).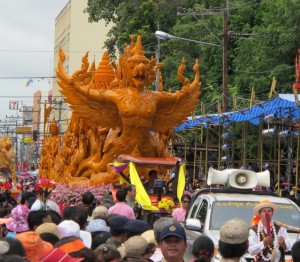 Photos of the King are regular adornments. That floats include a candle and a representation of Buddha is the one constant. Some figures are sculpted from pieces of solid wax; others have thousands of intricately carved pieces pasted to a wooden mould.
Male and female dancers (mostly the latter), ranging in age from seven or eight to over seventy, precede every float, exhibiting delicate hand movements, calmness and endless smiles, and making merit with every minute.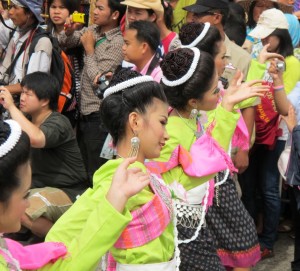 The solid wax figures are routinely sprayed with water; no such luxury befalls the dancers, but they survive the heat and humidity with aplomb and grace, and many return that night for a reprise at the award ceremony. Tribal flutes, drums and guitars, and "ranad ek" (a kind of traditional xylophone) make up the instrumental mix.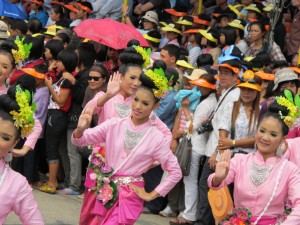 Morlam is the traditional music Isan is most famous for. Locals refer to it as 'country', but it's probably more accurate to describe it as folk music that also incorporates electric instruments. It usually has a fast tempo, is quite often improvised, and makes you tap your toes.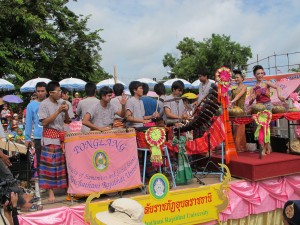 Apparently, a bee travels over half a million kilometres to produce one kilogram of wax. My meandering is paltry by comparison, but eventually I heed the call for another coffee fix "nectar" and detour to Jazz via more student interviews. There's as much activity here anyway, with floats and performers in readiness to enter the parade area.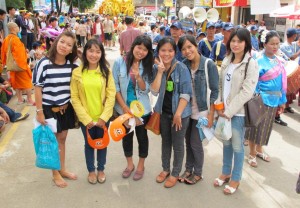 Birth and rebirth is an underlying festival theme. Recyclability is another feature of beeswax, and this year's mythical figure could return next year in a totally different guise. On Sunday, Ubon is reborn as a quiet, friendly 'prosperous virtue city'. Perhaps Madame Tussauds should immortalise it.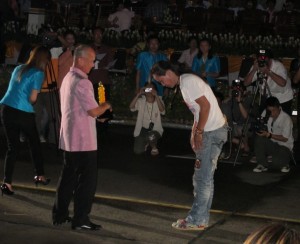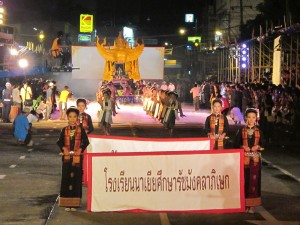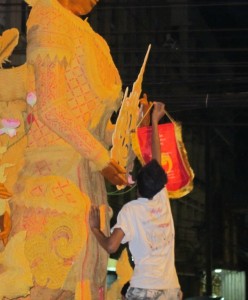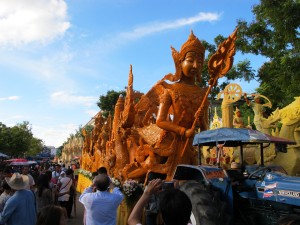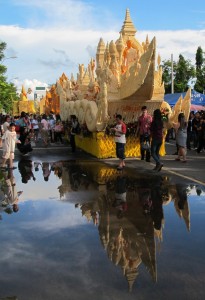 A version of this article was published in the Weekend Australian.
NOTES:
The 2013 festival will be held 22-23 July, though it could be an idea to confirm these dates closer to the event. The parade, exhibitions and workshops etc are all free. The event is popular with Thais and accommodation should be booked.
The Ubon TAT (Tourism Authority Thailand) office is the best contact for further information. They will have an event schedule closer to the festival. Their contacts: tatubon@tat.or.th  ph: 045 243 770, Office hours: 08.30am – 4.30pm.
Flights from Bangkok to Ubon (one hour) range from B1300 to B2500.
Nakhon Chai Air have an excellent bus service (eight hours from Bangkok) for B550 that is airline-like complete with hostess, food and drink, and a personal video screen.
Ubon is in Isan Province. Its population is around 115,000 though, like most Thai cities, it seems larger than the quoted figure, but is well suited to exploring. It's away from the main tourist trail and that adds to the charm. The Mun River, Thailand's second longest, flows through the city and merges with the Mekong seventy kilometres away at Khong Chiam to create the Two Colour River, a natural feature popular with Thais. There are many national parks in the area including Pha Taem, famous for its ancient rock art (which is where I have a question answered that had nagged throughout the festival …where do they get all the wax? The hives clinging to the cliffs, and the large blankets of honeycomb, are prolific, and could well be representative of local bee productivity).
END NOTES