Georgetown by any other name would still be …Penang, because that's what most people refer to it as. Though, strictly speaking Penang is an island and Georgetown is its capital. On the other hand, both are deemed cities. Penang is also a state. Even more strictly speaking, Georgetown should be split in two noun-wise – it's George Town, named after King George the Third of England.
Clear as a muddy, island beach?
If this has you in a state of colonial confusion bear in mind Penang by another name could also be Singapore – such are their similar histories.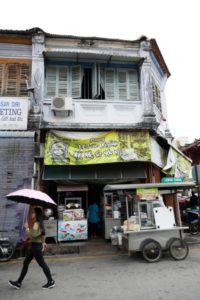 Except Penang's early days were more fractious, and Singapore became the major port, which may have been a saving grace for Penang …er George Town, as it retained most of its colonial architecture.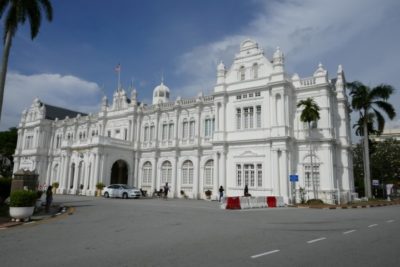 UNESCO bequeathed yet another moniker: World Heritage Site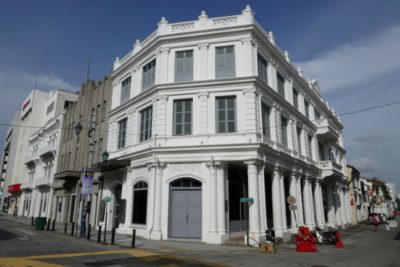 The central area is little changed in that regard since I was last here many years ago. But now, flanking it along the coast either side are long rows of residential towers.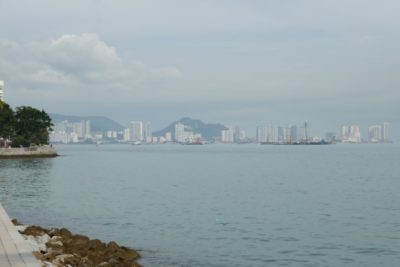 Many Asian visitors, though, seem more attracted to the street art adorning walls than to the heritage or history.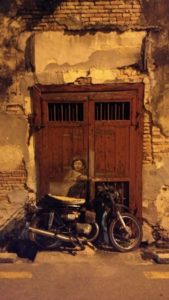 Penang, like Singapore, is also a fusion city – Chinese, Malay and Indians being the three main groups, along with a sizeable European expat community.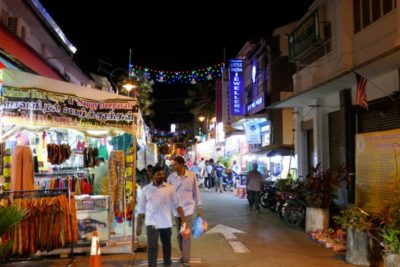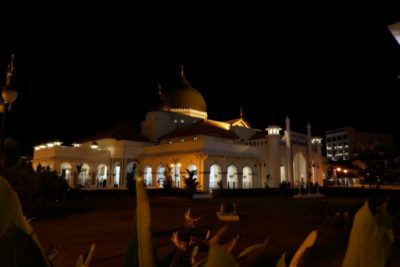 It is a few 'tags' behind Singapore modernisation-wise: footpaths require a little more negotiating, traffic requires more attention and the surrounds are less pristine (talking comparative here – it isn't Saigon), but for many that adds exotic appeal.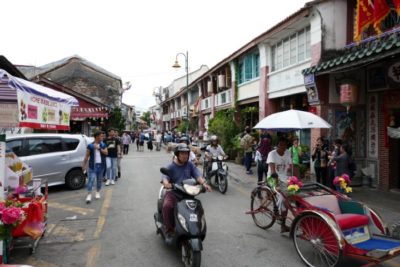 Penang might also lack Singapore's bigger-city attractions, but it compensates for that with affordability, unique street food and more cafes than you could possibly frequent, serving first class coffee.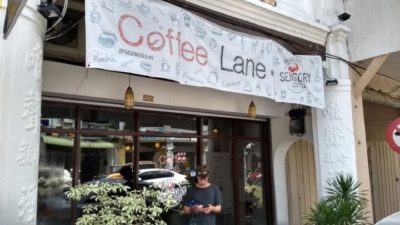 For a caffeine addict like me the latter was enough alone to make a visit worthwhile.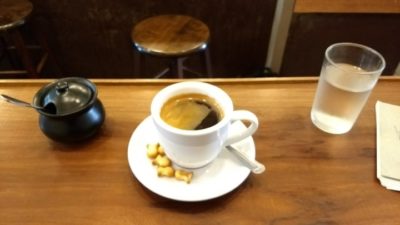 And cakes! 50 varieties to choose from at China House in Lebuh Pantai (Beach Street) – Mango Upside Down, Jamaican Black, Macadamia Oaty Tart, to name just three.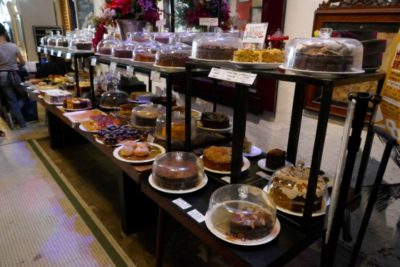 For the sake of research I did a taste test (sometimes coffee alone is not enough) and can vouch that, by any name, these baked goodies are delicious.
China House is part of a long building that stretches between Pantai and Lebuh Victoria where the cafe morphs into Canteen, a vibrant bar and live music venue.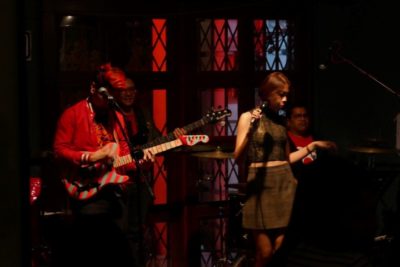 Where you can meet the locals.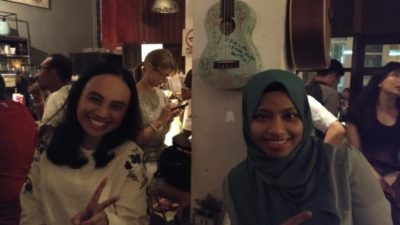 Nearby street theatre.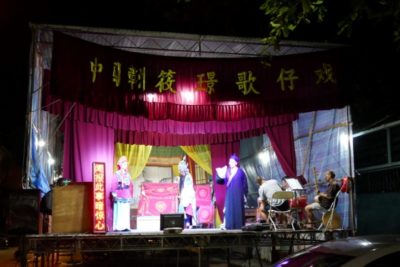 Tourist Information helps make the most of Penang's ubiquitous cuisine with this excellent brochure.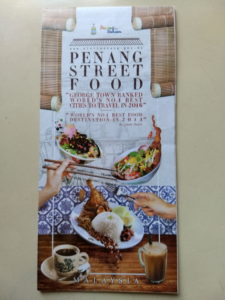 I didn't complete the long list of titles, but had a flavoursome time trying.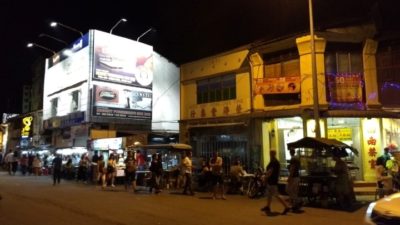 Poppiah means 'kinda like spring rolls, but better'.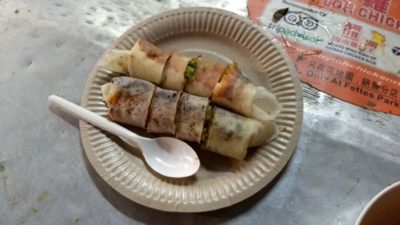 Wan Tan Mee is good breakfast fare.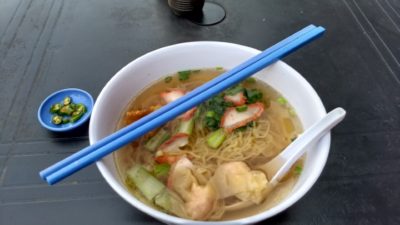 Rojak is a desert.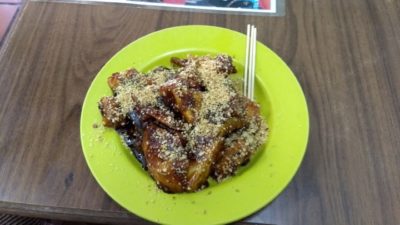 As is Chee Chong Fun.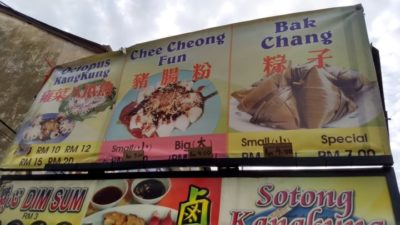 Lor Bak is where you choose various snacks that are prepared and served with a selection of dipping sauces.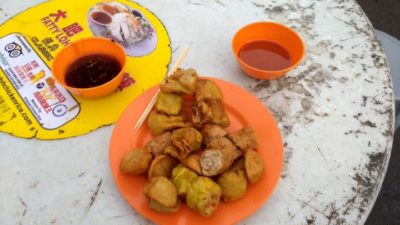 Penang Assam Laksa, meanwhile, reigns supreme in many eyes and taste buds – a terrific tangy treat that combines rice vermicelli with chillies, pineapple, mint and ginger flower (to name just some ingredients).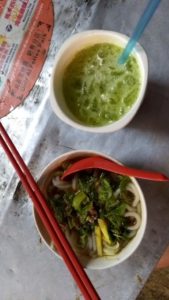 Many places close early or open late, so check the times in the brochure.
A big advantage compared to Thailand, for instance, is that everything is written in Roman script, making it much easier tracking down each delicacy. English is widely spoken in any case.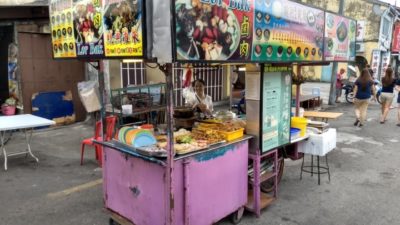 Street food meals are usually in the 3MR to 5MR range.
"Famous" is a word used liberally in these fast-food parts. If a stall or restaurant claims this label it could serve good fare, but might not be any better than elsewhere.
I never got to sample Cendol, a dessert, but this stall was 'famous'.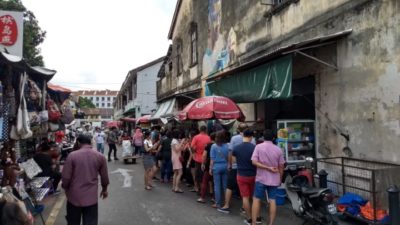 Love Lane and it's junction with Chulia Street is a main night-time gathering point for Western tourists and backpackers.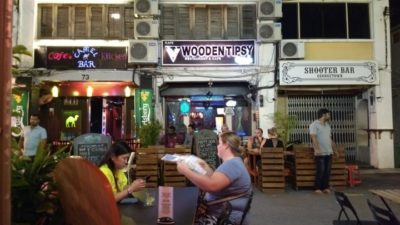 Its title might have been euphemistic once upon a time, but now Love Lane is like a tiny version of Khao San Road in Bangkok. Here, though, far fewer bars compete for custom and decibels.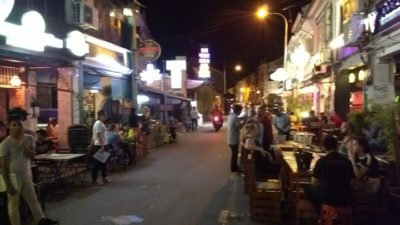 No 'love' for sale; mainly alcohol and a musical cacophony.
I sat for a beer …well two actually because that's the minimum you had to have to qualify for happy hour. The crusty beer coaster had seen better days. Circa 1970 something?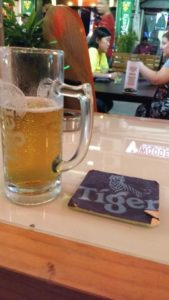 At first I was thinking "what am I doing here?", but by the end of the second beer I was warming to it and considering another drink. Very clever trap. I managed not to fall for it.
On Sundays there are street markets.
This was Occupy Beach St.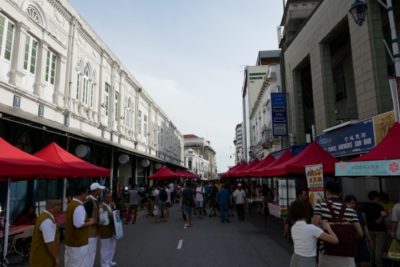 Hin Bus Depot.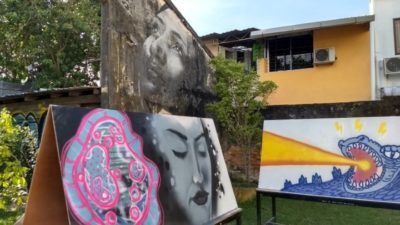 There might not be a lot to see compared to markets you encounter in other cities …but from small beginnings, reputations may grow – see it first.
Armenia Street's Got Talent isn't a street market or live performance – more street art, surrounded by shops, cafes and restaurants.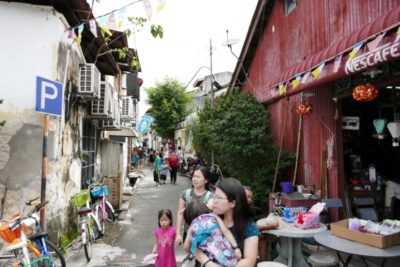 Penang's Clan Jetties, or family piers, are like shopping malls on planks. Part of the heritage trail, they nod to Chinese settlement.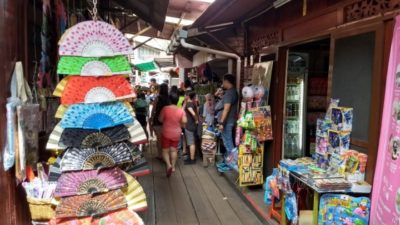 At the end you get water views.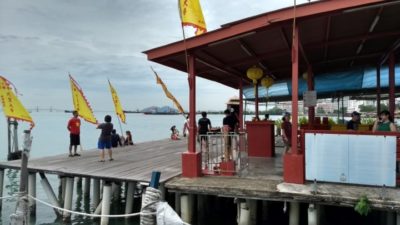 During my ambles, I constantly encountered this sign.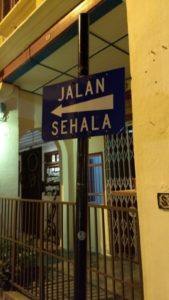 What did it mean? Tourist route, the way to Allah, enlightenment? What was in this name? Eventually I figured out it meant one-way street. I continued exploring.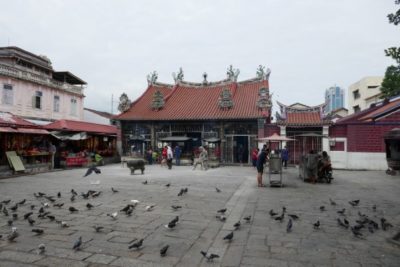 The only real Penang negative was that smoking is allowed in bars, and by the third excursion to Canteen my throat, set off by a freezing air-con bus here, was irritated to the point I couldn't savour the George Town coffee.
So, sans caffeine fix, I left seeking other islands and cities bearing different names, dreaming about untried street food to sample next visit.
Steak Knives: Mydin is a cheap department store in Jalan Penang, handy for buying those little extras you couldn't bring on the plane, or may have forgotten.