Singapore has undergone many stages in its transformation from river-settlement to world metropolis. In the 14th Century the Kingdom of Singapora reigned and fell. The 19th Century saw resurgence when the East India Company purchased the island from the local sultan. Japanese invasion and independence meant further evolution in the 20th Century.
From a traveller's point of view, in its recent modern past, the Lion City was often simply regarded as a shopping stopover, a transport hub to another destination, carrying an image of being too developed, orderly and of lacking exotic appeal (with government that, from a Western perspective, rightly or wrongly, had an authoritarian reputation).
It was a metropolitan halfway house – not Asiatic third-world enough, and not yet an affluent city with iconic landmarks and points of interest common to great contemporary metropolises.
I stopped-over several times during this middle-modern stage of metamorphosis, sometimes taking consumer advantage and brief air-con respite before moving on. Of course, there was always more to see for those wanting to explore further.
I did encounter this Hindu religious festival.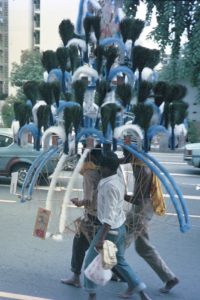 Though, given it requires devotees to carry a burden and/or endure pain 'festival' might not be the right word. It's called Thaipusam.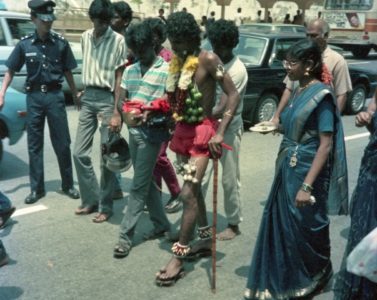 Eventually, increased affluence led to the time Singapore began building attractions for its own citizens that would also draw the rest of the world. I returned to find the Lion City had morphed from transport-hub into a global city, a fusion city where old blends with new and East meets West, a city-nation populated by people from elsewhere.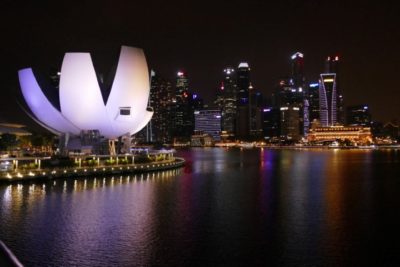 Though, reminders of a rustic past appear when you least expect it – like an old man on a rickety bicycle, or a women pushing a cart across a road.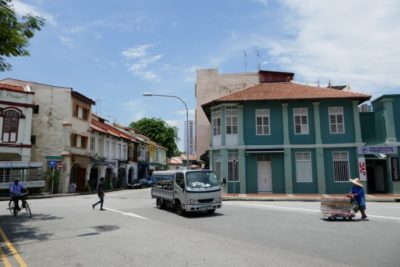 Many heritage buildings still decorate the diaspora.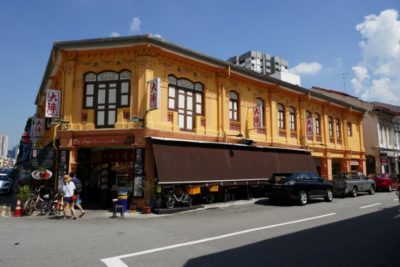 The National Museum provides historical context.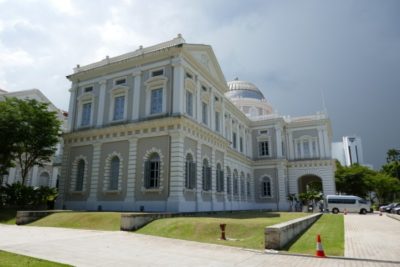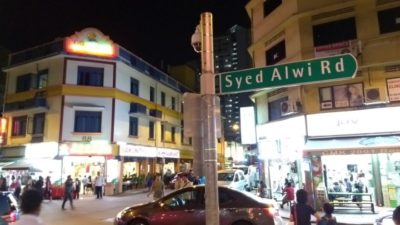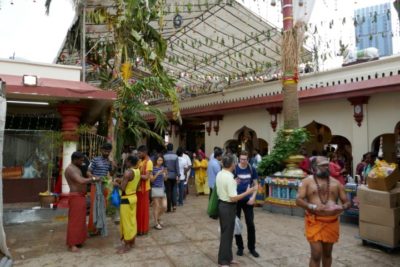 Hindu, Muslim and Christian worship alongside Buddhist.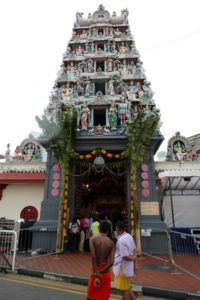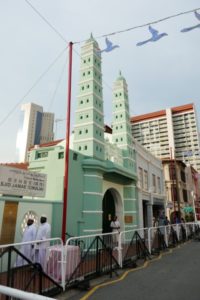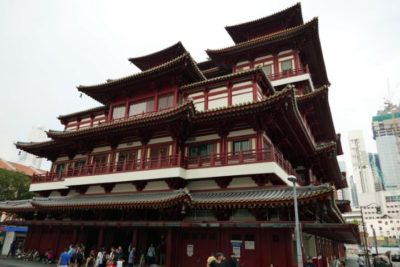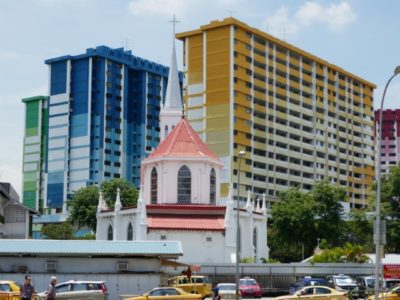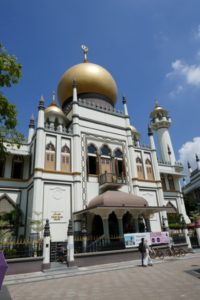 And cuisine from all cultures makes for an affordable, mouth-watering feast.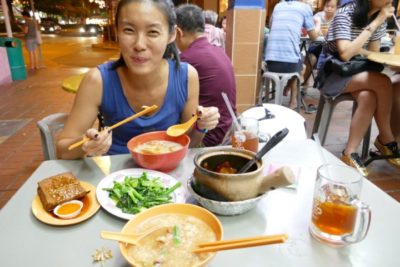 The competition means a predominantly Chinese city needs a Chinatown.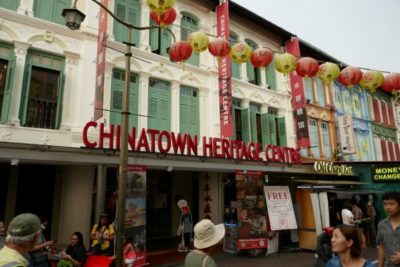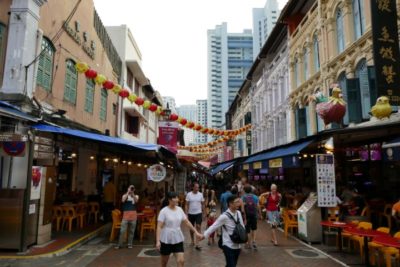 There's even a burgeoning theatre scene. Centre 42 (below) provides opportunity for aspiring Singaporean voices.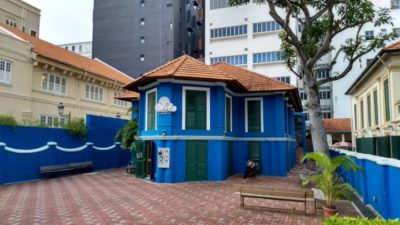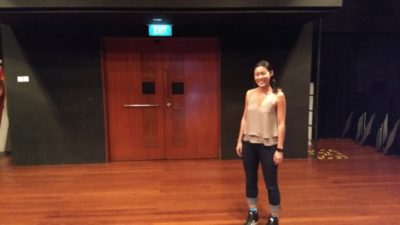 Of course, Singapore is not unblemished – democracy is sometimes qualified with inverted commas (though, that also applies to many Western democracies) and like any melting pot, race relations can occasionally be vexed. This Indian play held at a creative complex in Kampong Glam dealt with issues of identity and belonging.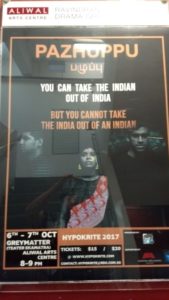 And for some third-world nostalgia a power outage meant no subtitles for the Tamil roles or air-con, but the actors' expressiveness held interest and revealed meaning.
But mostly the impression is of a relaxed, liveable city. Pedestrian friendly streets and cheap, reliable public transport makes for easy navigation of the sights.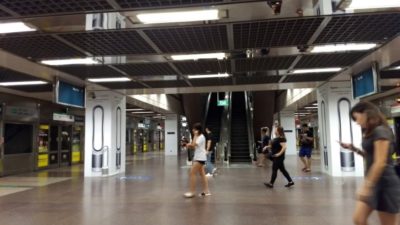 Change, though, has swept aside the once notorious Bugis St – now just a shopping mall. Some might lament that and point to it as sign of sanitisation.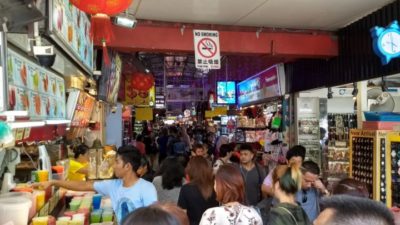 On the other hand, waterside views now rival those in Sydney and Vancouver.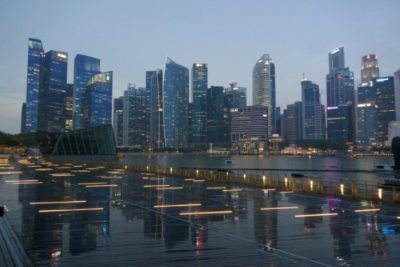 Alien spaceship?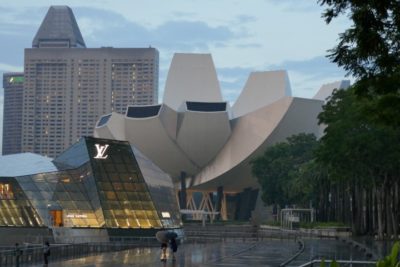 Not quite: science non-fiction – well, the science museum, anyway. And if you think it resembles a lotus flower that's the intention.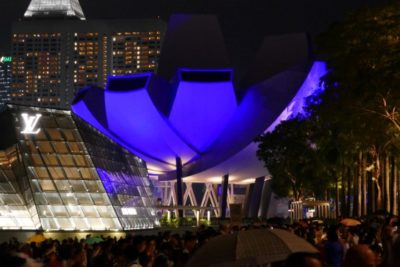 A classic case of build it and they will come?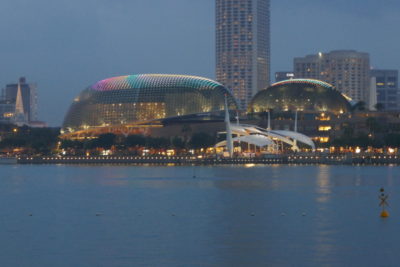 Defying the senses? The ship straddling the three towers evokes a kind of reverse vertigo.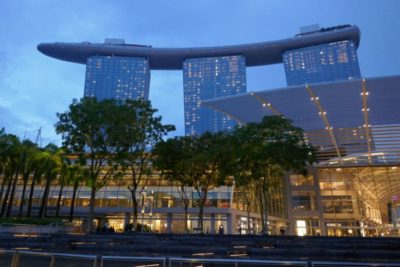 The design, however, represents the motif seen on Chinese headstones.
Lightshows down by the Bay had me further singing Singapore's praises. There are actually two – both are free and on twice each evening. The first one is at Marina Bay Sands outside the Expo and Convention Centre.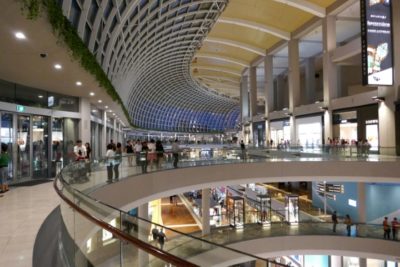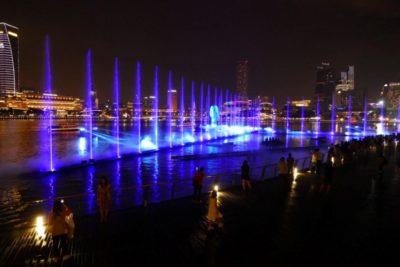 But the second one, a short walk away at the Supertree Grove in the Gardens by the Bay, is the shape-shifting scene-stealer.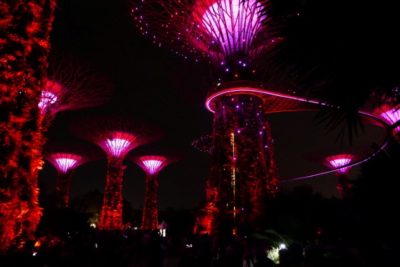 Perhaps it was so enthralling because I had no preconceptions.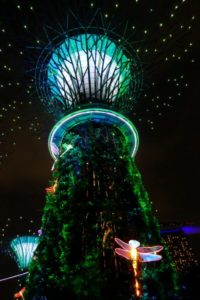 It was surreal.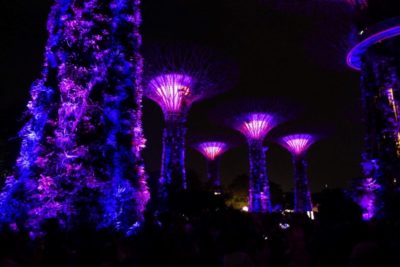 Choreographed music and multicoloured lights merged with the balmy night.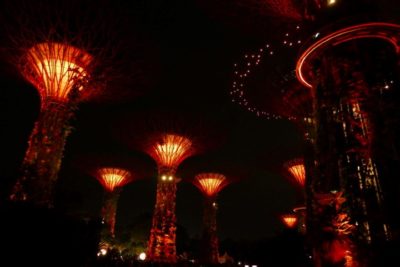 Like being immersed in the Avatar movie.
Super Singapore.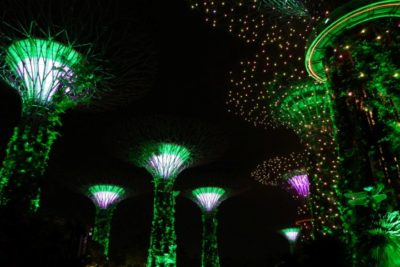 A tip: if following the signs has you caught behind a queue, there are side entries. Go down to the flat area in amongst it.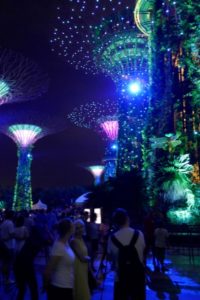 I thought an hour or two would see me out around here, but I meandered til the last train, doing a circuit of the bay to City Hall station.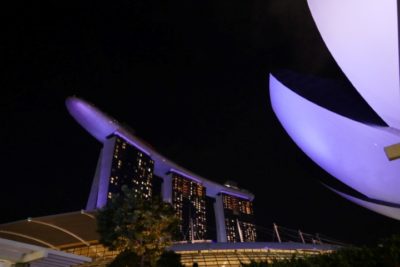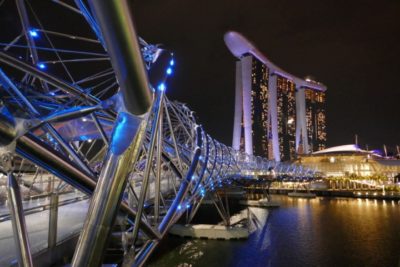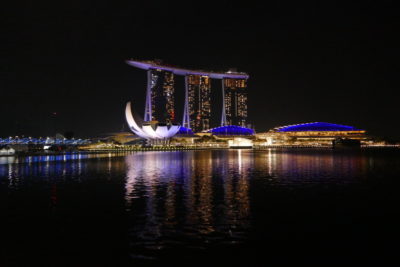 What didn't I like about Singapore? Coffee was relatively expensive and I struggled for one to my fussy liking, though I did strike it lucky at the Hangar in Arab St. (and it improved overall when I stopped ordering Americanos!).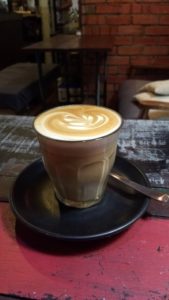 It's owned by an Australian who used to run the Vine in St Kilda, a Melbourne cafe institution.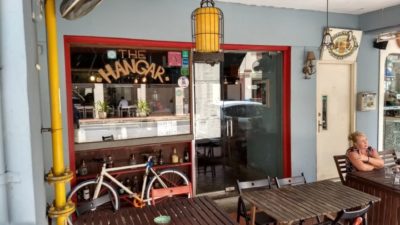 Beer and alcohol can also be expensive; though more affordable in the food courts.
Like many Asian countries Singapore charges a foreigner fee for some attractions, though it's euphemistically disguised as a discount for locals.
The science museum turned out to be less captivating inside. The blurb for this exhibition was intriguing, but it was more art installation than scientific exploration, and not what I was expecting.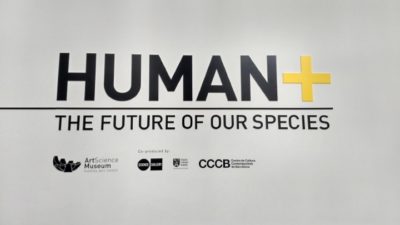 But these are minor quibbles. Overwhelmingly, Singapore presents as a friendly, relaxed city that has joined the ranks of the great metropolises. No more just a stopover, but somewhere to linger longer.
And I didn't even get to Sentosa.