I'm in Kagoshima, at the south-eastern tip of Kyushu, Japan, in the train station, trying to orient the maps given me by tourist information when a frail, elderly man with large thin-rimmed glasses, wispy black hair and an impish grin, approaches. Wearing a shirt and a tie he speaks correct English, but with slow, pronounced effort and a slight American twang.
He asks where I'm from then presents me a postcard of Kagoshima's most famous attraction, the smoking volcanic cone of Mt Sakurajima. He says his name is George, and that he's an eighty-three year old former English teacher. Then, ice broken, he asks if I have time for a beer. It's a little early for drinking and I'd like to locate my hotel and check-in, but I find it hard to refuse.
George escorts me to a nearby arcade and a place I wouldn't have recognised as a bar …it seems more like a restaurant …tables and chairs on one side of a narrow room, tables at floor level Japanese-style on the other.
We have green tea first. Conscious of time I consume mine quickly. George says his is too hot, and sips gingerly.
George tells me he grew up in Taiwan to Japanese parents and moved to Kyushu as an 18 year-old in 1946 (shortly after the 2nd World War). He taught locally in city and country schools until retiring twenty three years ago. He thought city kids easier to teach because learning English had more relevance to them. His accent is explained when he reveals he regularly taught Japanese in US summer schools.
The beers arrive; tall, frothy tankards. Despite the time of day this brew's easy on the taste buds. Though, I wonder about possible effects of such a large alcoholic serve on George's small physique.
George lifts his beer slowly, with a shaky hand, to his lips and takes a savouring sip. Then he lights a cigarette: "I only have one occasionally" he says, as if justifying his tobacco indulgence, before adding: "Same with beer."
I wonder to myself if loneliness led him to the train station, but he reveals he lives with his wife who speaks a local dialect he calls "Welsh Japanese", then laughs, pleased at his description. "Even I can't understand her". His son and daughter live nearby and he's comforted by that.
George has seen a lot of change in his 83 years, but seems happy with his life.
I presume "George" is an appropriated title, but when I ask for his full name he says, "Long Island" and eventually explains that it's "Nagashima", which means "long island". George "long island" Nagashima.
"Quite a good name, so I'm told," he says, amused.
I reveal I'm going on a day trip to nearby Ibusuki's hot sand baths. He recommends I also see Sengan-en gardens in Kagoshima. Eventually, he raises a wobbly mug to his lips for a last sip, and then insists on paying.
A teacher till the end, George suggests "domo" is a better way for a male to say thank you than my "origato gozaimas".
If anything, the beer and conversation have invigorated George. He keeps good pace as he escorts me to a tram. He ensures I know which stop to get off at then we exchange a wave goodbye. I last see him standing between the tracks, a neat, diminutive figure peering quizzically through large framed glasses at the departing tram.
I'm left with little time to explore Kagoshima that afternoon, but am unconcerned because travelling is as much about meeting people as about sightseeing, and sometimes a short diversion transports you a long way.
 END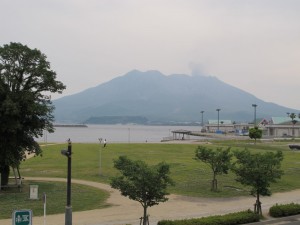 Later that afternoon I walked down to the harbour just as Mt Sakurajima emitted a puff.