Being buried up to your neck in hot sand is often associated with punishment meted out in Western movies, but on the black volcanic beaches of Ibusuki, at the south-eastern tip of Kyushu, Japan, it's a pastime of health and recreation.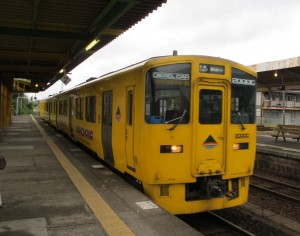 This is day two of my visit to Kyushu's southern city, Kagoshima. The May morning presents grey clouds and steady rain, but the forecast suggests improvement later, so I board the train to 'Ibuski', as locals pronounce it, to investigate its variation of an onsen (natural hot spring).
The journey takes around an hour and initially passes built up areas and towns, the terrain gradually becoming hillier and forested on one side of the track, with views opening up to Kinko Bay and cloud-covered volcanos on the other side, promising more spectacular scenes given clearer skies.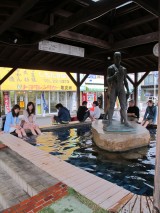 Outside Ibusuki station, tourists sit around dipping toes in a communal hot bath. Otherwise, Ibusuki is Sunday quiet …that's mainly because it is Sunday, but no doubt the inclement weather contributes to the hushed ambience.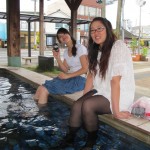 There are buses, but the sand baths are not far, so I walk rather than wait. The rain is only light and intermittent now; piped music broadcasts superfluously along empty Chou Street; and, turning right at the bay, an ocean wind briefly double joints my umbrella.
Inside Saraku, the Natural Sand Bath Centre, instructions are provided in English. Though, a receptionist emphasises, "Take off everything"; suggesting a history of coyness (or confusion) among foreign visitors.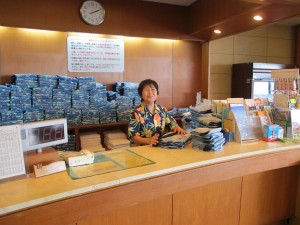 The admission fee is Y900, plus Y100 for a small souvenir towel. That also includes entry to a sauna and spa inside. I am given an ankle length yukata (a summer kimono) and a brochure that reinforces procedure …enter change rooms, strip-off, cloak yourself in yukata, secure belongings in locker, follow signs to the exit and proceed outside to the beach.
I also learn that the hot, mineral-rich water infusing the sand with steam comes, not from the sea, but from ancient, volcanic springs deep underground. Repeated visits are most beneficial, but just ten minutes sand bathing will apparently cleanse the body of impurities and relieve the symptoms of a long list of ailments, from asthma to rheumatism. I don't suffer any of the conditions and presume that includes "atopy" because I have no idea what it is (I later discover it's a predisposition to allergic hypersensitivity). Medical evidence going back over 300 years also claims the baths are more effective than ordinary hot springs. Japanese women believe it is a beauty aid. But many people are simply here for the sensory adventure.
I exit the change rooms and follow directions outside where a smiling female attendant issues sandals. The wind threatens to separate me from yukata. She jokingly warns me to secure it, and crosses her wrists in a handcuff gesture.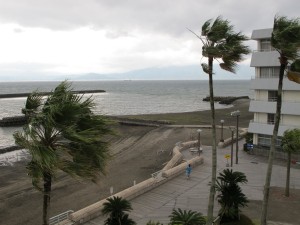 I continue to the foreshore, taking awkward, geisha-like footsteps, holding down the yukata with one hand, attempting to spare the locals an unsightly surprise, while snapping photos with the other.
Promotional brochures reveal contented sand bathers buried on an open beach with colourful umbrellas shielding them from sunny skies, but today that scene is absent.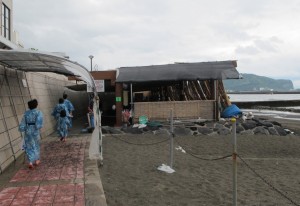 The bathing site is to one side in a large area under cover. Inside the shelter, a field of heads wrapped turban-like in white towels emerge from black sand. The weather, the burials could conjure up images of death, but what comes to mind is a plantation metaphor. Anyway, soil has always been used to create life as well as lay it to rest. In this case sand is used for rejuvenating and prolonging …and relaxing.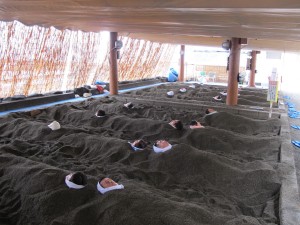 I proceed to a vacant patch that staff prepare with shovels. An attendant welcomes me and indicates where I should lay (not buried upright as I had imagined: the prostrate position improves circulation). Another worker, seeing my camera eagerly offers to capture my burial for personal posterity.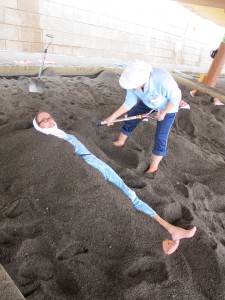 Where skin is exposed the sand's texture is pleasant; slightly moist, definitely not sodden. I can feel the weight, though it isn't oppressive. The warmth is immediate, but the temperature increase is gradual (heat is ultimately regulated by the amount of sand piled on top of you).
Ignoring the urge to scratch an eyebrow, I close my eyes. Light rain sprinkles the tarpaulin roof and serenades; the rhythm of shovel scooping sand alternates with a lullaby of staff salutations; and ocean zephyrs find their way between bamboo slats to caress and cool exposed brows.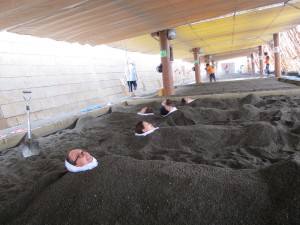 After awhile it's not heat that wins as much as a desire to move combined with uncertainty about ideal duration, though I conclude I am 'done' and that any short term health benefits achieved. I surface, revealing a yukata more soaked than expected. My camera is to one side having been placed in a protective bag. A staff thank-you chorus – "origato gozaimasu" – farewells as I retrace steps inside to rinse off lingering sand and relax in the spa.
Ibusuki is not all steam and sand bath, though. Other attractions complementing a side trip include Lake Ikeda, Kyushu's largest crater lake; Mt Kaimon, known as the Mt Fuji of the Satsuma Peninsula because of its conical perfection; and, in the nearby town of Chiran, samurai houses and the curiously named Peace Museum For Kamikaze Pilots.
It seems the hot sand baths of Ibusuki also have age reversing properties because that night, buried up to my neck in blankets, I sleep like an infant.
NOTES:
There are also several tourist expresses trains that travel to and from Kagoshima, but reservations are required (as I discovered trying to board one on the way back).
The information provided suggests ten minutes submerged in the sand is sufficient for first-time users, though I stayed longer than that quite comfortably, so don't feel obligated by their timeline – trust your judgement.
People with medical conditions, like heart problems or high blood pressure are warned against participating. If in doubt seek medical approval beforehand.
Ibusiki has the best known sand baths, but there are others in the area if you have your own transport and time to explore.
I was there in May 2012. As far as I can ascertain the entry fee has not changed. The yen has devalued appreciatively, though, which makes everything in Japan cheaper now.
END