Loy Krathong, the annual goodbye to bad karma, part religious ceremony/part festival, is held throughout Thailand in November. People in Chiang Mai 'let go' Khoom Loy, candle-fuelled wish lanterns, into the night sky; elsewhere, candle and flower arrangements are launched adrift on miniature rafts made from banana leaf; but in Tak the vessel of choice is a coconut shell, released into the Ping River to create a galaxy of meandering, glittering lines or 'sai'. The highlight is a competition between villages with each team launching a thousand krathong.

Tak was named after King Taksin the Great, who liberated Thailand from Burma in the mid 18th Century. Nowadays Thais, rather than Burmese, invade Tak to celebrate their Loy Krathong.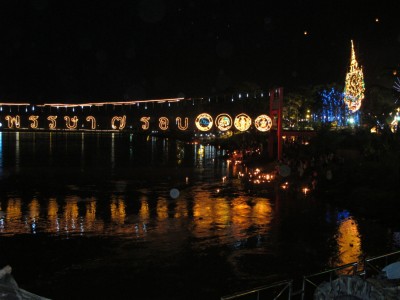 I went in 2011, the year of the great floods in Bangkok – Loy Krathong was cancelled there due to fears wayward krathong would drift into abandon homes and set them alight. That watery misfortune became my silver lining, though, because it resulted in an absence of foreign tourists in Thailand, so I was able to snap up a discounted, cancelled room in Tak at the Viangtak Riverside Hotel with views overlooking the Ping and on to distant mountains. Shan, the manager, from Malaysia, was also an excellent source of information.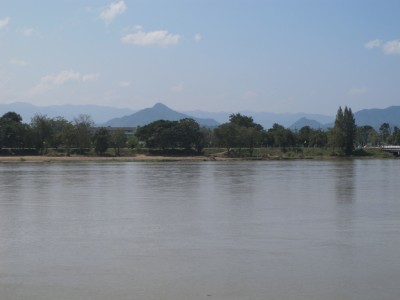 Most festivities occur in Kittikajorn Road, a tree-lined river side boulevard closed to traffic, decorated with bunting and marquees, and flanked by the colourful mix of food, clothing and handicraft stalls that form the Thai version of a flea market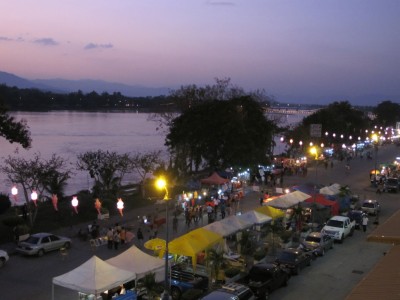 Entertainers perform on various stages along the three kilometre route, but near Rattanakosin Bicentennial Bridge krathongs, and their launching, becomes the focus of attention.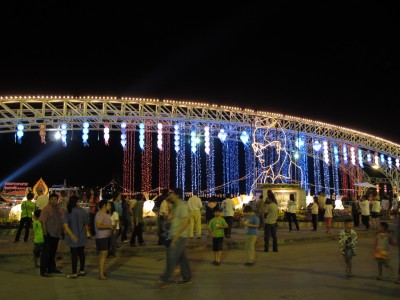 Inside the coconut shells, flower arrangements decorate a thick cotton wick twisted and splayed at the bottom to represent a crow's foot (and nod to a legendary tale about albino crows and the birth of Buddha).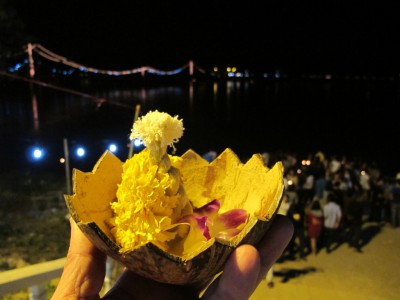 As day drifts into night the streets become busier and the music louder. Firecrackers burst intermittently, and individual krathong make a lone, pre-emptive way downstream ahead of the mass letting-go: their release also expresses gratitude to Phra Mae Kongka (the Queen of Thai Rivers) for her bounty.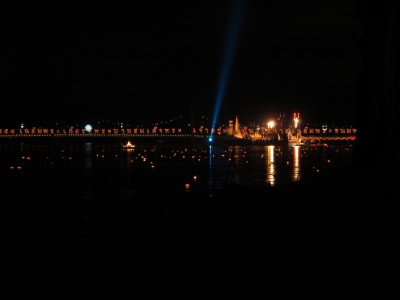 It wouldn't be a festival in Thailand without a parade.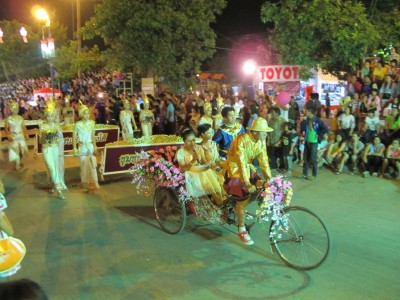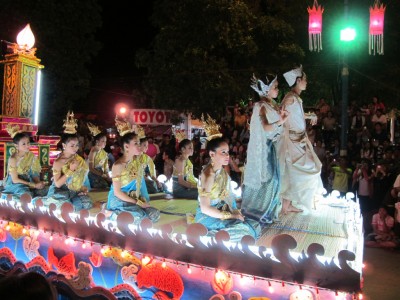 Following the parade, the main event, the aqua spectacular, the competition between villages, takes place on a large pontoon stage near the bridge. Dressed in traditional colours, teams enter carrying two large Royal Lanterns and a thousand coconut krathong in baskets or on racks, supported by a troupe of performers.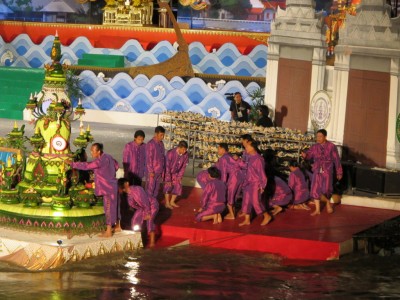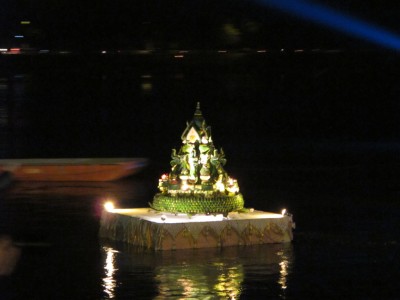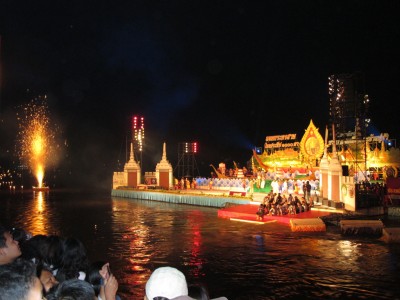 The 'head' (the first Royal Lantern) is launched then each krathong is lit and passed down a human chain to the last team member who palms them into the river.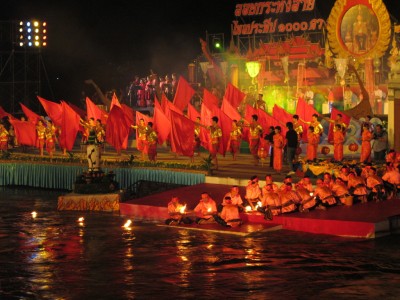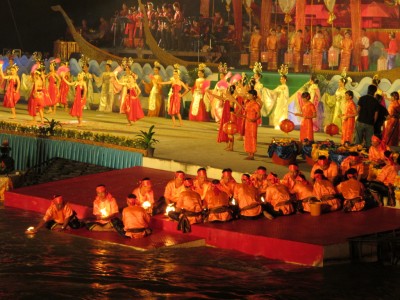 Downstream is soon sprinkled with a meandering universe of bobbing and weaving candle light, twinkling stars on the water forming whimsical patterns according to the fluky laws of turbulence.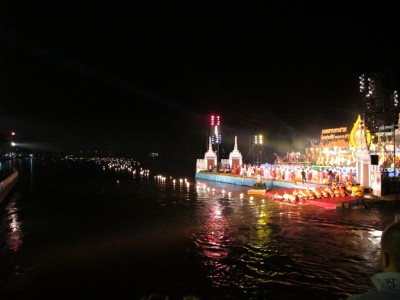 Teams are judged by the spacing and formation of the krathong, which are, in turn, influenced by swirls and currents due to the Ping's shallowness now. A fireworks display footnotes every thirty minute performance.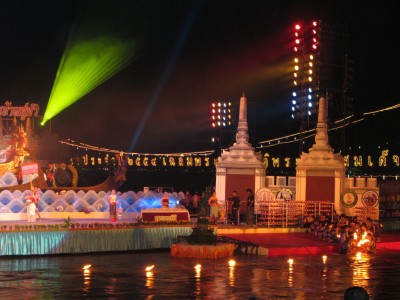 Meanwhile, Thais swarm the riverbank, in a scene reminiscent of Hindus at the Ganges, to release their own krathong. Many of these vessels are instantly transported downstream, others are caught in eddies or defy gravity, turn around and reverse upstream.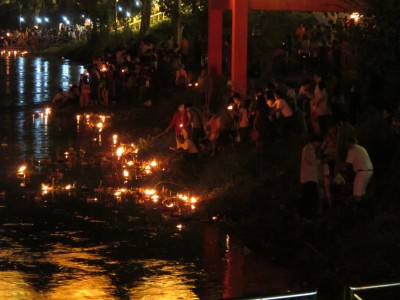 The river edge glows with mini spot-fires of stranded offerings, and from the boulevard the occasional khoom loy soars hopefully into the night sky above the hum of thousands of Thai revellers.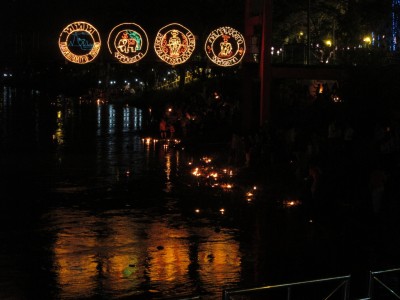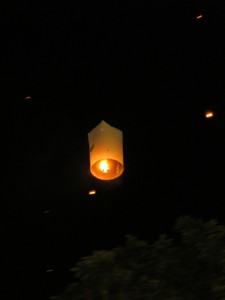 I decide to chance an arm at expelling misfortune, and peruse the stalls for a suitable krathong wondering about protocols. Are some decorations gender, or motive specific?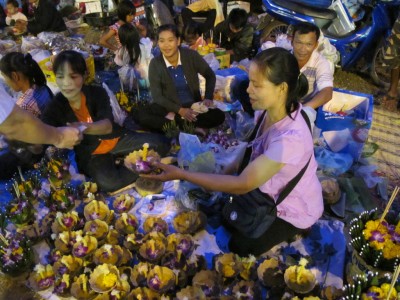 Among this uncertainty, a girl I recognise as a receptionist from the hotel, and on her own krathong quest, is able to assist. I choose one that's not too plain, not too flashy …a Goldilocks coconut. Then we join the queue on timber stairs leading down to a small platform where I launch the krathong with the half-hearted push of a novice. It becomes trapped in an eddy, forever circling, playing dodgem with other coconut shells, occasionally, teasingly touching the main current, tempting fate and flirting with liberation, but always nudged back into whirlpool limbo.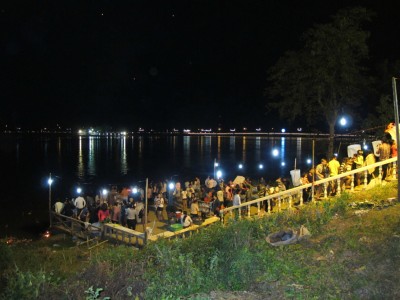 Next morning, Shan reassures: "It doesn't matter where the krathong ends up, just that you let go". So I do.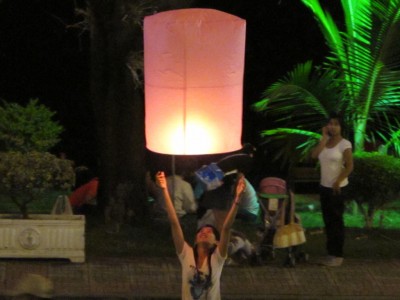 Apart from Loy Krathong and a popular shrine to King Taksin, with murals depicting his military exploits, Tak is a convenient gateway to a province of mountains, waterfalls (including Thailand's most spectacular, Namtok Thi Lo Su) and pristine forests.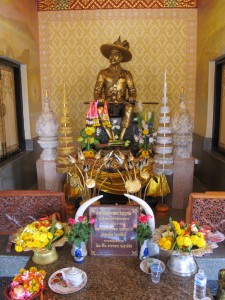 About an hour west, at the Burmese border, is Mae Sot, a colourful melting pot of hill tribes, ethnic refugees, foreign NGO workers, and travellers doing a Thai visa run (though, the last account I heard of someone attempting this had them refused and making a dash for Cambodia minus a visa). To the east is the ancient capital of Sukhotai, where it is believed Thailand's Loy Krathong tradition began.