Chiang Mai, Thailand's capital city of the North, offers a vast array of options for travellers. Somewhat ironical title aside, here are a few things I discovered during a recent visit, which was mostly spent at the east side of the old city. Haven't covered tourist attractions (there's enough info about them) – in my opinion Chiang Mai's main appeal is its liveability.

Public Transport:
There is a local bus, believe it or not, departing from Arcade bus station and going to the old city, as the photos below depict. I've been to Chiangmai twice in the past two years and caught it both times, so that confirms its existence. It leaves from the end of Terminal 3 opposite the Nakhon Chai Air's terminal, and costs 15 baht. I found it by accident, mainly because I'd tired of being held hostage by tuk-tuk drivers and motorbike taxis and touts when arriving in an unfamiliar Thai city at an ungodly hour. Chiang Mai is a little different in that it's songtheau seeking to take advantage. Unlike many Thai cities where they follow set routes at a set price, here it's a free-for-all. I don't know how often the local bus operates, but I caught it at about 7am on both occasions. I was the only passenger this time so it might be a case of 'use it or lose it' (last time locals were the only other passengers). By the way, the songtheau price to the old city from the bus station should be 20 baht, but good luck getting it. You could walk down to Kawnawarat Road and try your chances there, but why not support this bus? It could lead to something better organised.
Changing money? Carrying cash is one way to avoid ATM fees (and even travel cards sting you one way or another). Until recently The no-name place depicted in this photo, from my observation has, and by a reasonable margin, the best exchange rate – so its claim to do so is not false advertising (I took the boast with a grain of salt when I first read it, as you do). It's a family run business and is open every day, though Sunday opening hours are somewhat variable. You'll find it on the Moon Muang Rd side of the moat, just past Siam bank, north of Tha Phae Gate.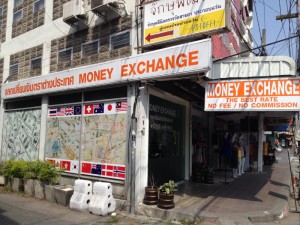 Motorbike Rental:
There are a myriad of places offering such services, but I chose Smile Motorbike & Car Rental. It's down Soi 3, off Moon Muang Rd, is cheaper than most, and is run by a friendly, easy going women, who's name I obviously didn't get. But did get her phone number: 084 734 4533. I found many of the larger rental places either side of Tha Phae Gate not only charged more but the service was indifferent.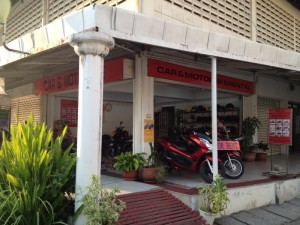 Bamboo Bikes in Chaiyaphum Rd advertise motorbikes for 99 baht a day, is run by an American and also seems okay, though adopts pricing methods similar to a budget airline – you pay for the extras, like a helmet etc. Tony's Big Bikes were also attentive and seemed to offer efficient service, but charged more than Smile. By the way if you're doing the Mae Hong Son Loop many places will say you need a larger bike, but I did it on a Honda 125 quite okay (900 baht for a week). If there's two of you, or the thrill of the ride is your motivation then sure go for a bigger bike, but if you want to potter along and see the view then you can downsize. Probably wouldn't go lower than 125, though.
Best Coffee/Breakfast:
My winner is …Hideout. You'll get this coffee fix and fine food mix in Sittiwong Road at the moat end. The Thai woman running it lived in Japan fifteen years and has adopted their idea of customer service (which is second to none). When my request for poached eggs drew a blank (as it usually does in Thailand), she  went to the trouble of looking up how to cook them on the internet – she googled the googy! And the coffee is great too.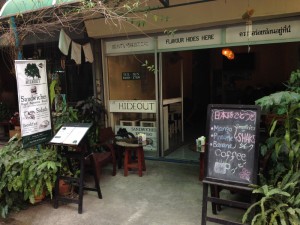 Black Canyon near Tha Phae Gate also do good coffee, as does the bakery down from them on the opposite side. I avoided the Coffee Club, but it's directly opposite Black Canyon for those into it. Further away, on the opposite side of the Ping River, in Charoen Rat Road, between Nawarat and Nakhanping Bridges, Woo cafe do very good coffee – it's also an art gallery, which is keeping with the creative theme around here. Regina, nearby, on the river side, is a quirky cafe/restaurant also worth a visit.
Glorious Food:
There are endless eating options in Chiang Mai, but here's a few I found. Hear Tung in Chaiyaphum Rd (north of Tha Phae Gate) is a small restaurant that's also popular with locals (usually a positive sign), offering good Thai food at the budget end. It is open in the evenings; closed Fridays.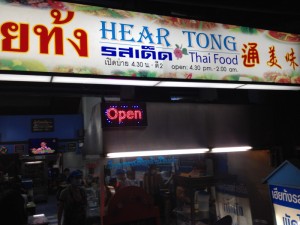 On the opposite side of the moat from Hear Tung, there's a small market where these variations of a spring roll can be found. I particularly liked the banana ones. Also plenty of fruit-shake options around here, as well as market produce.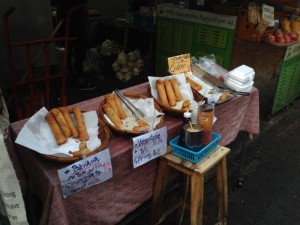 Again, heading away from the old city to the other side of the Ping River, turning left after crossing Narawat Bridge, there are a couple of restaurant bars. The Riverside Restaurant has a pleasant setting and is frequented by Thais and foreigners – the meals cost a little more, but it isn't overly expensive and it's definitely a case of: 'you get what you pay for'. Well worth the extra. I only went there on the last night, but would've returned had I stayed longer. It also has live bands from 9pm.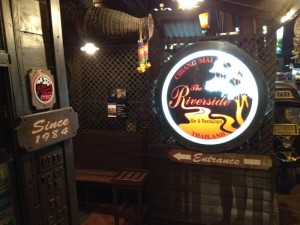 A little further down is Sip, a large restaurant/bar, also by the river, but I didn't check it out – seems to be popular with Thais and a little more expensive than Riverside. And there's Regina, as mentioned previously, which serves coffee and meals and has a shop selling an amazing collection of nick-nacks and memorabilia. Woo cafe/gallery also serves meals.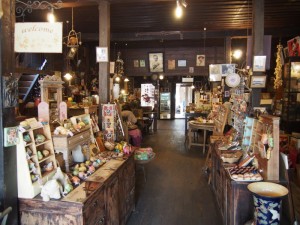 Miscellaneous extras:
If arriving during the high season book ahead (same goes for Pai), which might sound obvious, but traditionally South East Asian cities were never booked out – they can be these days, relatively – though you'll still find something with a bit of foot slogging.
Add another season to the Thai climate calendar – the Smoky Season. It runs from February, when I was there, to April, and is the result of agricultural and forest burn-off. It might not worry you if you don't venture outside of Chiang Mai, but otherwise you'll encounter white, hazy skies, restricted vistas and experience a fair degree of passive smoking.