At 1400 hours Bangkok time, in the Buddhist year of 2559 (AD2016), I unwittingly found myself caught in crossfire during the crusade against calamity. Water was the ammunition of choice.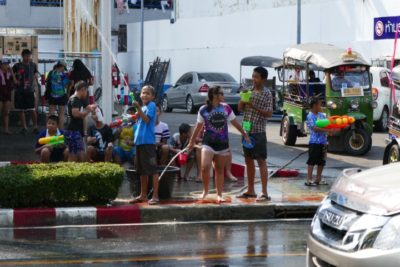 There were skirmishes everywhere. None were spared.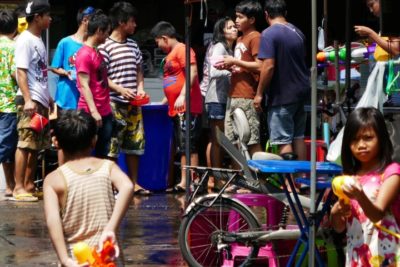 Samsen Road was lined with citizens in hand-to-hand combat, many camouflaged by white face paint.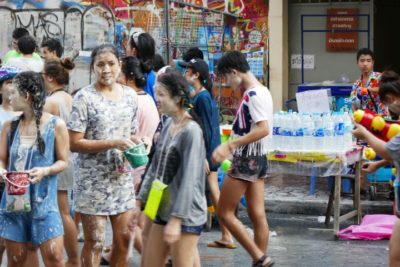 H2O ammo was launched wilfully in long spouts or squirted randomly. There were pistols, guns and canons. Even buckets and bottles were used. Occasionally, ice was added for more intense impact (ill-boding demons prefer heat, and this was April, the hottest month – they had to be combated in force!).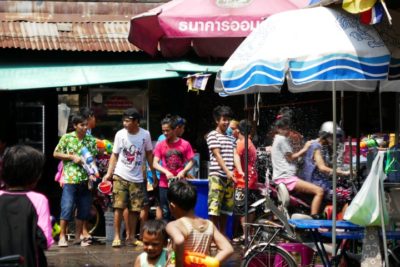 Some preferred to drive-by.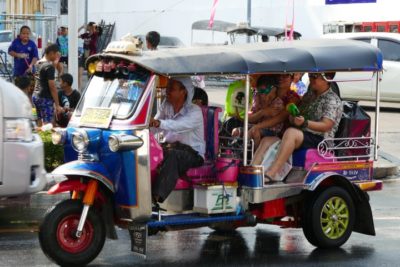 I was soon drenched – a victim of collateral aqua shrapnel or a direct target. But it was for my own protection, to wash away bad luck. I had no option, except to return favour and watery fire. But first, a weapon was required. Easy to find one on the black market.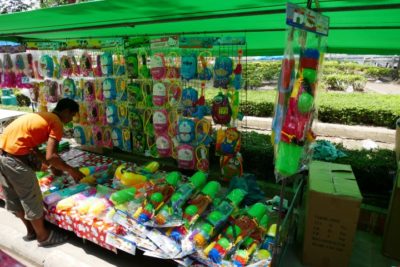 Doesn't have to be declared when entering a saloon.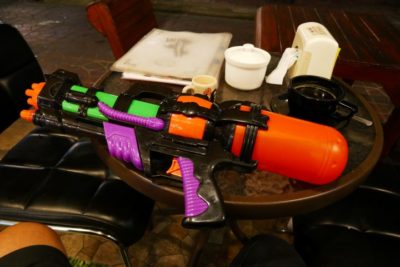 This meant war! …For peace.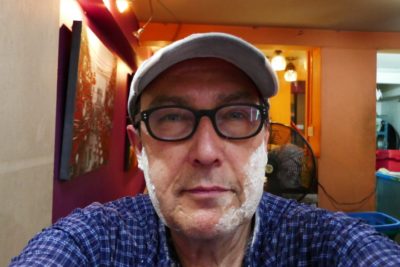 Armed, I dived into aqua-battle, for tit-for-tat, retaliatory water action where means justified ends and assurances made it would be all over soon. That sounded familiar, so I was somewhat sceptical.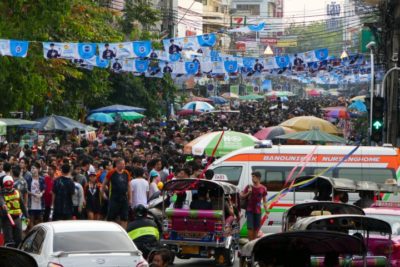 The pincer movement on the glistening pavements of Pranakorn was only a precursor to the Banglamphu campaign and its devilish vapours. In nearby temples, monks prayed for our success. Lanes and alleys daubed in white teemed with warring civilians wading in liquid pools, dripping with endeavour.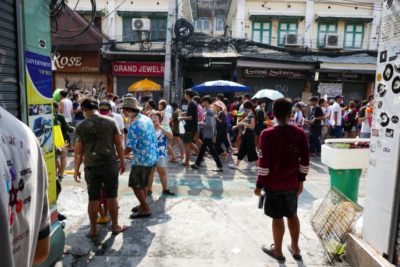 It was an equal-opportunity engagement: men and women, boys and girls, young and old fought alongside each other.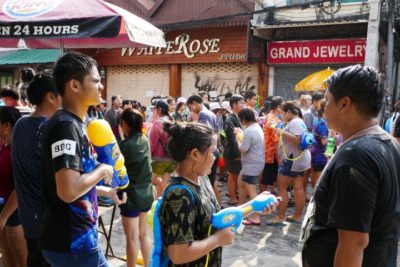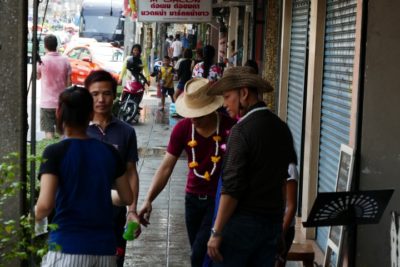 There were squads, gangs, militia, lone gunman, and snipers.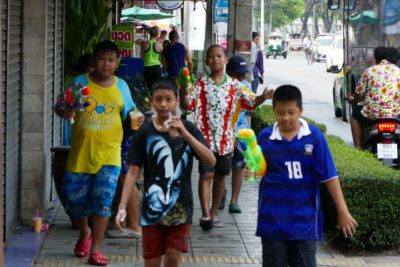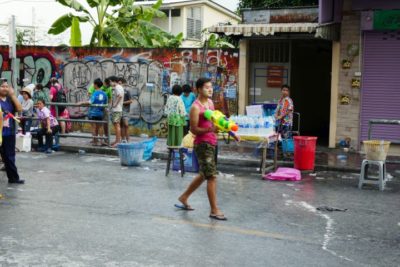 There were foreign mercenaries, like myself, but we were vastly outnumbered by the civilian population, who reclaimed this territory in the old city (though many had abandoned the metropolis at large).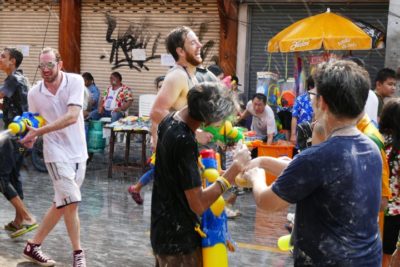 Evil was disarmed by smiles. People laughed in the face of bad luck, refused to take their demons seriously. Good karma (the most effective weapon) reigned supreme during this period of transformation. It was a civil war.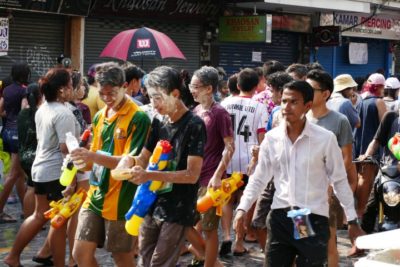 Some young warriors were distracted, lost their way, and used the exchange of water and war paint as an excuse to flirt.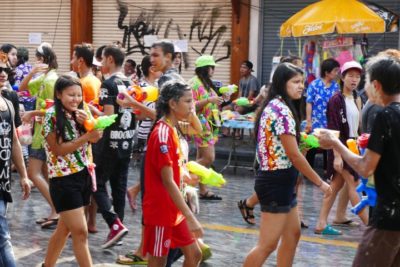 Others took a breather.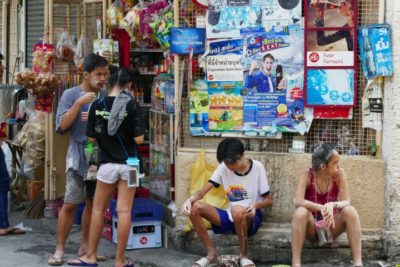 Ammunition was in ready supply, and food provisions bravely provided. Some mistakenly used the latter support wagons as cover and remained among the great uncleansed (a few traders demanded excess sovereigns, but most respected rationing needs).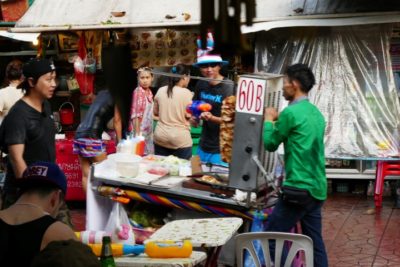 War correspondents had to take cover.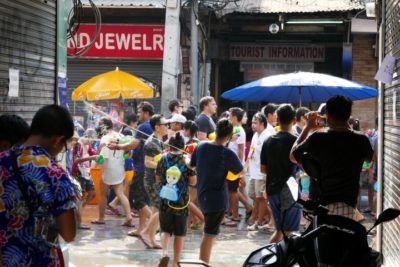 Even in the canteens it wasn't always safe.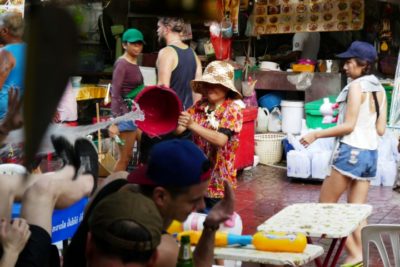 I sat with my back to the wall to replenish bodily fluids and rest weary limbs, but still became collaterally damaged.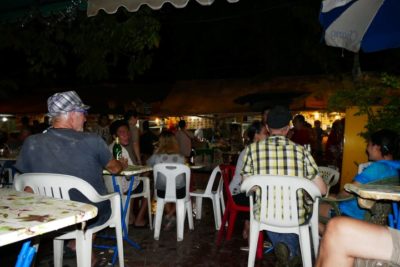 Respite, relief and a weapon refill could be found in the latrines, but queues were long and crossed legs replaced crossfire.
Misfortune's soldiers are most fierce at night, and so I returned to the fray. The countering response had to be massive. And it was. Local battalions emerged into the darkness to combat the dark forces.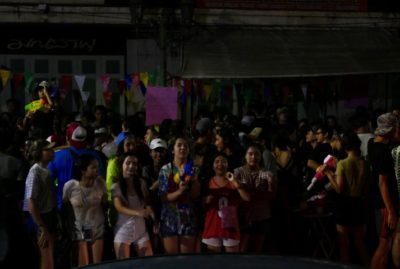 My Roman Reef sandals cut through my skin, but I soldiered on.
Beside the river strewn with debris was no-man's land, as a special regiment of female warriors trained for battle.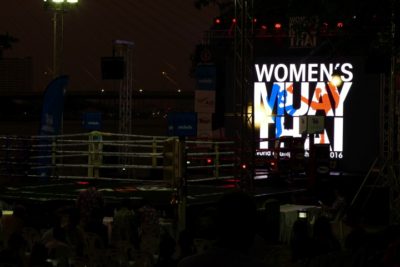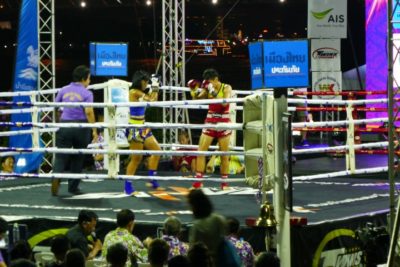 Finally, at the end of the day and throughout the night the victorious celebrated.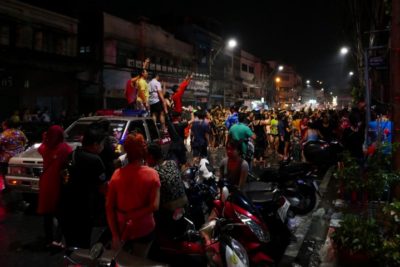 We had all become veterans, relishing in the dampness and dancing in soaked joy.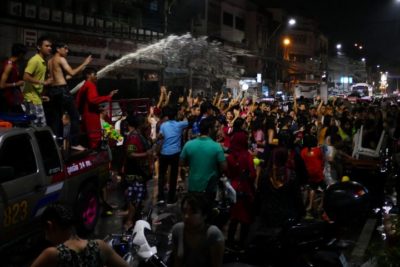 We were liberated. Had Zodiacally transformed.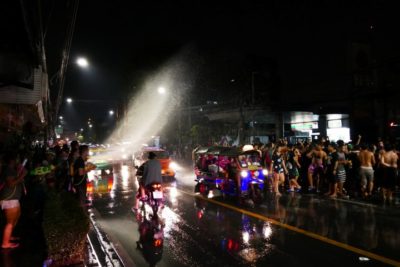 There was water everywhere and a drop to drink.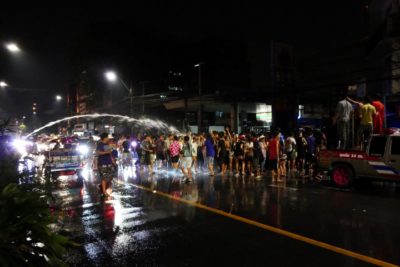 Evil spirits, bad luck, misfortune, ill will, bad vibes, curses whatever you prefer to call it, had succumbed to the torrent, their hot tempers doused; the streets safe once more.
But dark forces will return again to wage war next year, and vigilance must be maintained.
May the good vibes, and a decent water pistol, be with you!
See below for complete war gallery.

NOTES:
There are three things you need to know about Songkran, held throughout Thailand every April 13th-15th (or thereabouts)…
If you go outside you will get wet.
Taking photos is difficult without a waterproof camera.
It makes New Year's Eve celebrations seem like doing coffee.
Of course, there is a religious aspect that sometimes gets overlooked, but probably less so in that way than Easter or Christmas. Though, reports that Songkran is losing its meaning and becoming a glorified water fight are a little simplistic and overlook certain factors. To begin with, the water activity doesn't usually begin until after 2pm and those Thais participating have invariably spent the morning attending temples and/or being with family. While the majority are young in certain areas, there is widespread participation. Activities were even curtailed this year because of water shortages and a severe drought in Isan. In Bangkok, for instance, it was reduced from three days to two.
Bangkok is as good a place to experience Songkran as any. I had reservations that the Banglamphu area, for example, would be swarming with tourists and lack some authenticity, but as suggested above, the locals reclaimed Khao San Road and the surrounding Soi. And when Bangkokians let their hair down they're as friendly as any Thais in the country. Given you'll get wet anyway, you might as well arm yourself with a weapon of choice. It will result in more interaction, which is overwhelmingly good-natured. There were also religious ceremonies held in the nearby temples, including the Royal Palace and Sanam Luang, the park opposite.

Songkran can take some logistic planning, though, if just heading from A to B – protect what needs to be protected.