The International Balloon Festival in Taunggyi, Myanmar was held in mid November, 2013, during Tazgaungmon at the end of the eighth lunar month, and is one of the most spectacular events on any calendar, but one I nearly didn't attend, even though chance deposited me in the right place at the right time …well near enough: within seventy kilometres.
I was in the former British summer retreat of Kalaw arranging a then-and-now comparison of a hill tribe trek I did two years ago. I'd heard about the Taunggyi event, but its promotion as an international balloon festival evoked images of ordinary hot air balloons when I sought activities more uniquely Myanmar.

Due to that ignorance I missed the first opportunity to attend, but aside comments at the trekking agency inspired some internet research which revealed more about the festival. Not so much about its history (though I did discover it predates the advent of Buddhism in Myanmar), but about what takes place.
"The highlight of my visit to Myanmar," seemed a common reflection as travellers posted in awe about the hand-made paper creations taking flight; and trailing candles and fireworks, not wicker baskets transporting passengers. These were balloons with bling and bang. There was also an impression given of the festival being somewhat chaotic which added to the attraction.

So when the second chance arose I was aware the balloons of Taunggyi weren't the sedately soaring airships of my imaginings, but that opportunity was also thwarted. Fortunately a third chance presented itself, which by now required hiring a taxi from Kalaw solo.
That cost 50000 kyat, the equivalent of about US$50, for the 140 kilometre round trip, including as much time at the festival as I wanted to spend. The driver, Kim, of Shan/Chinese descent, met me at hotel reception. Wearing sunglasses and a T-shirt, slim and athletic in a Jackie Chan type of way, forty with boyish looks going on thirty, he represented modernising Myanmar. He'd been living in Singapore until recent political reforms inspired his return home.
Approaching the car he asked if he could bring a friend. Apparently he'd been in trouble for doing this before and wanted approval – was I comfortable about having extra company? His asking provoked its own discomfort, but I agreed on the proviso it was really a friend and not a passenger on the side.

In keeping with rapidly changing Myanmar, Kim's car was a late-model. Though, air-conditioning never became more than an open window – some habits die slowly. Eighteen years living in Singapore hadn't rubbed off on his driving either. Heavy on the steering and all pedals, it was as if he resented any vehicle ahead of us such was his urge to accelerate and overtake, but slow when we broke free into clear space. The road had been sealed since my last visit, and while basic it now made day trips like this possible. Inle Lake is along this route as well and others travel to Taunggyi from there.

Driving skills aside, Kim and his mate, Thawsit, were affable companions. He offered to stop whenever I wanted to take a photo, but I only made one request. Here, as we descended into the Heho plain.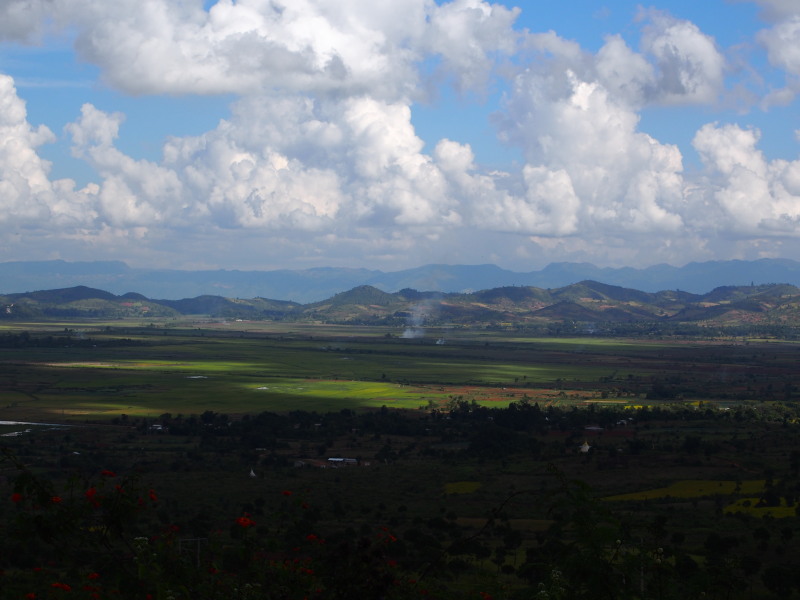 Kim pointed out Taunggyi in the distance – a collection of white buildings lining a hill-top.

Further on, I didn't need to request a stop – we were delayed by a traffic jam caused by this festival parade in a village about twenty kilometres before Taunggyi. One group swayed drunkenly into the path of passing traffic.

Taunggyi, the capital of Shan state, is a university city and appeared 'comparatively' modern at a passing glance. It sits above a valley and driving up to it took a good twenty minutes. Presumably it's located at the end of a long plateau given the city's role as a major destination for Chinese goods (otherwise why be located above the valley?). As far as I could ascertain, the road east is still off-limits to foreigners.
We encountered more traffic jams near the festival site as cars exiting blocked those trying to enter. Kim let Thawsit and I out as a white 'elephant' balloon floated above us trailing a thin line of soot-coloured smoke.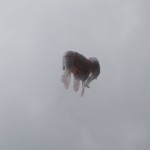 The festival grounds suggested wild-west: rough and ready and surreal; a patchy dirt expanse littered with scraps of paper surrounded by makeshift stalls and a rickety perimeter fence.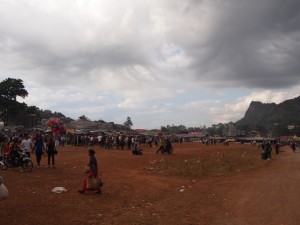 On the other side of the field an amusement park featured rides and quaint attractions recalling earlier eras. Performing monkeys and mice were among the 'freak' shows.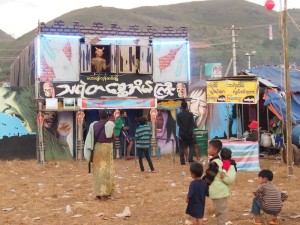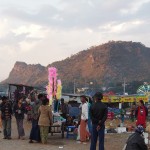 While precise information was hard to come by Tazgaungmon appears to acknowledge several events in one: the departure of the rainy season; the end of Kathina when monks are presented new robes and alms; and, in Taunggyi, this event, Lu Ping, a Pa-O inspired festival to rid bad karma and make merit by launching fire balloons toward Sulamani Pagoda in heaven; the latter sharing similarities with Loy Krathong in Thailand.
Each festival day is made up of two sessions. During the afternoon, plastic (or similar) balloons in animal shapes prelude the decorated paper-crafted night spectacle. According to Kim, each evening, as the week-long festival progresses, the better balloon designers become involved. There were only two more days of the festival left so tonight would be a good introduction.
The balloons are carried in, unwrapped and inflated with the hot air from bamboo sticks doused with fuel.
Chickens are the animal design of choice, but not because of any religious or symbolic reason: that body shape provides the most stable flight.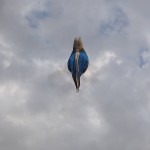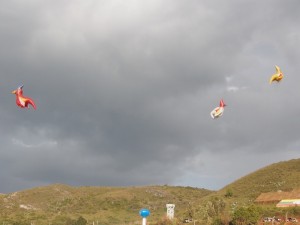 The daytime balloons appeared too fragile to survive the flames let-alone become airborne for any length of time, but looks were deceiving.
One balloon here tore while launching, but it remained intact and the trio of chickens rose high and out of sight.
Is this a dragon rising from the flames?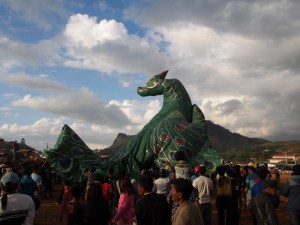 …No, just another chook.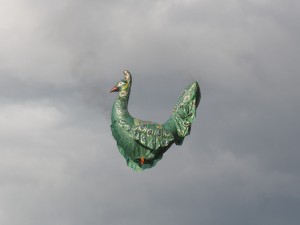 …About to be 'former' sooner than intended. It plummeted back to earth, as can be seen in this video, motivating Kim to explain that's why he didn't leave his car downwind.
The crowd thins and there's a lull between daytime activities and night proceedings. Skies had darkened as we approached Taunggyi, but the shower was brief, clouds quickly scattered and the evening was milder than some accounts suggested.

The technological time warp Myanmar currently straddles is highlighted by a contrast revealed in the following video …rides and amusements that wouldn't look out-of-place in the 19th Century surrounded by spectators recording the scene with 21st Century smart phones. It was fascinating. The rides are kick-started manually, but once begun seem to gain a momentum of their own. I don't understand the mechanics of it, but assume belts and the clicking sound in this video have something to do with it. How they started the Ferris wheels was incredible: young men clamber up to the top of the wheel, like spidermen, to tip the balance and propel the spin. They cling to the outer rim and dismount at ground level with practiced ease.

Not far away was this street of stalls and restaurants.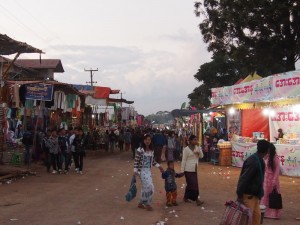 Three-in-one coffee mix is the preferred brew in Myanmar. Doof-doof music blared from a few bars attempting modernity, but they were devoid of customers; at this stage of the night, anyway. Though drinking alcohol is a big part of the festival and often begins early in the day at the temple.

There are two types of evening balloon: those with a huge candle-lit tail, and those trailing fireworks. I discovered the former when encountering people holding a large metal frame adorned with candles not realising it was attached to the balloon they were inflating. Surrounding us, their entourage clashed cymbals and clapped bamboo sticks to a hypnotic beat. Above us a full moon beckoned.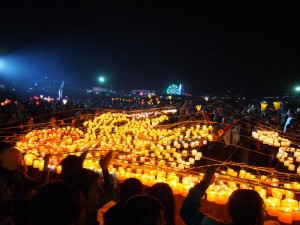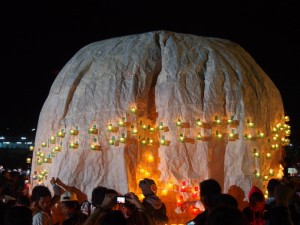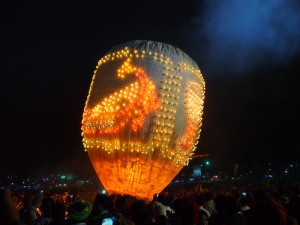 As the balloon swelled candles were attached to hooks on its exterior outlining another glittering pattern. Nearing take-off the crowd's excitement increased, their cheers and whistles reaching a crescendo as the balloon soared, lifting with it the long, elaborately designed candle tail.

Meanwhile, the 'fireworks' fire balloons ascend high into the night trailing a pyrotechnic kaleidoscope of whirls, sparkles and explosions. Skyrockets shot out in all directions like tracer bullets: a fireworks version of shock and awe. The more volatile the display the louder the shouts of appreciation.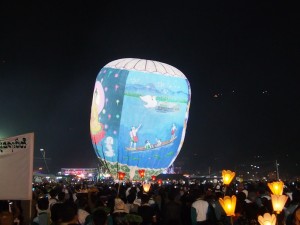 The crowd urged the balloons higher and higher until it really did look like these vessels could reach the moon.
The balloons are launched according to a schedule, but without any direct supervision and occasionally expose nearby spectators to an explosive fall-out. The lack of control is part of the spectacle. After one mis-launch a fire truck appeared, but it wasn't really needed. There are plenty of viewing points however, so spectators can choose how near or far away from the launches they want to be.
Premature detonation. Everyone ran for cover.

The most obvious danger, spectator-wise, would appear to be from fireworks, but a wind change had one balloon draping the crowd with a long tail of candles when there was insufficient hot air to launch it.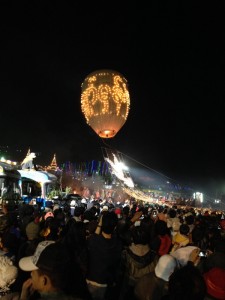 Third time lucky, but even then it just cleared the trees.
Around 9pm I sought out Kim where I'd last seen him. He'd been drinking a fair part of the evening, but he assured me he was okay to drive. Different standards apply here so to some extent you trust their judgment, but I just wanted to put the thought of caution in his mind. I mean, I had a beer or two myself – passenger's prerogative.

A girlfriend from his schooldays had designed the next balloon so we stayed awhile longer to watch. It didn't appear to be disorderly enough for informed festival goers, but I liked its precise artilery barrage.

"Too simple," Kim lamented, as it made its way to the heavens, but it ended with a fiery climax he loudly cheered.
Organisers, possibly influenced by Myanmar's recent embrace of the world, must've suffered a bout of premature promotion, because the only international aspect of the festival appeared to be the smattering of foreign visitors. That suited fine. I was looking for local experiences not international ones, and the Taunggyi balloon festival delivered that with a unique and colourful spectacle (see the slideshow for more pics).

We made our way to the car and were ushered out via a long a circuitous route. Motorbikes whizzed in and out. Kim muttered criticism about their driving and drunkenness without irony. A motorbike clipped his car and confirmed his prejudices.
The night's final balloon launch followed us across the Heho plain via the car radio.

Once back on open road Kim's driving was less hurried this time. He had little choice. The glare from oncoming lights obscured vision frequently causing us to slow down or pull over. Orientation was exacerbated by the lack of road markings and the condition of Kim's screen, which no amount of cleaning appeared to fix. Thick fog became the next obstacle.

We arrived back in Kalaw approaching 1.00am. I made a dash to my room to grab some sleep and prepare for tomorrow's trek, the sound of cymbals, bamboo sticks and unregulated joy echoing in my mind.