Thailand, 19th November, 2012.

Ancient rock art, meditation caves and car accidents.
Today – riding back to Nong Khai, which will end my Mekong River journey. It's been a week of eight days. Must be a song in that somewhere.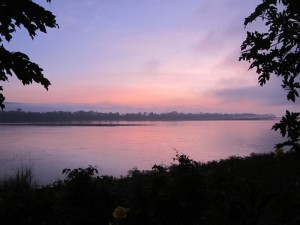 Fog and wispy cloud combined for a colourful Sangkhom sunrise.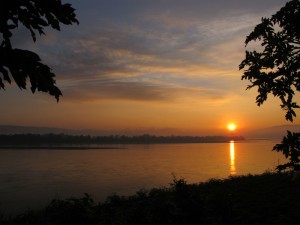 The farmer from next door passed via Dtoy's footbridge (she rents the guesthouse property from him) offering opportunity for a close encounter. Short and wiry with a weather-worn face protected by a flat-topped bamboo hat, he carried a long pole with a blade at one end which he used to pick a papaya hanging over the fence from his plot of land.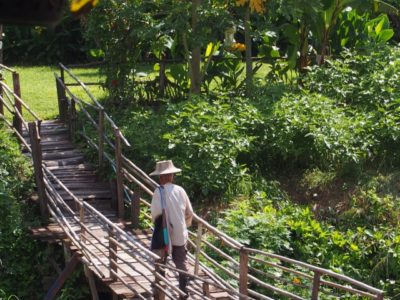 Breakfast – French toast and fruit salad of watermelon, banana, pineapple and papaya. Just had to have it.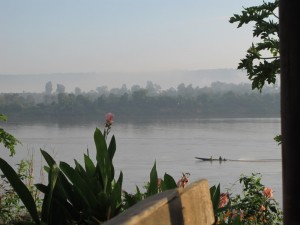 Dtoy confirmed the suitability of taking the inland route to Tha Bo, which I sought as an alternative to retracing day-one tyre grooves. There was also a national park "good for walking". I think she meant by that it was interesting. Phu Phrabat Historical Park. My map didn't reveal its highlights, but an image of a rock outcrop suggested a similarity to other parks in Isan, particularly those near Ubon Ratchathani.
Unfortunately, I only have the version in Thai.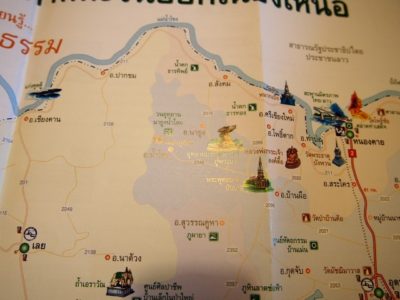 I packed, set up the motorbike and checked out around 11AM, but before leaving sat talking to Dtoy and her husband, who was also calling himself 'Dtoy' now.
Dtoy (Mr) remembered my name, but always lamented his bad memory. I reassured by adding that he remembers he forgets. But perhaps that's not reassurance.
We made languid, circuitous conversation. He mentioned being in Australia, and Christchurch where he worked in a fish canning factory.
"And Wellington," Dtoy added.
While in the Middle East he and his mates could help themselves to wild pigs because Muslims "not eat pork".
He was "in heaven" because he was a grandfather to "a boy seven month old".
"Two months," Dtoy corrected with an affectionate slap to his arm.
He said people had thought his son (the child's father) was gay. I said "mai bpen rai" (never mind).
He said "if you have money, never mind".
And so on…
The final bill came to 1555B – around A$50 for 3 nights/4 days, including food and drink. You wouldn't find better 'rustic and relaxed' value than that anywhere.
I ended my Sangkhom sojourn and said farewell to the Dtoys, resolving to return.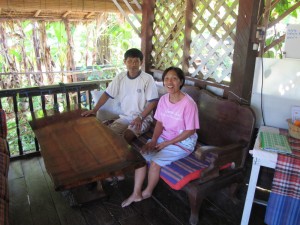 Once out of town, highway 2376 (in good condition with little traffic) passed rice fields, some in the process of being harvested. On both sides of the road  there was a low range of hills, but they were some distance away. Villages were fairly frequent.
At a roadside stall, I asked for water and evoked the Murphy's Law of English language skills in Thailand – when you're not expecting them to be good they are. She replied to my sorry attempt at Thai in perfect English: "You want water?"
As it turned out she didn't actually sell any, but fetched a bottle from her friend's stall – six baht (now I knew how much I'd overpaid previously).
After a brief exchange with a nurse who had sauntered across to parle, I continued on to Ban Sam Lian before turning into highway 2348 to Ban Phue. A middle-aged man in singlet and shorts standing on a veranda confirmed directions.
There were some rough patches on this stretch, and it was busier with traffic, including trucks.
Thought I'd missed the turn-off to Phu Phrabat till a sign on a bend in a small village indicated the park – five kilometres away. I u-turned and scooted to the entrance where an attendant noted my number plate and raised the boomgate.
Further on, another man gave parking directions in an empty carpark. That assistance was partly Thai 'accommodating manner' and partly a ruse for introduction. He was a park guide. I said I only had time for a short walk. He replied that took 45 minutes – two hours for the complete circuit. He had a salesman's chattiness, and apparently once worked for an insurance company. He didn't pressure me to use his services – though with more time, local insight could be worthwhile pursuing.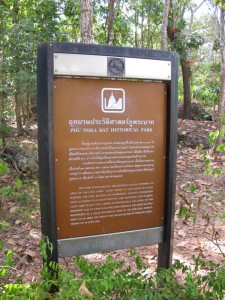 Thais can be generous people, but their national parks are rarely free, especially for international tourists; a ticket booth was further on – foreigner fee 100B (locals 20B!). It came with a good English brochure, though.

Leaving my daypack in the booth I forged ahead. Distances were short, so in the end saw most of the sites. It is impressive and worth a visit in its own right, rather than just being something to see on the way to somewhere else.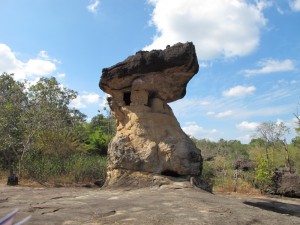 There are shades of Pha Taem National Park (in Ubon Ratchathani), but with a Buddhist history accompanying this rock art.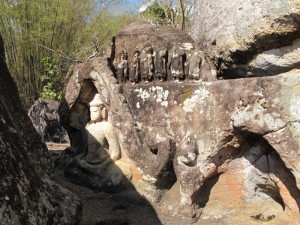 Stone pillars reminiscent of ancient Britain are surrounded by rock overhangs and mediation caves.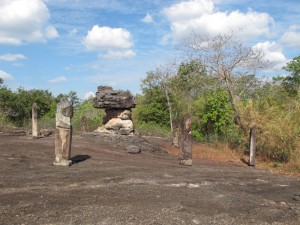 Part of the Phupan mountain range, the Mon Dvaravati civilisation were attracted to the area in the 7th to 8th Centuries and crafted the tall stone markers. Later, Buddhist images were carved into the caves and crevices. The original names of the sites are unknown, but the locals have imbued them with references to a legend about an imprisoned princess and her male rescuer. The primitive art isn't as prolific as at Pha Taem, or the setting as dramatic, but it is evocative and vivid. Unfortunately, I forgot to bring my camera charger to Thailand and the battery finally died at this point before I could depict it!

Back at the booth the woman said I could use the same ticket if I returned, though am not sure she understood what I meant. By anytime – like next year, for instance?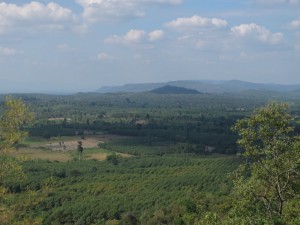 There is also a small museum, but the car-parking/tour guide had suggested there wasn't much to see inside. I stuck the noggin in for a brief look – he was right.
Back at the motorbike he was there to farewell, and reveal Australian general knowledge. "Do you eat Kangaroo?" he wanted to know. I ate Kanga bangers (roo sausages), but answered with "sometimes".
"The meat is low in fat," he added, as if to prove his understanding.

It was now 2.30pm. He said Tha Bo was another hour away. On reflection, he probably said Nong Khai, but …not at my pace.
The road from here to Ban Phue was similar to before, but smoky exhausts accompanied the lorries.
At Ban Phue, a largish, nondescript town (though I only skirted the edges) there were no signs indicating Tha Bo or highway 2020. At a T-intersection, I followed instinct and turned left, the sun at my back another indicator of direction, passing timber yards, and going for a long period unable to overtake a plodding truck trailing sooty exhaust. A scene more reminiscent of Vietnam.
I arrived in Tha Bo about an hour later with the intention of revisiting Dtao from day one for coffee, but her cafe was already closed.
Caffeine-hit out of the equation, I kept moving – also had a mind to sidetrack to a temple between here and Nong Khai. This stretch of road was much busier compared to day one – being late afternoon rather than mid-morning may have mattered. It is best avoided I discovered, and can be circuited by taking an inland loop from Nong Khai (as outlined in day one).
Among the motorbikes were too many vehicles on a narrow road that wasn't built to accommodate them. One car overtaking those of us on two wheels travelling too slow for his liking had another car pull out in front of him and when he swerved to avoid it he ran up the back of a motorbike with a food-stall sidecar, catapulting the driver vertically into the air and on his back onto the road, where he remained motionless.
I stopped behind the car trying to remember long-ago first aid lessons should they be needed. The victim was more on his side than his back, and there was no blood evident. It seemed like ages, but was probably only seconds by the time he came-to. Other drivers that had stopped were approaching by this. The one responsible wasn't particularly sympathetic – that may have been defensiveness – not wanting to take blame and/or lose face.
I guessed the worst the motorbike rider had was a broken bone/s, and a wrecked food bike, meaning a loss of income. Bad enough, but there was little I could do except complicate things, so, I continued on, hoping he received compensation and proper treatment (a Thai later suggested he would've been looked after – there's a form of third party insurance, at least).
A short distance further on, I encountered a truck that had just lost its load, so perhaps it was fortuitous the previous accident delayed my progress. Someone involved stood beside the strewn cargo and waved as I rode past, friendly, nonchalant as if to say "this is Thailand, mai bpen rai".
I never saw a sign indicating the aforementioned temple I contemplated detouring for – not that I looked hard – this road, at this time, required full attention.

At last, Nong Khai – I stopped for coffee at a place called Camera. Good brew.
I encountered Kettel that night, at a restaurant – Dee Dee. We had met in Sangkhom and rode motorbikes out to see some caves. I had recommended Dee Dee (after reading about in Lonely Planet myself), though I didn't expect to see him. He was enjoying the food. My meal wasn't quite as sensational as the one before I left Nong Khai – but I appreciated a rest from the chillies – or at least my stomach did.
We made plans to catch up later for a beer, but I was delayed checking out bus timetables and he'd gone by the time I arrived. So, I went to a bar near my guesthouse. It was busy and noisy and birthday celebrations were going on. A girl paraded with baht notes stapled to her dress. I had one beer and left, and not just because of a long day in the saddle. After a leisurely week in paradise, I wasn't ready for a return to purgatory
———————————–
Kettel went south-east from here along the Mekong – in an email he said it wasn't as interesting as the upstream route Chiang Khan, but it was okay. I did it on another trip – it is busier and not as serene, but there are sights to see and some spectacular scenery. I went to Wat Phu Tok and Nakhon Phanom.
I have since returned to Sangkhom, even a few weeks later; by bus.
OVERVIEW: the route from Nong Khai to Chiang Khan is a scenic part of Thailand less visited by foreign tourists, and well worth doing, whether by bus, motorbike or even a bicycle. A motorbike gives you mobility and convenience (though with a rental deadline). Bouy Guesthouse also has them for hire. The bus requires a change and detour inland from Pak Chom, but that isn't a major obstacle. Cycling is also great option, especially once you pass the busier, early stretch from Nong Khai to Si Chiangmai.