Sangkhom to Chiang Khan
Thailand.
13th November, 2012
Spectacular riding, off-duty cops and chance encounters.
Woke to more primrose skies.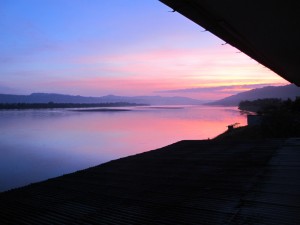 …And descended to a deserted reception. Perhaps everyone was sleeping off a hangover. No one emerged, so I left the keys on the counter, loaded the bike and throttled-off into the morning.
I didn't travel far, though – stopped at Tantawan, the restaurant where I ate last night. Breakfast is the hardest meal to get right in Thailand, if you're hankering for a western style one. Often it's better to go for rice soup, or similar local fare. But you don't know if you don't order, and until Tantawan's scrambled eggs and toast emerged as a lonely, greasy intact egg served in a metal dish, I was prepared to back them on last night's standards.
After I pointed out the absence of toast, the waiter retreated and returned with a thin piece of saggy lukewarm bread, sliced in two. Asking for butter drew a blank. I was tempted to enter the kitchen and describe the process of adding a golden brown to the white, but my presence would have just confused. Go with the flow. The coffee was good.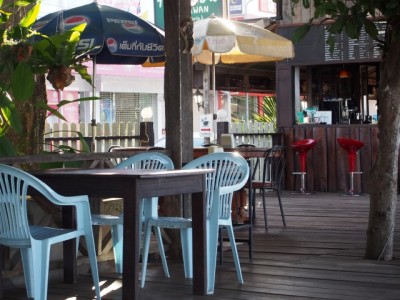 The plan today was to complete the second half of the ride to Chiang Khan, a town renowned for its traditional timber homes that has, in recent years become a tourist attraction, especially for Thais. Though, it was the getting there, the ride along the Mekong River that was of primary interest.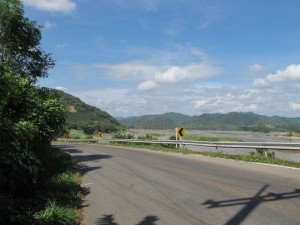 The route from Sangkhom to Pak Chom (the next town of any size) was sublime…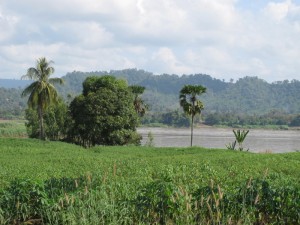 Quiet roads, often shaded and undulating, traced the Mekong upstream…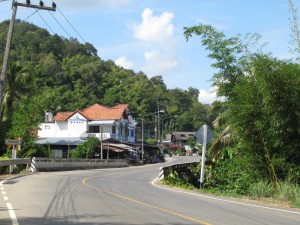 Intersecting pretty villages and passing yellowing rice fields beckoning a harvest.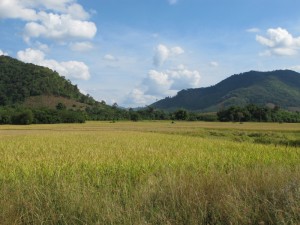 Serenity was momentarily disturbed when, approaching a small bridge, I ineptly navigated a bump dislodging the daypack from its precarious position between my legs sending it airborne and onto the tarmac. It had to happen eventually. Fortunately, I wasn't driving fast enough to cause damage, and there was no following traffic to pancake the daypack.
This attempted English translation gives some indication why there are often misunderstandings between Thais and foreigners.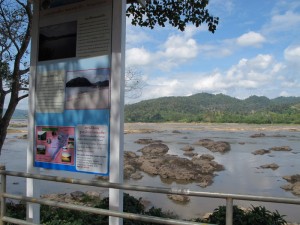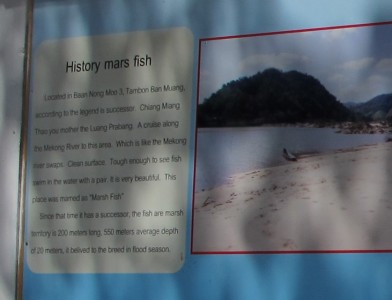 Coffee was becoming a preoccupation, but it didn't look forthcoming among the infrequent stalls and stands. Then a road sign advertising 'cafe bakery ahead' caught my attention and stirred thirst buds. I kept eyes alert.
A riverside guesthouse a few k's before Pak Chom that I didn't check out, but looked promising, from the outside, for future reference.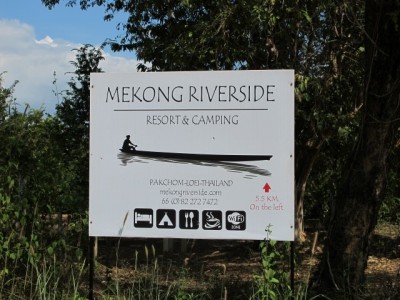 The coffee sign was repeated just before the cafe itself and I almost rode past. Called 'Pookie' it's is on the southern outskirts of Pak Chom.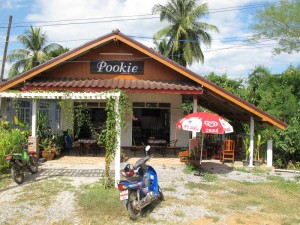 Had an Americano for B30.
The Thai fellow who sat and made conversation wasn't the owner, as I first thought, but an off-duty policeman stationed across the road. It was his wife's cafe, though. Handy for both of them. His name was Mac (not a Thai nickname, an appropriated western surname).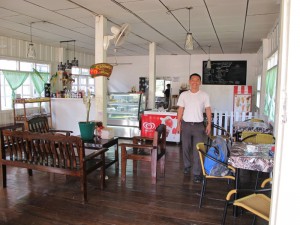 He spoke reasonable English, occasionally frowning when he couldn't, or feared he wouldn't understand what I was about to say.
Pak Chom is low-crime, according to Mac, the most serious task being the policing of drugs and contraband smuggled along the river.
I asked about accommodation, but Pak Chom is fairly rudimentary town at this stage in its progress. There was a modern bungalow guesthouse behind the cafe in an unappealing setting.
Things may change fairly quickly though as other Thais seek out these locations (apparently, the Bangkok floods motivated a desire to seek real estate here).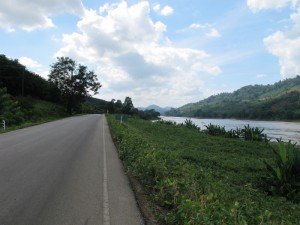 Coffee wants sated I motored on to Chiang Khan, a further distance of around forty k', encountering regular rough patches that kept the going slow. Road works were in progress, though, and improvement might not be far away.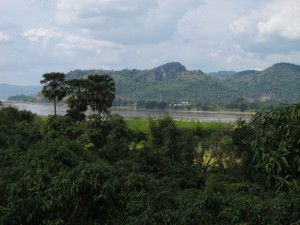 I arrived in Chiang Khan around 2pm where I had a booking at the Chiang Khan Guesthouse, and was greeted with a warm handshake by Pim. Her guesthouse is on the river, with basic rooms for B300, toilets and showers outside. There's a communal balcony with tables and chairs overlooking the river.
My room had a small window with a view over the roof next door, so you wouldn't spend much time looking out of it. There was a critter sharing it that could've been a wasp, but probably wasn't, and had the navigating intelligence of a fly. I spent some time trying to herd it out the window, recalling the Sangkhom encounter of Day 1.
I left the motorbike at the guesthouse and walked around town. It was hot, despite it being 'winter',the sun streaming down Chai Kong Street.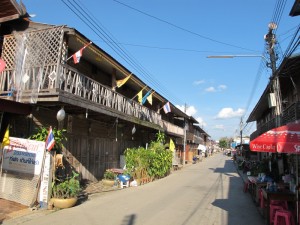 Most of the traditional teak houses and buildings the town is famous for, as previously intimated, have been converted into shops exclusively aimed at tourists. Few were open now though, and the street was devoid of life.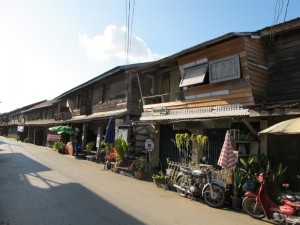 Turning down Soi 9, I found an open cafe that also advertised rooms for B200.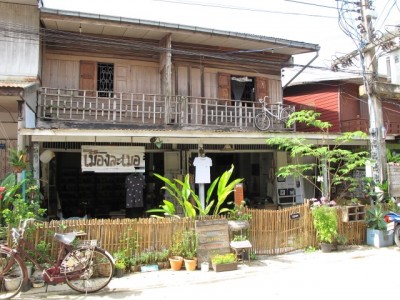 I was served by Gung who had studied in Melbourne at RMIT. She had been along the Great Ocean Road and knew my part of the world.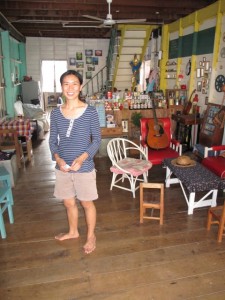 She said most shops opened later, in the cool of evening. But I later concluded it wasn't that cut and dried; some closed early, others opened late.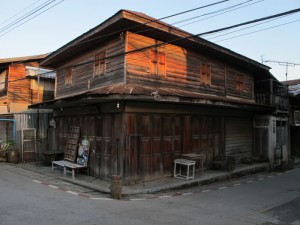 Though, this temple was going about its business as usual.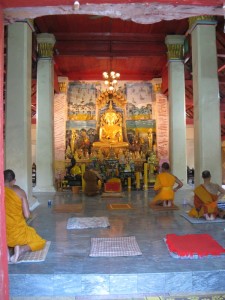 I returned to the guest house re-emerging at dusk to a different scene – Thai tourists strolling the streets, perusing the shops that mostly sold arts and crafts aimed at the reasonably heeled.
It wasn't crowded, though. The usual the vendor-oversupply was in evidence. On weekends Chiang Khan is at it's busiest (this was midweek).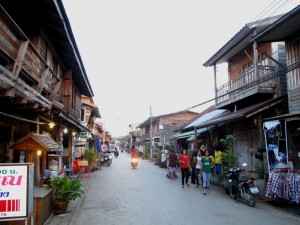 I encountered Gung selling T-shirts in Chai Kong Street. She said people didn't divert into her Soi so she had to set up a stall here. She recommended a place to eat, which coincidently was the restaurant I'd been looking for. Small, quaint, good food, beside the river – I was the only customer.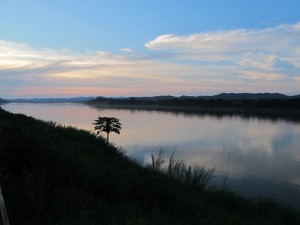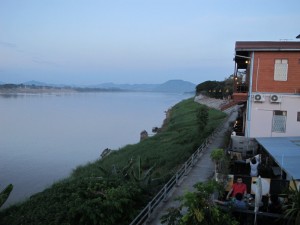 Later, making my way back among busier streets to Pim's, I encountered a Frenchman, Henry, who'd also been staying at Bouy G.H. in Sangkhom (though not in the bungalow next to mine) before the arrival of a French group had us moved on. He went from there to another place Dtoy had suggested, and he recommended it now – had all the comforts etc. He was given a lift to Chiang Khan with the manager who was showing around another guest, a French Canadian. She, the manager, invited me to stay there on my return, but my mind was set on Bouy Guesthouse, preferring its rustic, riverside ambience.
Otherwise, had a street-side beer, and another Americano for B20 at a small stall run by a woman who greeted with a wai (a less common gesture these days?). A complimentary orange tea added even more value.
I was still deciding if I liked Chiang Khan – seemed to mainly be a shopping excursion destination. Would conclude in the morning, but was inclined toward leaving next day.
That night, outside my window, at a restaurant next door, a sing-along went on until late, which wouldn't have been sleep-disturbing if they had a bigger repertoire – the guitarists seemingly only knew one tune that he and his friends sang various songs to.
Then that was replaced by the thump-thump of more-contemporary music carrying across the river from a venue in Laos.
Then at about 4am a baby started crying downstairs and didn't stop.
Even paradise isn't perfect.