Laos, December 2010…
The head of the Japanese girl dangles precariously at right angles in empty space above the aisle. I can't believe she's asleep. Beside her, another Japanese girl bounces against the window. I sit opposite them trying to close a gap letting in cold air. At the rear, three wide-eyed Europeans jump and shuffle like lottery balls
We're in a minivan determined to break every speed record on the jarring, twisting road that traverses the mountain range from 'hedonistic' Vang Vieng to 'spiritual' Luang Prabang.
This transportation to the 'other side' incarnates like thus: accelerate flat-chat to a bend, brake hard lurch wildly around corner and increase speed to the next bend and so on, in an endless pot-holed purgatory.
I was meant to be on a V.I.P. overnight bus scheduled to arrive in Luang Prabang at a leisurely and manageable 6.30 AM. It morphed into this Machiavellian minivan. Earlier, I was transported to the bus station in a tuk-tuk reincarnated as a scooter.
I tried to allow for the vagaries of Laos and take it in my stride; until a local jock at the bus station muttered something about a 2AM arrival as if that were good news. Not for me – I haven't booked accommodation. I anticipate sitting it out in the Luang Prabang bus station until dawn.
We continue warp-speeding along the snaking road. The driver is silent, anonymously hell-bent on destination. I mentally compose correspondence to guide books et al warning about the chameleon promises of a ticket-agent in Vang Vieng.
The Vang Vieng we left provides an interesting anthropological case study occupied as it is by young Westerners who travel thousands of kilometres to lay around in cafe-bars watching repeats of the US sitcom Friends when they could be making them. That's when they're not tempting mortality leaping with alcohol-fueled optimism from rope swings into the Nam Song River, or slipping into precarious sleep on rubber tubes drifting aimlessly downstream, oblivious to the rice paddies and towering limestone karsts. The former staging post is an unlikely party Mecca and locals are caught between ignoring that and profiting from it.
Outside, the darkness supposedly hides stupendous views, but even if they were visible we're too busy fighting gravitational pulls. Cold air continues to evade attempts to seal the door. A toilet break would be a relief, in more ways than one, but this is a land speed record without pit-stops. Maybe there are demons in the valley that require haste to be avoided.
We zigzag impatiently through ghostly villages, the headlights aiming an erratic beam on pale wooden houses and shops. My attention is again drawn to the Japanese bobble-girl. I imagine the thinness of spinal cord. Surely a sharp jolt will snap her neck? But her head continues to nod loosely, impossibly, at right angles.
Finally, we descend from the mountains and the road straightens giving the driver license to go up a couple of 'G. The Luang Prabang city limits is the closest we see to a traffic cop, though it eventually slows him down. There's nowhere else to go.
We come to a halt; not at the bus station, but in the deathly-quiet streets of Luang Prabang. It is 1.30AM, the nightly curfew is in place and the driver's urgency turns to throwing our packs on the road. In response to our protestations he points vaguely to a neighbourhood opposite and says, "Guesthouse, guesthouse" then speeds off and disappears into the void.
It's only now I discover the other passengers are in a similar predicament to mine – no accommodation.
We are deserted and directionless.
The night is calm and soothingly balmy though and kind of Christmassy with lanterns festooning verdant side streets and lanes. We are drawn to them.
The first guesthouses we disturb are full. Then a young boy suddenly materialises trying to sell something presumably contraband. He claims to know a place with vacant rooms and offers to escort us. We decide he's at the harmless end of homeless and follow him down narrow streets into a small lane and a guesthouse – it's basic, but a room at the inn is a room at the inn, and is our heaven tonight.
Along the way I ask the Japanese girl if she was actually asleep in the minivan. "Yes" she replies with a big smile; and nods her head.
END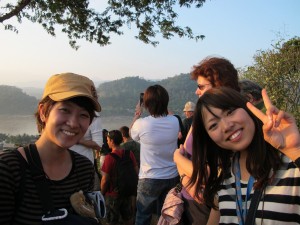 NOTES:
I eventually realised there was never an overnight bus from Vang Vieng despite signs outside ticket agencies advertising them. There was, however, an overnight 'VIP' bus returning from Luang Prabang to Vientiane. I know because I caught one. It was only marginally better than the minivan if you weren't in a seat that came loose from its fittings, which is what happened to one passenger. If you can, travel during daylight or fly. Otherwise, go with the flow and enjoy the adventure.

Since I was in Vang Vieng, deaths to high-profile tourists resulted in a crackdown by authorities and an apparent end to party town. However, Vang Vieng's spectacular setting is worth a visit in its own right. There is plenty of opportunity for hiking or cycling, and I'm sure river activity still exists in one form or another.
And the bus ride might now be a breeze.
Has anyone been there recently?