Doi Luang Chiang Dao (or Doi Luang as locals shorten it to) is Thailand's third tallest mountain and it's most spectacular. From a distance it appears as one gigantic looming mass, but is actually, as I discovered, a series of peaks intersected by a valley.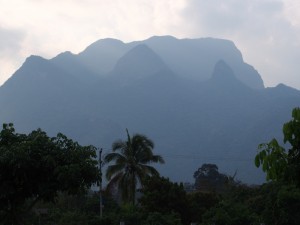 Either 2175 or 2225 metres high depending on which map or brochure you're looking at, it's located near the village of Chiang Dao 73 kilometres north of Chiang Mai. 'Chiang Dao' means City of the Stars.
Chiang Dao is a little off the main route for those going to Pai (which many people do from Chiang Mai), but there's quite a lot to see, especially if you have your own transport, though is well worth a visit even if you don't. There are hot springs and caves nearby (the latter not as impressive as those around Soppong).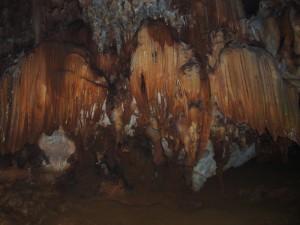 And a serene forest temple…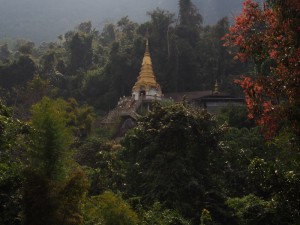 And a colourful Tuesday market.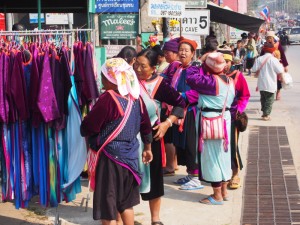 It's also a popular destination for birdwatchers – apparently there are species found nowhere else, but here. Bird sounds are one of the things I first noticed, particularly in the early morning at the guesthouse.
The only downside to my visit in February is that it is agricultural burn-off time, and smoke filled the air, restricting visibility.
It can be difficult finding precise information about climbing Doi Luang. To begin with, literature published by the Thai Tourist Authority, and National Parks list many rules and regulations that aren't implemented in practice. They will say, for instance, that you require a permit to enter the park and that it needs to be applied for two weeks in advance, and that a guide is required to climb the mountain, which is done as an overnight hike.
I had been tempted to do the latter. It included a sunrise at the summit when panoramas would be at their best (but that would also be tempered by the present haze). The elderly couple running my guesthouse didn't speak English and information about guided treks wasn't readily available so I pursued the prospect of doing it solo.
An American staying at the guesthouse said he'd spoken to a Thai who had hiked from one side of the mountain to the other in five hours, and claimed, from his experience, that this trek compared with any in the world for scenery and unusual vegetation.
Eventually, after talking to various people, including Park rangers (albeit it with limited English), I concluded it was possible to do it as a day hike and that it would take about six hours.
There are two entry points. The first one, Pang Wua, is on the road beyond the caves, which is the most common route even though it is referred to as Start 2 on the park brochure. An Englishman I'd met in a cafe near the caves said he attempted it, but found the path too steep and the track fell away so he turned back after a couple of kilometres. This put me off a little because, while reasonably fit, I hadn't done any serious hiking for a long time.
Thai maps are rarely to scale and the one on this Park brochure is oriented south. Dismiss the rules and regulations. Though, there is another (3rd) park entry near the hot springs and perhaps that is more restricted.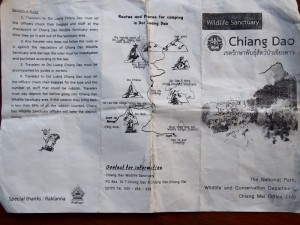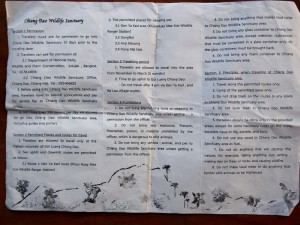 The second entry point is from the west side at Den Ya Kad (DYK). If I interpreted the ranger correctly the climb from there is more gradual. I ran into the Englishman again at the park check-in point when I was still gathering information. He was into bird-watching and had a map I took a photo of (below). He had tried driving to Den Ya Kad, but said the road was impassable without 4WD, though okay, he thought, for my motorbike.
His map is oriented north, though so out-of-scale you could almost dismiss the accuracy of that, but every bit of information was helping fill in the blanks.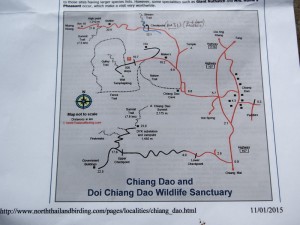 The woman at the Black Cat cafe, meanwhile, said that the closer entry point at Pang Wua took you more directly to Ang Saloong, a valley that was supposedly of special interest. Anyway, I eventually decided to trek the 'harder route' from Pang Wua, because the other starting point (at DYK) would take longer to reach and I wasn't really certain it would be any easier. I also figured if I got into trouble the more commonly used track might mean more readily available assistance.
Anyway, enough rambling preamble about the ramble! I took off from the guesthouse a little after 7AM on my Honda Dream 125 that I rented in Chiang Mai, went through the park gates and forked out the foreigner fee of 200 baht (valid 3 days), but wasn't required to sign-in or have my day pack checked as outlined in the R & R.
As the rules of travel-coincidence would have it, though, I met the Englishman again before entering the park. He was on the side of the road with a tripod set up taking bird photos. He explained there were no signs indicating the track starting point, but said it was at an obvious clearing beside the road on the left hand side.
The road from the park entry point takes you fairly steeply up to about 1100 meters – the Honda coped okay with its first real test, but had to kick it back into lowest gear at appropriate intervals.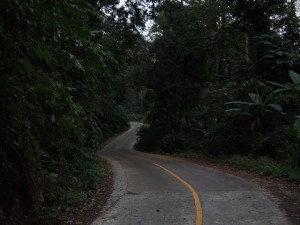 At the first sign of an obvious clearing I pulled in and encountered a Thai woman parked there who was able to confirm it was the start of the track to the summit. She was adamant that it wasn't possible to do the hike in one day, so much so that I muttered I'd just go part way and see how I went. I wasn't sure how far I'd get anyway if the Englishman's version of events was accurate. The woman's protestations were also a little off-putting, but I felt they could be discounted based on the various accounts I'd heard.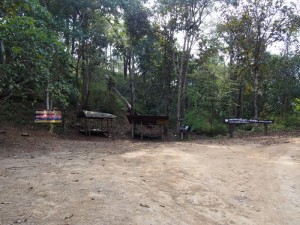 Grab one of the walking poles leaning against the trees here. They can come in handy, especially if you have dinky knees.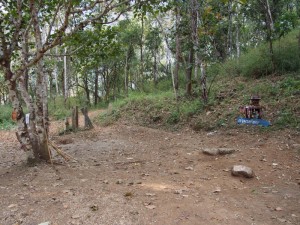 It was about 8.15ish when I hit the trail.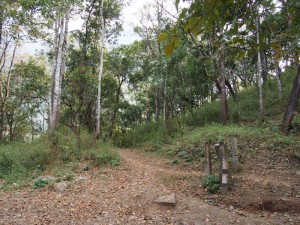 I first encountered three motorbikes, parked out of sight from the road, indicating others were on the trail. A little ahead of them was a barrier that is presumably there to prevent bikes being ridden further.
The track is in good condition and clearly defined. It soon begins to steepen, but not impossibly so, and while a little damp, firm steps are cut into the soil. I kept wondering when I was going to encounter the terrain described by the Englishman – or was it just a case of difficulty being relative to one's experience? The latter proved to be the case – it's hard enough, but a fair way off being vertical.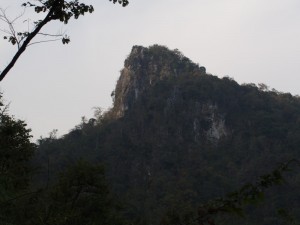 The peak in the above photo turned out to be at the location of the first saddle. From here you briefly descend then walk through Ang Saloong (I eventually realised) where, for a few kilometres, the going is easy. The forest is pleasant, but I didn't feel it was especially unique.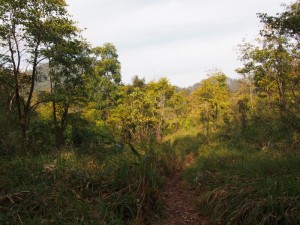 Views of peaks on either side begin to open up, and along with it spectacular scenes reminiscent of the Cradle Mountain trek in Tasmania, Australia. I hoped the climb would take me above the haze, but no such luck. When you think about it, smoke is lighter than cloud so if anything would soar higher and be more widely dispersed. At this time of day and from this approach, you're also walking into the sun which adds another degree to photo-taking difficulty.
This sign in Thai confused momentarily, but I concluded the path on the right must be the one coming up from start 1 (DYK), and that I should go left. This was confirmed when I heard voices coming from that direction. A small group of foreigners with their Thai guides and porters were descending from an overnight hike – they most likely belonged to the motorbikes.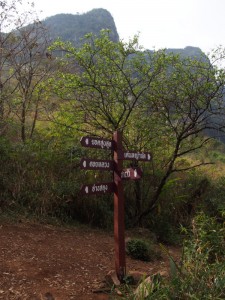 From here on, the track is mostly up and becomes gradually steeper, but is no worse than the initial stages of the trek. It's not technically difficult either – a well made trail.

Eventually a campsite is encountered – first indicated by a makeshift toilet on the left. I thought it must be the campsite near the summit, but it's another one called Dong Noi (which may well mean 'small campsite', but that's just a guess).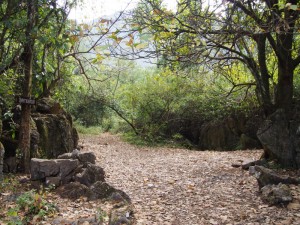 The views just kept getting better.
Birds were the main wildlife – mostly heard and not seen – along with attractive butterflies that didn't remain still long enough to photograph.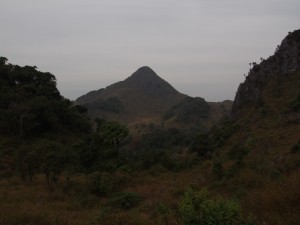 I came to another sign in Thai that momentarily confused – did it indicate a circuit? I figured 'left' was the way, but I briefly took right just to double-check. More tents suggested this was the main campground beneath the summit. Though, looking at the Park brochure later, I discovered there was also a track to another viewpoint and the sign could have been indicating the two routes.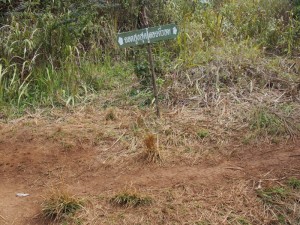 The left track, meanwhile, brought me to a larger camping site with erected tents scattered around, but no people. I assume they are used by the trekking guides (each probably has their own area). The tents are fairly basic and it looks somewhat messy.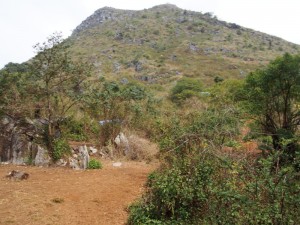 The track to the summit (straight ahead) can be found toward the rear of the camping area and leading off to the right. It is steeper that it looks in the photo and requires occasional, very minor, rock scrambling. I only found it difficult due to lack of condition. If you did the overnight hike you'd be resting now and wouldn't need to tackle it until morning – unless you wanted sunset as well, of course – but that'd be awhile off anyway.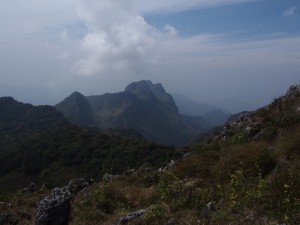 The summit (seen during the approach in the valley) never looked to be the highest point until you were actually on top of it. I had the whole scene to myself, and hadn't seen anyone since passing the group on their descent. Though, I wasn't entirely alone – a small deer burst out of the thickets and disappeared down a slope.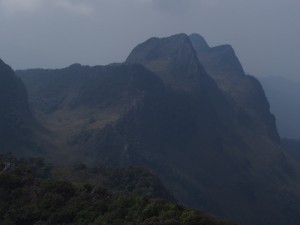 The sign indicates 2225 metres, but I doubt that's conclusive proof.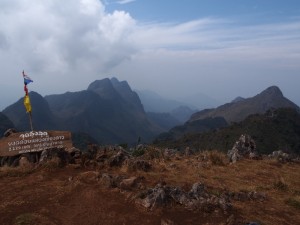 On a clear day you could probably see to Doi Inthanon, Thailand's highest mountain. But you'd have to turn around – the pics here are looking north.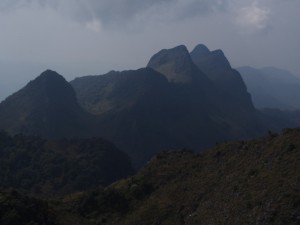 I was up too early for the guesthouse breakfast, but had some snack-bars, and a rehydrating drink. Though, the weather is comfortable at this time of year so wasn't needing to consume much water. Better preparation would have had me bring something more substantial to eat, though.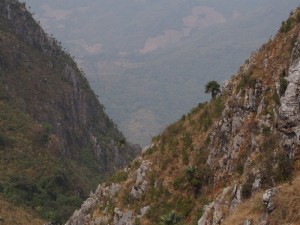 One of the most amazing and rewarding features of the trek is the sense of solitude. That's rarely encountered in Thailand.

The valley between the two rows of peaks below indicates the track route.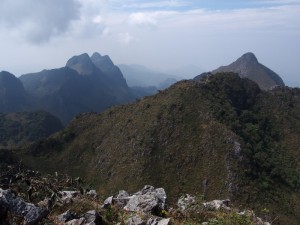 It darkened a little and almost looked as if it could rain, but all that happened was the wind picked up.
My knees struggled on the way back down to the campsite, but were better for that warm up. As Murphy's Law would have it, the wind cleared the haze a little and patches of blue sky emerged.
Further down, I encountered a foreign couple ascending with their Thai guides and porters. An entourage of four accompanying the couple seemed to be overkill, but who am I to judge? We exchanged smiles in passing, but not pleasantries. Were the foreigners thinking, "What's this guy doing out here on his own?" Were the guides thinking behind their half-smile, "Who's this subversive undermining our income source?" After this encounter I was on my own again.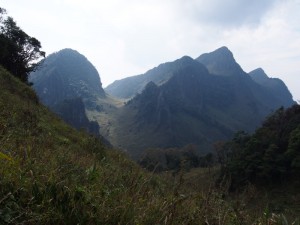 Other than the birds, butterflies and a lone deer, I came across this snake. It only looks like a baby, but who knows? It raised its head as I approached and not wanting to take chances at this point in the hike: I bush-bashed around it.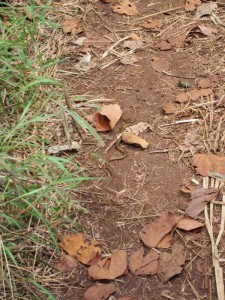 The final stretch was like the ascent in reverse, mainly painful because muscles were being reborn. I wouldn't like to do it in wet conditions, though.
I arrived back at the Honda nearing 3.30pm and returned the bamboo walking stick to its spot against the tree. The trek took seven hours, though I frequently stopped to take photos.
I also suspect it's longer than the 7.5 kilometres one-way as indicted in the Englishman's flyer. (Update – see Bruna's comment below confirming it at 7.5K)

I also concluded the American's Thai friend didn't include the summit in his trek or, if so, rarely stopped to enjoy the spectacle. He exited via DYK.

As usual for my posts, see the slideshow below for a better view and wider range of pics.
TIP – if arranging a guided, overnight trek see if you can get the guides to approach from the west side (Start 1 – DYK) and leave next day from the east at Pang Wua. Then you will probably have the sun at your back (assuming you start in the afternoon) and not always be retracing steps on the second day. Likewise, if you have your own camping gear and transport I don't see any reason why you can't do your own overnight hike. But maybe the guides and porters wouldn't want word to get out that their assistance isn't required.
For those that don't have their own vehicle, there is frequent public transport from Chiang Mai. I stayed at Nature Home Guesthouse, which is a lovely little spot with bungalows for 500B, and is about two kilometers from the bus station off the road heading toward the caves and national park.
If you need information upon arriving – turn left outside the bus station and cross a small bridge – there you'll find a bakery/cafe that not only sells great, cheap coffee, but the owner speaks good English and can help with directions. He also does a mean Kiwi soda for 20B.