At the end of a rock outcrop in the Winton Wetlands an expansive vista suddenly opens up to reveal a grassy plain stretching to the horizon immediately evoking images of Kakadu in the dry season; though, on a much smaller scale and at an entirely different Australian latitude – a Kakadu of the South.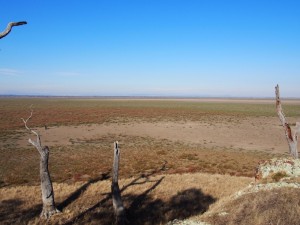 Unlike Kakadu there is no indigenous rock art here that I'm aware of (the general topography probably didn't promote it), but there are scar trees and other evidence of an aboriginal presence. There are also 183 bird species, as well as the usual collection of Kangaroos, snakes and lizards (nothing crocodilian, thankfully),­ and a history of European settlement ­.
The Wetlands, near Benalla in north east Victoria, have had a chequered history reflected in many name changes. It was previously known as Lake Mokoan after being inundated with water diverted from the Broken River for irrigation and recreational purposes in 1971. Before that it was Winton Swamp. The Yorta Yorta people knew it as Mokoan. Europeans, meanwhile, probably called it Winton Swamp because next to it is the small township of Winton. Clear as mud?
In recent years, water management concerns, including those about river flow, water loss through evaporation and infestations of blue-green algae led to it being drained and reclaimed to form the Winton Wetlands; an interesting name change evoking a watery paradise rather than the stagnant image associated with 'swamp'.
This retransformation didn't happen without protest. Farmers who benefited from the water supply disagreed, as did those that used the lake recreationally or who provided services to them; others objected to the cost and what they saw as fanciful ambitions for the project; some probably didn't approve simply because it was 'environmental' or were wary of change.
But ownership is an issue almost as murky as swamp water. In 1971 farmers objected to their land being reclaimed to create the lake. Further back, it was Yorta Yorta people being dispossessed. And who knows? Prior to then another mob may have roamed it. Perhaps we are just turning full circle, or as a full a one as we can. Sometimes we have to step backward to go forward.
I don't lay claim to expert knowledge, but it will probably take many years before the wetlands resemble their original state.Though even now it's an environment unique to Victoria.
This post, however, is primarily about my recent visit there in April, the highlight being a detour along Spit Walk. I had previously driven around the reserve perimeter by car, but this time I ventured inside to explore by mountain bike.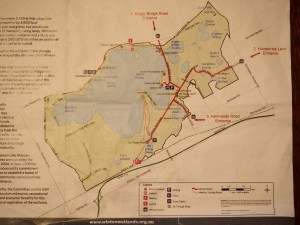 The wetlands aren't far from Benalla as the crow flies, but most vehicle access points are on the opposite side. However, it can be approached directly from Benalla along Nelson Rd, which is a dirt track really, but in reasonable condition – there is one dip with a pool of water that could be hard to navigate in wetter months. I took this route to the boundary on Winton North Road. There is walking or cycling access via a small gate to the right of this larger, locked one.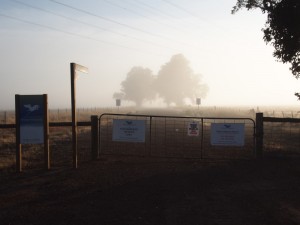 As you can see it was a foggy morning. There was also smoke haze about from prescribed burns. I'd just spent two months in Thailand where, particularly in the north, smoke haze was ever-present from agricultural burn off, and arrived back in Australia to similar. Bad timing.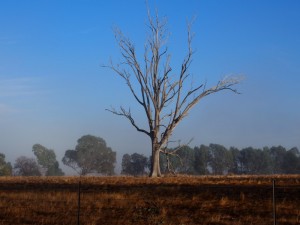 The wetlands map is a little confusing at first, in that what is shown as part of the reserve is actually farmland – the grazing of sheep and cattle is seen as a fire prevention method (though it could also be a concession to local farmers).
Not far along Winton North Road there's another gate with a car park on the other side that can be approached from the north. There are information boards around here about the reserve and its history, with accounts about settler families.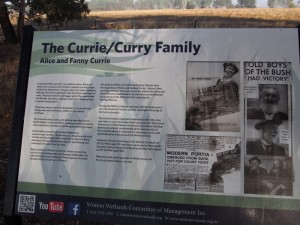 The dead gum trees are a result of water inundation when the lake was created.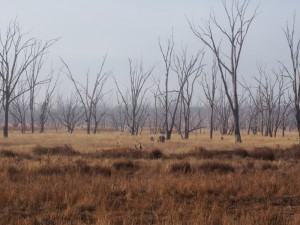 This information board highlights some of the challenges facing the project.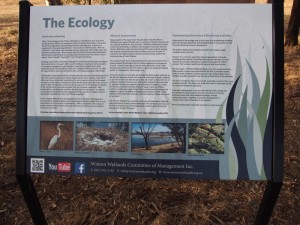 Nearby is the start of Spit Track, a walking/cycling loop along a route which was believed to be a favoured food-gathering location for indigenous people.
It is about an 8 kilometre round trip, with only a couple of hundred meters separating each side of the loop. If cycling, the west side has occasional sandy patches, though offers a different outlook to the east so from that perspective it's worth alternating.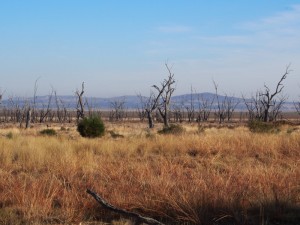 The track isn't sign posted beyond the beginning, and often looks like any old trail, but there's basically only one way you can go.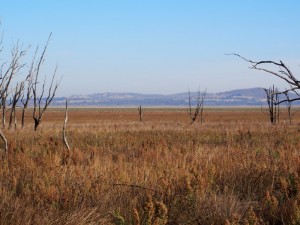 Being autumn and following a dry summer there wasn't any water to act as a more obvious demarcation.
A wetland without water is better than a pub with no beer, though, because there's still something interesting to see.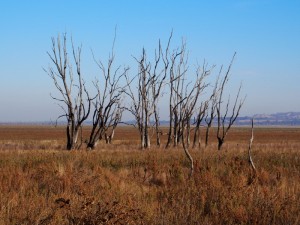 At the turn-around point there's another, less defined track leading to the rock outcrop mentioned in the opening paragraph. It's worthwhile going the extra distance; in fact it would be a shame not to. The only proviso being that the track is above water if you're here after the rains arrive. Come to think of it, canoeing might be an option then (but I'd check first).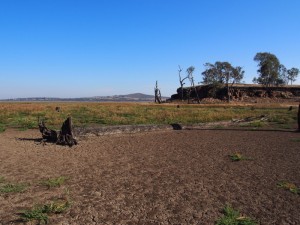 The reward is this panorama.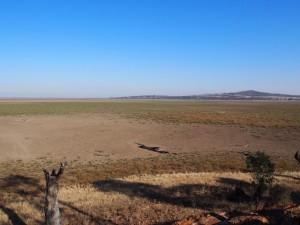 If this was in a country like Thailand, or Myanmar, there would probably be a religious shrine here.
I can imagine it would have had significance for indigenous people.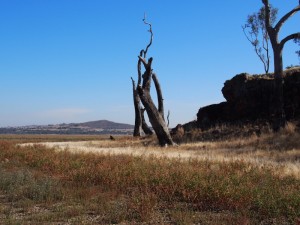 By now it was a serene sunny day. I had the whole place to myself. In fact the only other people I saw for the entire visit were reserve staff checking out the workmanship done on the construction of a car park shelter.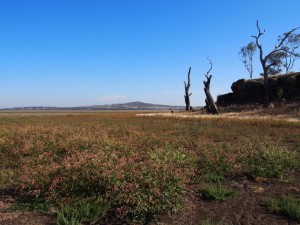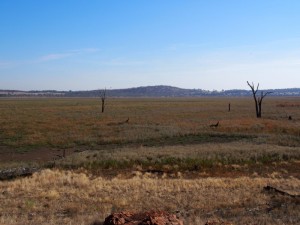 I aim to return when the rains come, and have an 'after' photo to go with this 'before'.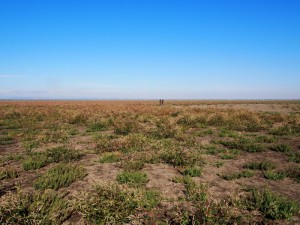 Must be strong wombats around these parts.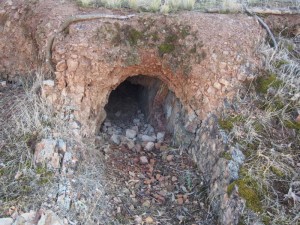 I saw little birds.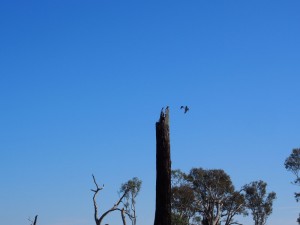 Bigger birds (cockatoos)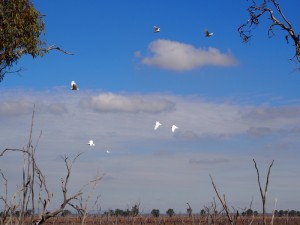 Love birds (galahs, actually)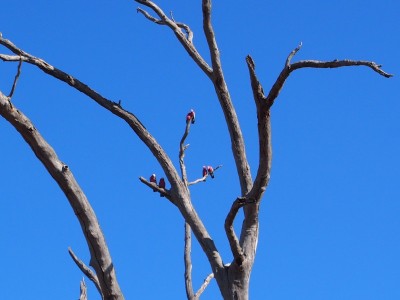 A giant bird must've built this nest (probably a wedge tailed eagle).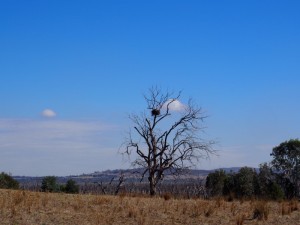 Winton North Road is in good condition (Boggy Bridge Road is stony, but okay).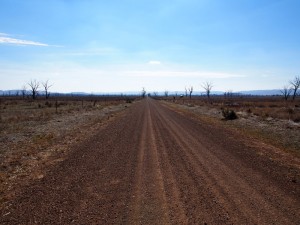 I didn't see any snakes, but did see a mob of kangaroos bounding across the road that would have made an iconic photo had I been able to get my camera ready in time.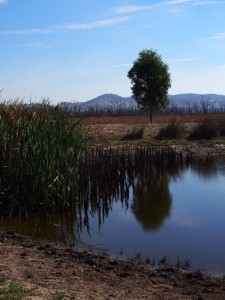 The dead gum trees present a kind of stark beauty, though.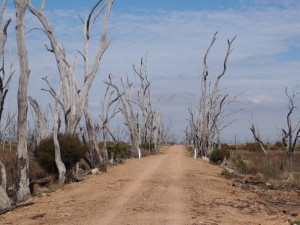 An old telegraph pole, not a cross – though, there was once a church, and a school, nearby in what was known as Winton North.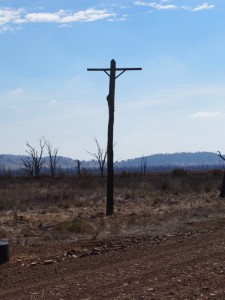 I have never seen so many magpies in one spot – there must've been a hundred – much more than seen in this photo, anyway. They scattered when I approached, but did the opposite on my way back a couple of hours later, and flew to the tree.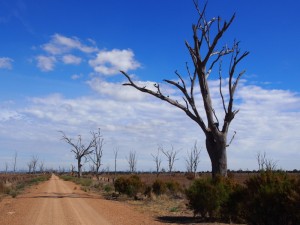 There are plans to build a cycling trail from Benalla, to erect walkways and a visitor centre is about to open. I can imagine a network of elevated boardwalks being of particular appeal.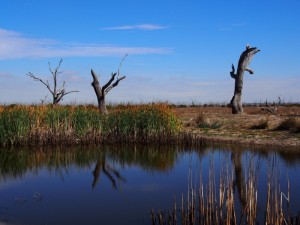 It will take awhile before the wetlands are fully restored, and some wounds will have to heal, but even now it offers visitors something unique to this part of Australia.
Kakadu Shmakadu – this is Winton Wetlands.
(see slideshow for more pics)